"Look for the Helpers"
The surprising controversy behind the Mr. Rogers's quote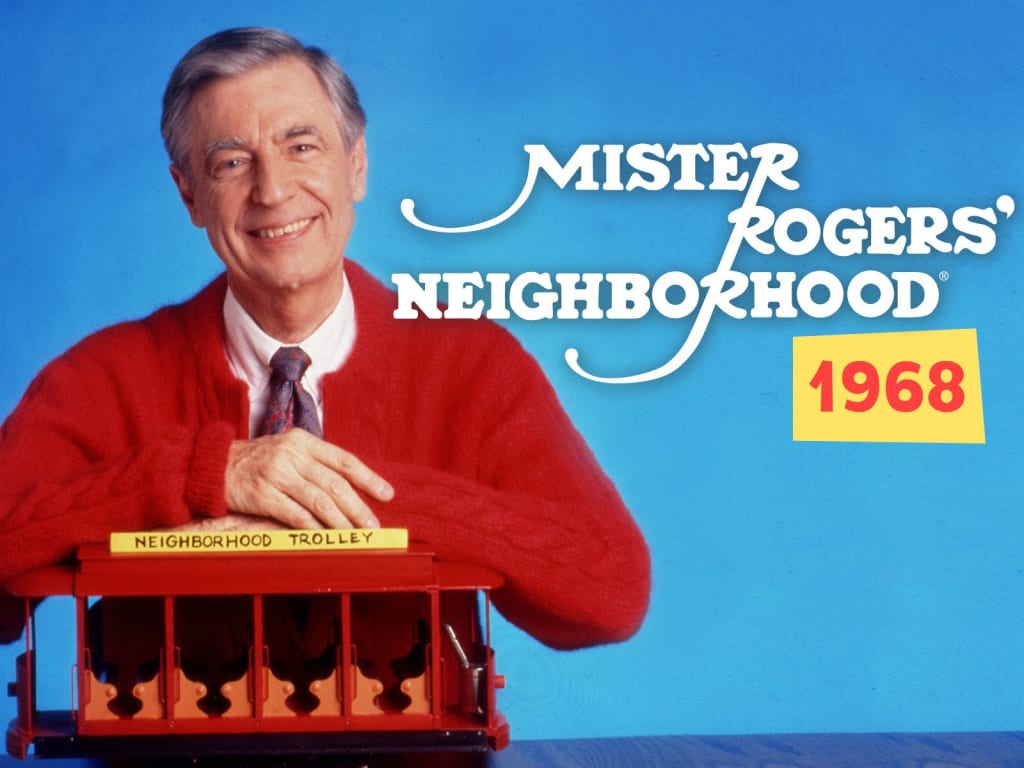 Source: misterrogers.org
"When I was a boy and I would see scary things in the news, my mother would say to me, 'Look for the helpers. You will always find people that are helping.'" - Fred Rogers
I've always liked this quote. I'm corny, and I am a sucker for mantras, one-liners, and inspirational quotes. (Not the overly cheesy ones, but the ones that just strike me in some way). Words are so powerful. A carefully structured sentence has the ability to give me full body chills. The right mantra might even bring a tear to my eye when I remember it. So, when I heard this quote from Mr. Rogers, I liked it. It reminded me that there are always people who want to do the right thing in dark times.
It's a simple quote, but one that I often find myself coming back to. I decided to look up the quote, thinking I'd write a nice, feel-good piece to balance some of bleaker things I had written about lately, like sexual assualt accusations, and the invasion of Ukraine. Those things are very important to write about, don't get me wrong. Sometimes, though, I want to write something lighter. So, I looked up the quote, and was surprised and interested to find that there was some nuance surrounding it that I hadn't previously thought about it.
Mr. Rogers's "Look for the Helpers" quote often gets circulated online after a tragedy happens: shootings, terrorist attacks, natural disasters. In moments like these, people seek small comforts, even if just in the form of reassuring mantras.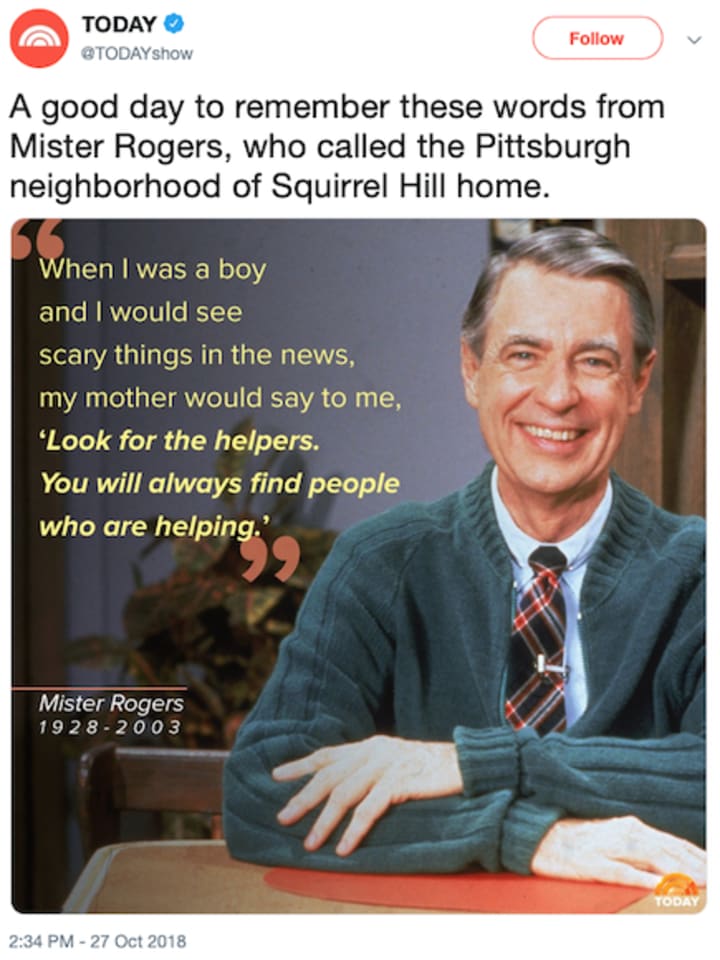 When an armed assailant opened fire inside a Pittsburgh Synagogue on October 27, 2018, tragically killing 11 and injuring six others, it was no surprise that images like the above were widely circulated. Not only was this a sentiment expressed after something tragic had occured, but also because the late Mr. Rogers, who passed away in 2003, had lived in the Squirrel Hill neighnorhood of Pittsburgh, where the synagogue is located.
"A Massacre in the Heart of Mr. Rogers' Neighborhood," read a New York Times article by Bari Weiss. The "Look for the Helpers" quote circulated on Social Media.
It's a reassuring line, originally designed as part of resource for how to talk to children about difficult, tragic, and traumatic situations. But have we turned it into some kind of meme for adults, to be shared online after tragic times?
"'Look for the helpers' has become a consolation meme for tragedy," writes Ian Bogost for a piece in The Atlantic.
"That's disturbing enough; it feels as though we are one step shy of a rack of drug-store mass-murder sympathy cards," he continues.
Critics of this meme have pointed out that this is well-meaning advice for a child, but as an adult, looking for the helpers isn't enough, one must also be a helper, which has evolved into a meme of its own.
"We must stop fetishizing Rogers's advice to "look for the helpers" as if it had ever been meant for us, the people in charge—even in moments when so many of us feel powerless," writes Bogost.
I couldn't agree more with his sentiment. If everyone is "looking for the helpers", then who are the helpers? As the adults, as the people in charge, we need to take action. However, as a lover of mantras, I still see some good in the "Look for the Helpers" quote. I want to be a helper, and look for the other people that want to help. I want to remember that there are always people out there who want to do the right thing. I have to believe that there will always be helpers.
About the Creator
Self-identified Highly Sensitive Person (HSP) trying to carve out a joyful corner in an increasingly bleak world. I have one daughter, a French Bulldog named Chanel who farts a lot. I'm an Aries.
Instagram: @mariadubbs
Medium: @maria.wallisch
Reader insights
Be the first to share your insights about this piece.
Add your insights