Learning Loyalty
What I Learned in 2018 About Why Being Reliable Matters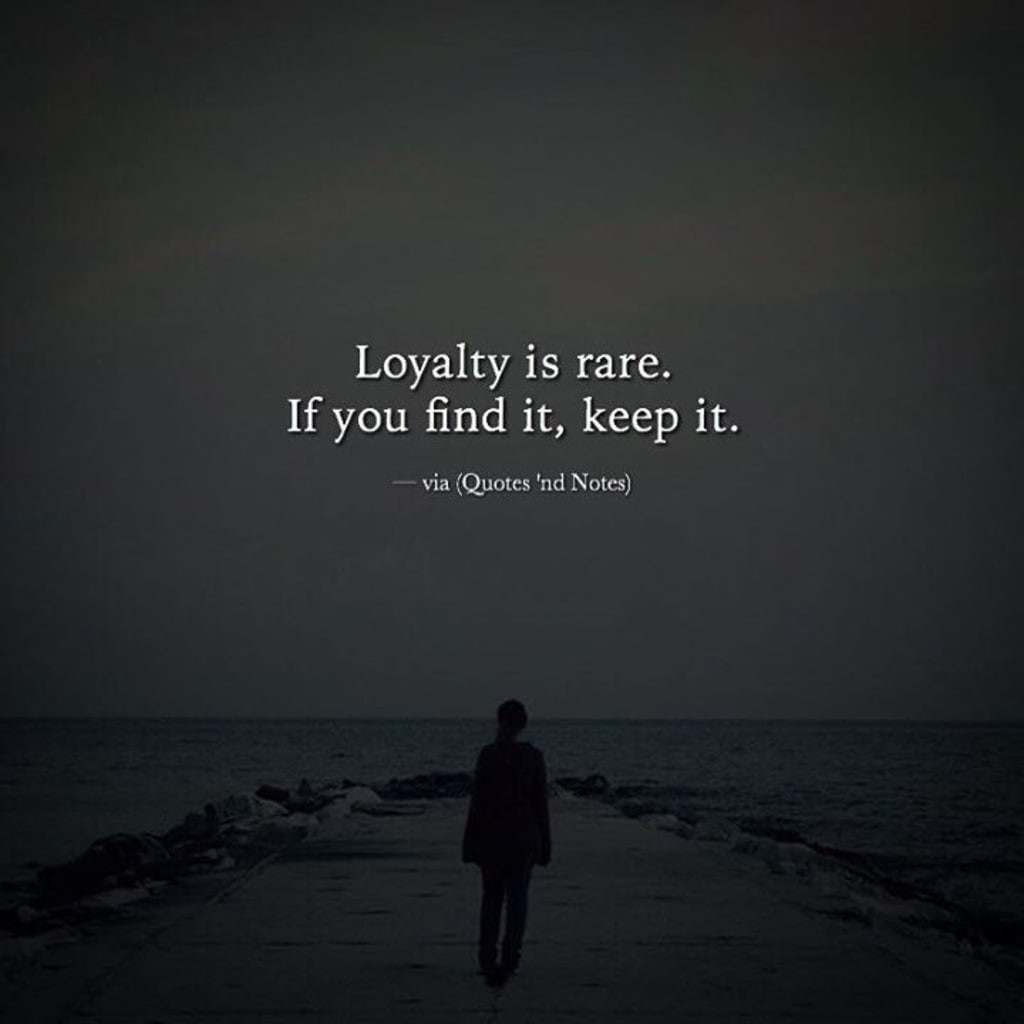 As another year comes to a close, I always feel motivated to share what I'm learning with anyone that reads my writings (if anyone reads them at all, that is… LOL). If you read my "end of the year" blog last year, you'd know that I committed to dropping a lot of expectation for 2018. In 2017, I made so many ridiculous goals that left me feeling entirely let down come December when I didn't make a dent in completing them. Consequently, 2018 would be my year where I would expect nothing specific and instead, anticipate great things with an open mind. I wanted to let this year teach me what I needed to learn instead of telling it what to do like a bossy two-year-old.
This mindset wasn't very simple for this schedule making maniac, but I must say, I wasn't let down! In time, I learned that happiness doesn't come from circumstances, but from being patient and accepting with where I am at. Among the many themes and lessons presented to me in the past 365 days, one definitely sticks out boldly in the crowd. I strongly believe that this year, God was trying to teach me lessons about loyalty—both the presence of it AND the lack thereof… I'll begin with the bad news and end with the good news, since everyone prefers it like so, right?
I'll put it straight up: People just haven't been loyal to me this year. My dance team co-owner and I went through a huge transition in order to escape her abusive mother, who happened to own the dance studio that we ran our pre-professional team out of. We spilled the news to our clients that we were breaking off from our studio home in order to protect and stand up for our mental health, well-being, and future growth of our company. I believed the news would be accepted, we would be supported, and a loyal base of followers would understand our predicament and pull through for us! In so many ways, I was very very wrong.
We were met with a pool of selfishness. Many clients fled from supporting us due to the uncertainty. I was baffled. My fellow dance teachers KNOW this: We work our butts off to train, educate, and basically raise our students. When families decide to choose self over support, it's heartbreaking to see a lot of investment go down the drain. Though a select group followed us on our new adventure, thoughts over the ones who chose to be unreliable stung for a bit. It's become a trend, specifically in the dance studio scene, to take and take and take from educators, and throw the concept of loyalty in the trash. However, I believe those that choose this path are really missing out on the future gifts that loyalty can possess, specifically in the dance industry.
Personally, I am a naturally loyal person. I am wholeheartedly convinced that believing and supporting other people is a huge part of learning to gift yourself with the same. This year has been specifically special for me because many avenues I have placed my trust in have presented me with much reward.
I moved to Los Angeles from Oklahoma in 2011 and signed with a dance agency when I was 17. My agents at GTA are some of the kindest, most understanding, and hardworking humans on the planet. I am incredibly fortunate to have them on my team, submitting me for the past eight years and believing in my talents. Though I have booked a good amount of small dance jobs over the years, much of the work I have found in LA has benefited my commercial and print agents. However, the pages turned in December 2018 after I was presented with a huge opportunity attributable to my dance agents. This opportunity (that I'll get to the specifics of in a bit), gave me a huge reminder of what mutual loyalty and belief creates. My agents definitely could have lost faith in me during seasons of slow work and I definitely could have moved to a different dance agency when things were a bit unsure. The fact is, neither of these two scenarios occurred due to the fact that we were committed to each other; we were in this adventure for the long haul, whatever it held.
The story continues, but I have to flashback to 2011 again, around when I first moved to LA. I met a very new and upcoming choreographer who was trying to get his work on tape to gain exposure. Without getting into insane detail, I began to dance in many of his unpaid projects and shows because I genuinely enjoyed learning from him; plus, I had a hunch he would one day be very successful. After seven years of commitment to his creative works, my small hunch became reality. In 2019, he will be choreographing his second world tour for the band Muse. Attached to this fact is very exciting news, that I will be joining the tour as one of the dancers alongside a ridiculously talented group of people.
I'm typically not a super public person when it comes to what's going on in my life, but with that said, I have very specific reasons for sharing this news because of the story it holds: LOYALTY matters folks. This is a huge opportunity in my professional career. Though I can attribute my accomplishment to a lot of hard work and personal dedication, I couldn't have managed to pull this off without loads of commitment to other human beings in the process. It just proves that people matter, that there is way more to life than yourself, and building human relationships built on support through the highs AND LOWS is instrumental in success. I thank God that I have a strong desire to devote myself to others (though believe me, I have loads of other downfalls). So if you struggle with loyalty, it may be a skill that is worth honing in on… it takes awareness, selflessness, and steadfastness through trials—and it ain't easy peasy.
2018: Thank you for showing me the power of dedication to others. It was a pleasure. I'm ready to travel the world, do what I love, and embrace the excitement of 2019.
____________________________________________________________________________
(I'm going to start placing disclaimers at the end my blog posts. Why? Well, I just feel like stating things in a definite manner can be dangerous, and if I say something, I want to make sure I am paying respect to the fact that there are many exceptions to many statements. Also, sometimes I just have extra things to share.)
DISCLAIMERS:
1. TO ANY YOUNG DANCER/PERSON READING THIS: Please don't let anyone tell you that you are not capable. I began dancing when I was 15 years old and I would have never thought that I would be able to accomplish great things in the dance industry 10 years ago. Work hard, be nice, and don't give up: The sky is so the limit people.
2. I understand that there are exceptions to diehard loyalty. Unhealthy relationships are no place to pledge your allegiance to. There are people who deserve your loyalty: Give it to them freely. There are people who don't deserve loyalty: Proceed with caution.
3. If you are a person in my life who has pushed me, helped me, believed in me, or supported me throughout my journey: I owe you a huge thank you.
I wouldn't be where I am today without the lovely individuals who have invested in me, even if just for a short season.