It's a TALL, TALL, World
Not Suitable for Shorties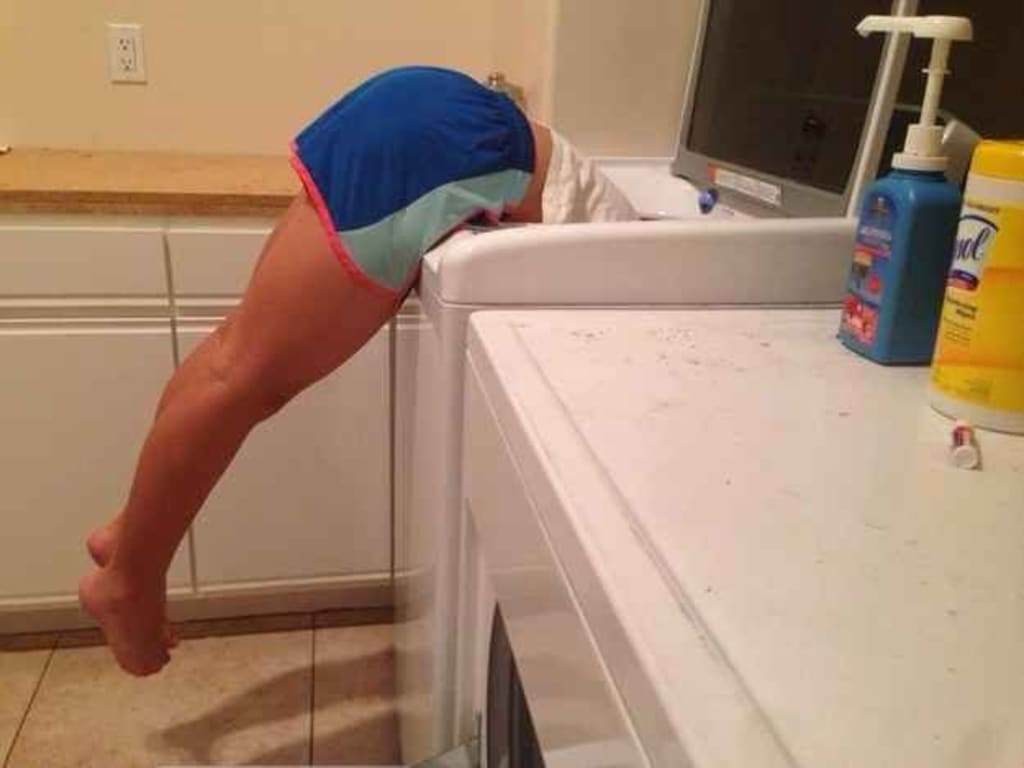 CRUNCH. Oh, crap, I muttered, as I got out of the car to see what I had backed into. The drainpipe on the side of my house was now just a bit squished. Not squished enough so rain couldn't get through it, but still squished. Yes, I have a backup camera on the car. That safety device is the reason I chose that car in the first place. (Due to another unfortunate backing up accident with my previous car that lacked such a camera). Still, this latest incident was NOT my fault. If the tall men who design cars would make sun visors adjustable so they actually cover the sun in someone my size's (4' 11") line of vision, I would have SEEN the drainpipe in the backup camera instead of a huge fireball.
Which brings me to the subject of this story – the world is designed for tall people. The windshield visor that does not reach low enough to shade this little person's vision is only one in a long litany of devices that must have been designed by tall people oblivious to the fact that we even exist.
Kitchen Cabinets – "Lower, lower, lower", I begged the carpenter who was installing my new kitchen cabinets. "Lady, if I build these cabinets any lower, they will be sitting on the counter", he admonished me. Not a bad idea, I thought, since the first shelf of any kitchen cabinet in any house I had ever lived was as high as I could reach.
The "peep" holes in front doors (Pre-dating RING doorbells and other "Smart Home" devices) and hotel doors- When we moved into our new home in Florida 15 years ago, the front door "peep" hole was so high that I had to keep a step stool by the door in order to reach it.
One day, when I came home from grocery shopping, my husband greeted me excitedly with the news that he had a surprise gift for me. He led me, with my eyes closed, to the front door. I opened my eyes to see a new "peep" hole installed a full one foot below the original one, exactly level with my eyes. I could not have been more thrilled if he had presented me with a diamond bracelet. I no longer had to climb on a step stool to determine if it was safe to open my front door. I would imagine the next family that bought our house thought it was such a smart perk to have a "peep" hole exclusively for the safety of their children.
Grocery Store shelves – I usually stand in wonderment staring at the three shelves above my limited reach when, inevitably, a kind tall person observes my dilemma and offers to retrieve the item I would need a ladder to reach. Before a series of illnesses left me a bit wobbly, I used to literally climb up the shelves, reminiscent of my childhood tree-climbing days. Since my illnesses, shelf climbing was removed from my approved list of activities. However, the curved part of my cane serves as a perfect "reacher grabber" for those items stocked by LeBron James.
Seat Belts- Gasp. Choke. There is NO WAY anyone in a car seat belt design meeting ever took into consideration that not EVERYONE is over 5' 8" tall. The seat belt that is supposed to save my life will choke me to death long before I have a chance to test it out in a crash.
Slacks that have a 34" inseam. My inseam is 25". I usually address this problem by buying "capri" pants and wearing them as full-length slacks.
Couches – I don't think my feet have ever touched the floor when sitting on a couch. I have to repeatedly scootch my tush back to reach the back of the couch, only to find my feet dangling 6 inches above the floor. My friends and relatives seem to find this situation hilarious.
I do have one experience in which my lack of height was a distinct advantage. One of the times I flew across the country from Boston to San Francisco, the Jet Blue flight was uncharacteristically only half full. On this sparsely filled flight, most of the 3-seat sections were occupied by only one person. It was late; we were all tired, and everyone wanted to stretch out and sleep. Subsequently, I looked around me to see legs and feet hanging over the armrests into the aisles as passengers tried to lie across the seats horizontally. I placed a pillow up against the wall under the window, lay down with my legs stretched to the side of the aisle seat, pulled a blanket over myself, and had a nice comfortable snooze. Three horizontal seats – a perfect bed size for little me. A win for the shorties!
humanity
Retired Educator - Substitute English Teacher; Special Education Assistant; Speech/Language Therapy Assistant
Website Owner - www.thealzheimerspouse.com
Whimsical essays, short stories -funny, serious, and thought -provoking
Receive stories by Joan Gershman in

your feed