Interpreting Tinder - What People Are Really Saying
Learning a new love language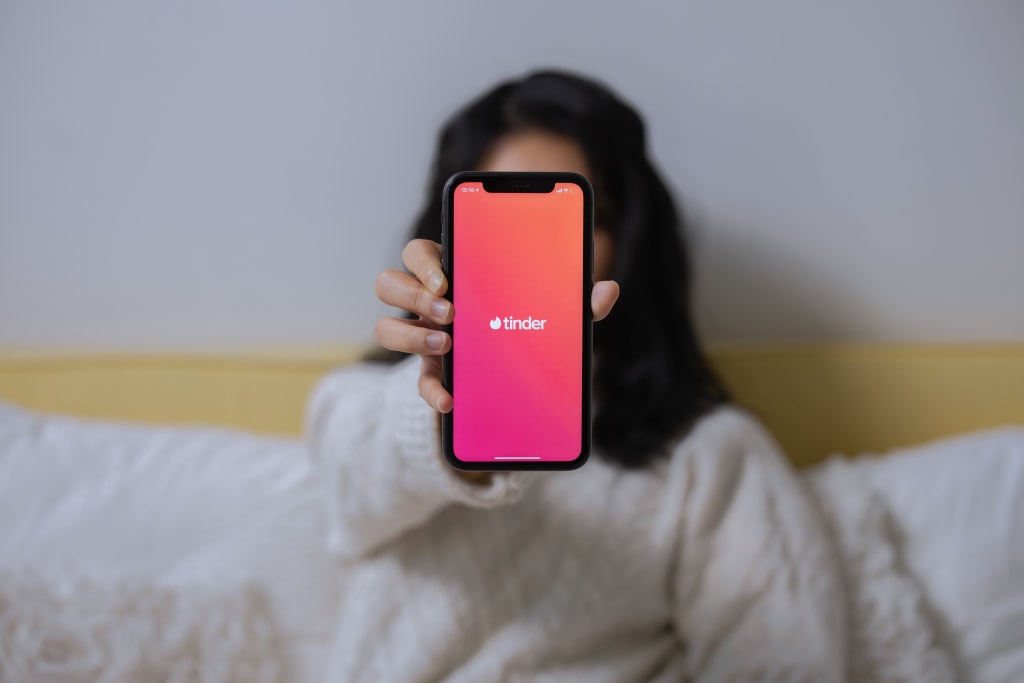 Photo by cottonbro from Pexels
Tinder: Somewhere people go to find a soulmate, whilst pretending to be things they're not.
To navigate this sea of lonely souls, you need to learn a new language.
The linguistic rules are different on here - people might be communicating in English, but there's more subtext than you'll find in a Harold Pinter play. Here's a handy translation guide to help cut through the nonsense and save you time:
"I'm a free-spirit" - Translation: I have a tattoo and some dream-catchers.
"Some of my best friends are gay" - Translation: None of my best friends are gay.
"Some of my best friends are black" - Translation: I don't know a single black person.
"I like the outdoors" - Translation: I know what a tree is.
"I adore travelling" - Translation: I once went to Egypt; it was weird.
"Self-employed" - Translation: I have a t-shirt printing business on Shopify which no one has bought from.
"Animal-lover" - Translation: I have owned at least one furry creature over the course of my lifetime.
"I love reading" - Translation: I'm incredibly intelligent: I like words and things.
"All my partners were narcissists" - Translation: I'm a narcissist and refuse to look at my own toxic shortcomings.
"I like banter" - Translation: I'm going to pick at you every chance I get. I once briefly dated someone who appeared to dislike every single thing about me - everything I did, from what I ate and drunk to my clothing to how I spoke to my politics, seemed to rile her. It was just banter, apparently. Actually, no - it was simply being mean. I ended up feeling more self-conscious than an acne-ridden teenager at a school prom. You don't have to like everything about another person, but at least have the decency to respect who they are. And if there's something about themselves that you know they're conscious about and you mock them for it? That's just cruel. Avoid.
"My children come first" - Translation: I don't know how parenting works and have failed to appreciate that the fundamental rule is that your children automatically come first and that this doesn't need saying.
"That's just the way I am" - Translation: No one likes me.
"I say it how I see it" - Translation: That's why no one likes me.
"I enjoy working out" - Translation: I went to a Zumba class in 2004.
"I don't trust the vaccination; I don't want to be microchipped" - Translation: I don't know how modern technology works and am unaware that the GPS in my iPhone means that someone, somewhere, already knows I only move from my sofa to the kitchen when I need snack-replenishment.
"I'm an advocate for self-improvement" - Translation: I've read 'The Secret.'
"Looking for my partner in crime" - Translation: Considering that I am drawing a metaphorical connection between illegal activity AND a meaningful, healthy romantic relationship, it's fair to say that my attachment style is a little screwed up. (Not applicable if they're looking for an ACTUAL partner in crime, in which case make sure you know what their plans are before committing to anything.)
"Living the dream" - Translation: I'm on Tinder, ergo my idea of what constitutes a 'dream life' is probably a little frightening.
"Music-lover" - Translation: I have a subscription to Spotify.
"Back on here after a ban (LOL!)" - Translation: I have no sense of personal boundaries and have managed to upset another user so much that I ended up being reported. The fact is that it's quite hard to get banned from Tinder - although the app's algorithms are supposed to pick up anything unsavoury, if you've spent any time on there you know that it doesn't always work; for instance, Tinder says it will filter out anything politically dubious but there are still people on there who make Himmler appear a liberal. If you've been banned, the likelihood is that you have crossed some serious lines in the sand and have been reported by another user. And that takes some doing. Just run.
"If we match, talk" - Translation: I'm going to ghost you so badly you'll need to hire the Ghostbusters to find me again.
Like all languages, Tinder-speak can be learned. It's a difficult one - slightly harder than Turkish but a bit easier than Nadsat from 'A Clockwork Orange.'
However, even if you don't find a life partner, you will have given your brain a good workout; after all, learning a new language has provable cognitive benefits. It's a win-win!
Happy swiping!
---------------------------------------------------------------------------------------
If you've liked what you've read, please check out the rest of my work on Vocal, including my Top Story:
If you've really, really liked what you've read, a small tip would be greatly appreciated.
Thank you!
About the Creator
Hi!
Film, theatre, mental health, sport, politics, music, travel, and the occasional short story... it's a varied mix!
Tips greatly appreciated!!
Thank you!!
Reader insights
Be the first to share your insights about this piece.
Add your insights