I Promise
A Paper for Class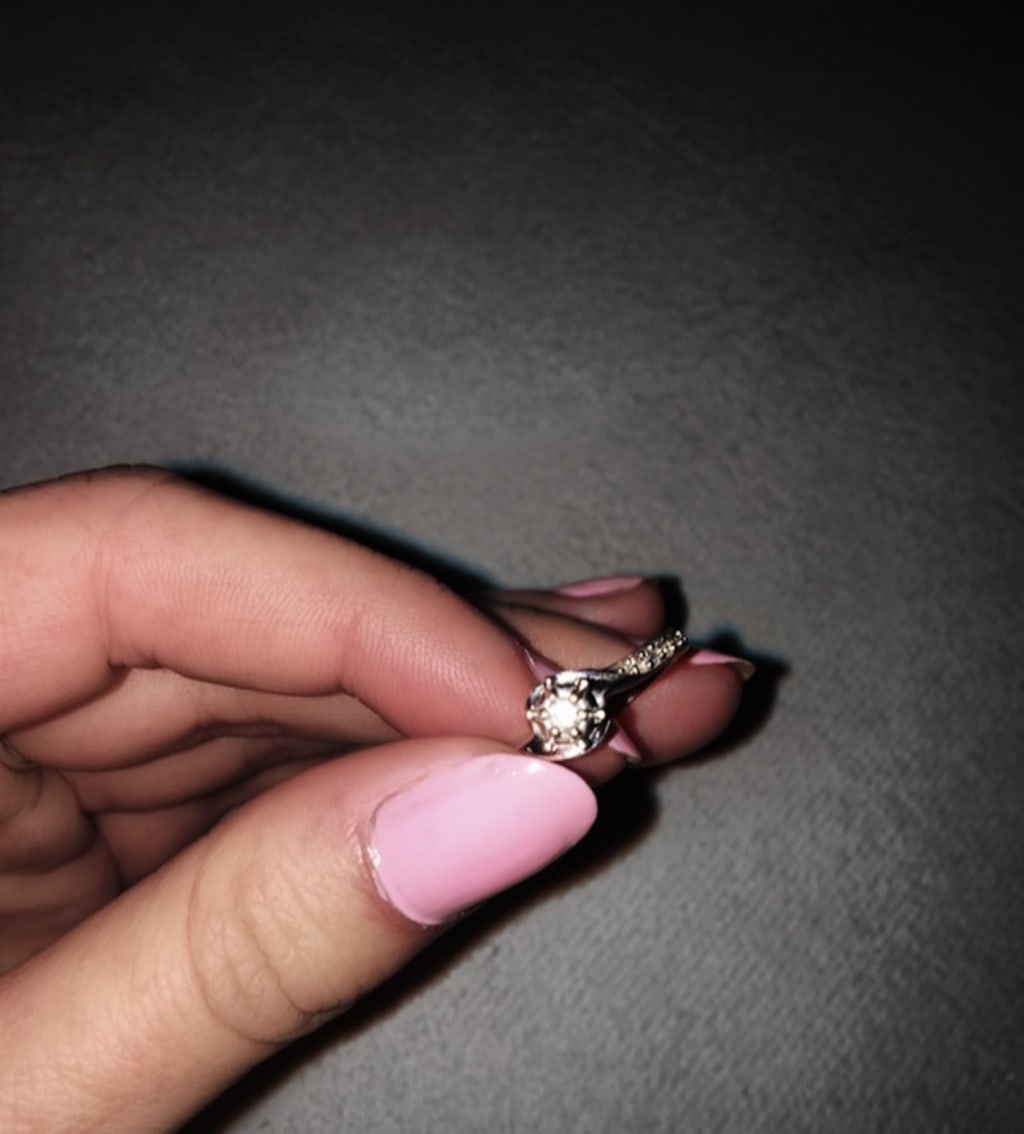 My Ring
The waitress took our plates away from us as we sat and talked to one another in the restaurant. It was a small restaurant with dim lighting. An older couple was sitting at the table next to us smiling. Once the waitress was gone, he placed his hand inside his jacket pocket and removed a small box. I smiled from ear to ear, already knowing what it was. He placed the small box in front me saying, "I really don't know why I'm so nervous about this because I'm not actually proposing to you yet." For a few minutes, he talked about how much he loved me, how this was our promise to one another that we would stay faithful to each other, and someday marry one another. After that he had me open the box and he placed the ring on my finger. I stared at it smiling. It was a promise ring. A ring that represents a relationship that isn't quite ready or in our case "too young" for marriage.
The band of the ring is white gold with small diamonds going halfway down. In the center on top, there is a small diamond—one-sixth of a karat to be exact. This ring is one of the most important things in my life, but that is not because of the ring itself. Instead, it's because of the meaning behind it and who gave it to me. Chris, my best friend, and the love of my life. Our story starts about five years ago.
It was the first day of our eighth grade year. Chris was new to our school, since he had just moved to the county when his parents split up. He walked in on the first day and I turned to my friend sitting next to me saying, "One day he and I are going to happen." Later that week, I had approached him asking for his phone number and we continued to talk, text, and flirt for five years before anything came from it.
It was senior year of high school when something finally happened between us. My boyfriend at the time moved to Wilmington, and shortly after moving there he cheated on me, lied about it, and then broke up with me about a month before prom. I texted Chris asking if he was going to prom, and he said, "No." I followed that up by saying, "Well, you are now, because you're going with me." He agreed and we began hanging out almost everyday, he started taking me on dates, and then we became official right before prom.
Now I have my promise ring. It is incredibly important to me because Chris and I have been through so much together and there has always been that love there—whether it has been a friendship or romantic love. At this point in our relationship, it is both types of love. It's even more important now because he does not go to college here, so if I'm having a rough day or miss him or anything of that sort, I can look down at my finger and see this reminder of how much we love one another, as well as what got us to this point, because "I promise" to love him no matter what, stay faithful, be his best friend, and that makes me so incredibly happy.