I Do - Take Two
(Why I'm Planning a Vow Renewal/ Second Wedding in Nine Weeks)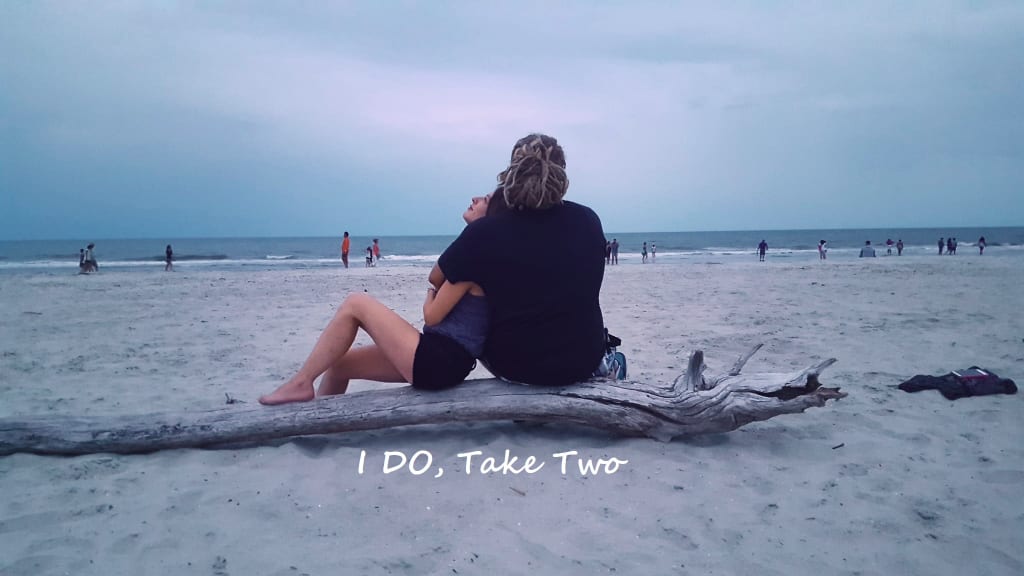 I know, even the title implies I'm a little untraditional.
When I married my husband Wes seven years ago, we were untraditional then as well. I was 19. My husband 21. We had been dating only two months when we got engaged, and married only five months later. There was no particular rush, we were just in a hurry and ready to spend the rest of our lives together. We were young and immature. During this time I chose to exclude several members of our families.. including my dad.. from the ceremony. My dad was there, but he did not walk me down the aisle. Not that I regret the fact that my grandpa did, he will always be a very important part of my life and I cherish those moments. At the time, it felt like the reasonable thing to do as we weren't getting along. But now that I have a child of my own, and my dad and I have grown closer as I grew up a little more. I regret the fact that he didn't walk me now, because as a parent I couldn't imagine being excluded from something like that. Wes & I always said we'd renew our vows one day. 10-year, 15-year milestone. We wanted to make it special, something new. And one thing I said I would redo is I'd have my dad walk me down this time.
Then, dad got sick.
First it was lung cancer. Then it was brain tumors. It's been a constant stop and go of chemo & radiation and good days and bad. One minute he was giving me news of progress, the next time it was back to bad news. The most recent report adds ten new brain tumors. Suddenly, the chance to right my wrongs was a matter of urgency or not at all. My husband recognized this, and on Christmas Day he asked me to renew my vows, giving me a chance to re-marry my best friend and have my dad walk me down while he still can. Which comes down to nine weeks. I hope he will make it to nine weeks. It was as quick as I could secure a venue and get everything organized. And I pray that he'll last that long. But all I can do is pray and try my "darndest" to plan something special for us all in time. And that's what I'm doing currently. I'm excited to share this journey with my friends and family. And since I'm doing this in such a quick amount of time, on such a small budget, I figured it might help someone else trying to save time & money for whatever reason. So, for the next nine weeks I will be writing about my journey and how we're pulling off the impossible, a rustic-themed, barnyard vow renewal. Hopefully it will inspire others to pull of the impossible in their lives, and save a few brides some time and money using some of the tricks I'm learning along the way
I hope you will enjoy the journey as much as you do. I'm so excited, but I have lots to do in a short amount of time. Wish me luck & stay tuned for money & time saving tricks!