I am remembered by me
Allow yourself to belong, even for a while.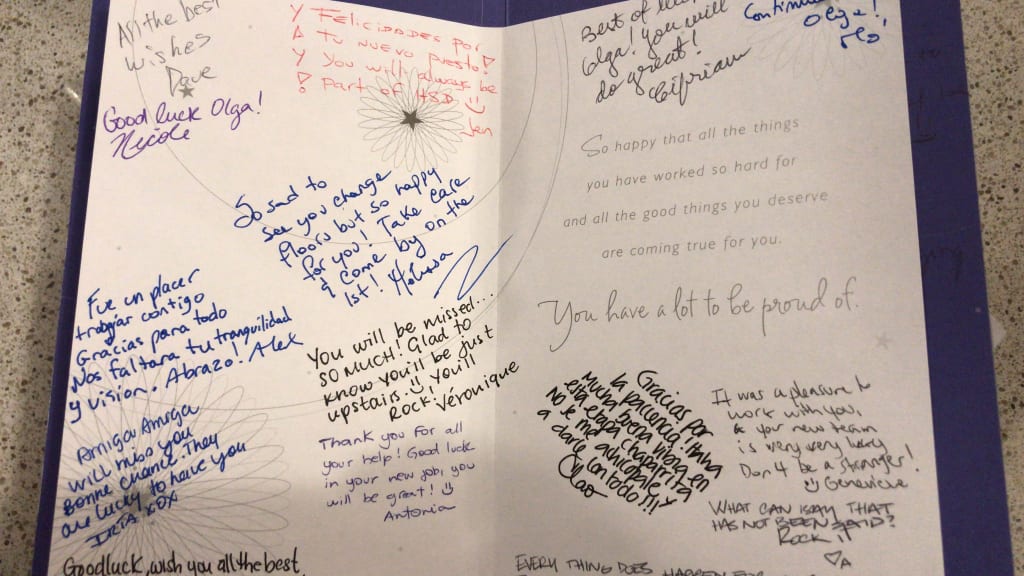 I feel that this is the sequel to the article I wrote last week about being laid off from Expedia. I hope this one doesn't suffer from the sequel curse like Blade Runner (yes, it still hurts).
I want to write this time about lesson #2: "You work with people, sentient beings, don't act like you were a machine. Make friends!"
After publishing the first article, I was expecting my Expedia contacts in LinkedIn would say: "Hi!". Maybe the closer ones, even "I miss you!". Well, let me tell you that I made even more friends, and people all over the world keep sending messages, public and private, thanking me for sharing my experience. I am a witness to what good writing can do! No, no, it is not my impeccable usage of English or my mastery of grammar. It's just the fact that I lend my voice to thousands by opening up about what could be considered a failure.
I lost a job, but I gained so much. I don't even realize how much yet.
All my life, as many of you for sure, I dealt with the task of building a professional image. An image, a mask to cover my failures because failure is not acceptable. I received the typical advice, leave your home-self the moment you set foot at the office. Or the other version, leave your problems at home.
I have some news for you: The world has changed, even before the pandemic, things were moving towards acceptance of our human condition, even at work. Expedia showed me, for the first time, how powerful could be mental health awareness in the work environment if the right people push for it. I had the pleasure to meet marvelous human beings like Marnie Weber, Kristen Weber –not related, they would clarify–, Laura DeCook, and Solène Anglaret, who were committed to bringing awareness to the office.
For the first time, I was somehow able to be myself. To be honest, some of myself (After all, is the office, you know!). I saw a comment today in Expedia's internal slack (thanks to Marnie and Natalia for sharing) and Guillaume said that he missed me, and one of the things he shared was that I convince somehow people in my team to learn Spanish. That comment made me realize the power in showing yourself as you are, a white woman of color with a sexy accent in my case (thanks, Sofia Vergara).
One of the best things that had happened to me in Canada was the night that I was working late, and my friend from the maintenance group told me "Hermana, bienvenue chez nous". I used my Latinx heritage to connect, I used my smile (have you try to smile at people in the street for no reason?), and every single coffee break I could to connect because I enjoyed it, and I discover that I care.
Why?
Because connecting with people increases productivity.
Why?
Because you feel that you have a purpose. Key for motivation and keep going.
Why?
Because our brain is wired that way. We need to belong to a tribe. We need connections, even at the workplace.
Expedia was my tribe for six years. I belonged. I was motivated (a little scared too sometimes), I was a team player. After some months out of the tribe, I can say that there was another tribe underneath and I didn't realize until now. A tribe that continues to grow because you are reading my words, and I am here behind the keyboard smiling at you.
Yes, maybe I lost a job, but I gained relationships. I gained a sense of belonging beyond a job post that I didn't have before. So, thanks, Expedia you were a good school.
I am sure that I am remembered by who I was, not by the deliverables or reports.
You could be more than a team player and good performance numbers. You could allow yourself to belong, even for a while as we are all replaceable, don't forget.