Hot Seat : Natalie Want Both Mike and Josh , Mike's Mom Asking for Divorce.
Natalie's love life has been a source of drama on the show, as she has been torn between her husband Mike, and her new flame Josh.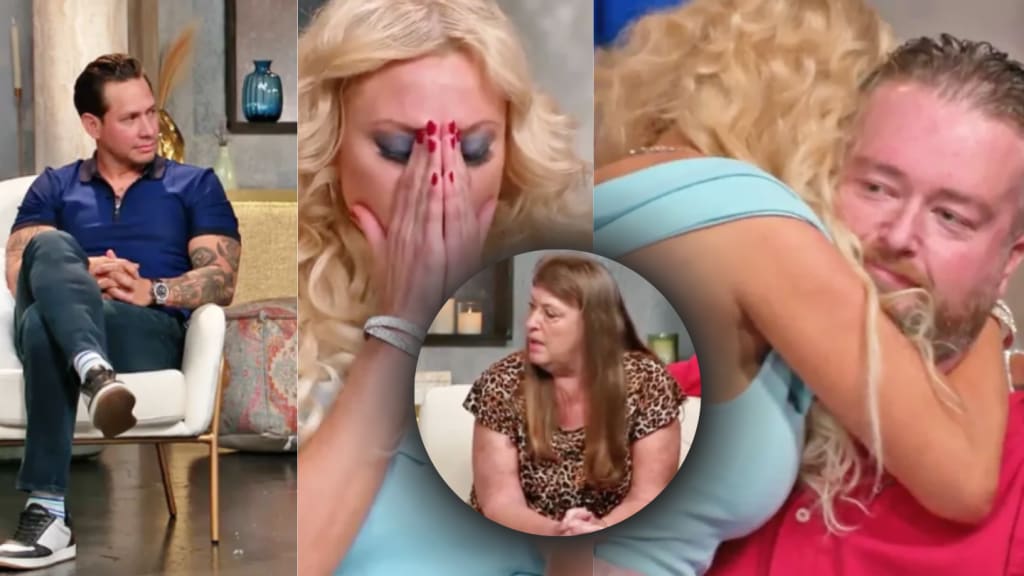 During Monday night's final tell-all episode, the host asked Natalie why she refuses to choose between the two men, even though she is still married to Mike.
Natalie explained that she doesn't want to divorce Mike, but she is also interested in Josh. She said that her relationship with Mike is "strange" and she doesn't know if she still loves him. When asked about his feelings for Natalie, Mike said that he will always have a love for her, but they have a complicated history together.
Natalie's love triangle with Mike and Josh has been a central storyline on the show, and during the final tell-all episode, the host pressed Natalie to choose between the two men. However, when asked about her feelings, Natalie stood up and went to sit on Mike's lap, causing confusion and uncertainty about where she stands with both men. She then admitted that she is not ready for a relationship with either of them.
Josh, who has been pursuing Natalie throughout the season, said that he is still unsure about their relationship and he does not understand her relationship with Mike. He revealed that Natalie talks to Mike daily, but he is not the type of person to pry into their conversations.
Things took a turn for the worse when Mike's mom Trish came on stage and confronted Natalie. She accused Natalie of only being interested in Mike for the sake of appearing on the show, and she said that Natalie does not love Mike and never will. Natalie tried to defend herself, but she ultimately apologized for any disrespect she may have caused.
As the episode came to a close, it was clear that Natalie's love triangle with Mike and Josh remains unresolved, leaving viewers to wonder what will happen next.
However, when asked about her opinion on Mike's feelings for Natalie, Trish hesitated before stating that she believes her son is "three-quarters over" his ex-wife. And, she refused to elaborate on camera regarding the status of their divorce. Trish insisted that the time has come for Mike to move on and that he is taking steps to do so.
Meanwhile, Josh admitted that he needs to reevaluate his own relationship with Natalie.
The host of the show declared that it is clear that the love triangle will not be resolved that evening. Natalie, looking emotional, stated that she is prepared to face the possibility of being alone. Mike urged her one last time to figure out what she truly wants. Natalie, in a moment of vulnerability, revealed that she still sees Mike as her protector and believes that Josh is just having fun with her.
These are 5 scenarios that we think will happen in the future for mike, Natalie, and Josh:
Natalie decides to end her marriage with Mike and pursue a relationship with Josh. However, things don't work out between them and they eventually break up. Natalie is left feeling heartbroken and alone.
Mike decides to divorce Natalie and move on with his life. He starts dating other women and eventually meets someone new who makes him happy. Natalie is left to deal with the aftermath of their failed marriage.
Josh realizes that he doesn't want to be with Natalie and decides to focus on his own life and career. He travels the world and meets new people, eventually finding happiness on his own.
Natalie, Mike, and Josh all decide to move on from each other and focus on their own lives. They go their separate ways and don't see or hear from each other for years.
After some time has passed, Natalie, Mike, and Josh all end up crossing paths again. They have all changed and grown as individuals, and they decide to give their relationship another try. This time, things work out and they all find happiness together.
Tell us in the comments what scenario is most likely to happen.
About the Creator
I'm 24

,

I'm Just In Love with the 90 day fiancé and different stories + the possibility of a better future for myself | Join My

Facebook Group

we are over 21k people | visit our website

hotseatmag.com
Reader insights
Be the first to share your insights about this piece.
Add your insights