Even Meredith Grey Had a Tribe of People
Day 2 of My 30 Days of Gratitude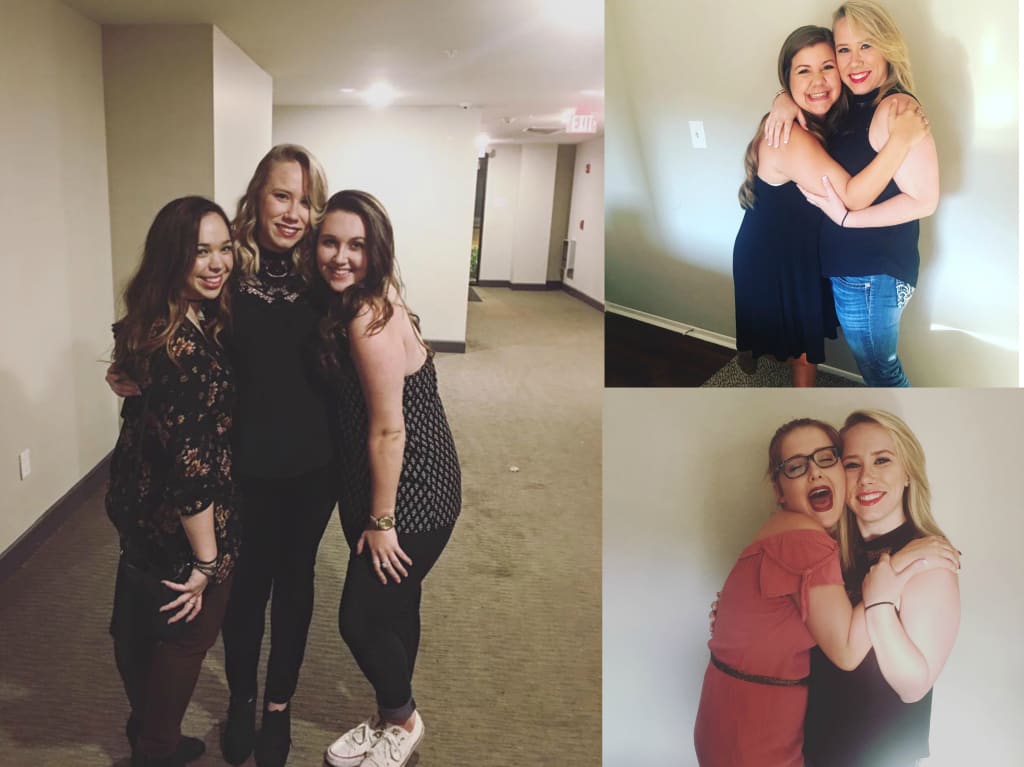 A person is someone that you share everything with. Someone who holds your hand when you're sad, who dances with you to blow off steam, who protects your heart more than you protect your own, who binge eats and watches movies with you, who loves you unconditionally. Your person might be you sister or brother, your best friend, your mom or you aunt. It could quite literally be anyone who loves you more than life itself. I used to believe that you could only have one person in your life, and now I'm starting to see things a little different. I don't have just one person in my life to fulfill all these things and more. I have a group of people. A tribe. My tribe.
Each woman in my tribe is uniquely special to me and I'm forever grateful to each and every one of them. The best part of it all is, that they aren't just my tribe. We are each other's. We are a group of young women striving to be the best, to be successful, to be happy, and to do it all together. I'm equally grateful for them all and for everything they bring to the table. The question that prompted this whole thing was what friend am I grateful for. I'm not grateful for just one, I'm grateful for them all.
I know a lot of people probably watch the tv drama Grey's Anatomy. So everyone knows all about Meredith and Christina's friendship. They call each other their persons. They look to each other for everything and have even been known to pick their side over others. Through all the drama, medical disasters, relationship mess-ups, and more they remained sisters for life even after Christina moved to a different country to head a cardiology practice. I used to be all about the "person" thing. And I had a person. Go read my "It's Okay We're Not Best Friends Anymore" article and you'll find out why we aren't friends anymore. I was a firm believer in that word, person. I stood by it and as I've matured and gotten older I've realized that one person just isn't enough. To be truly successful in life you need people. Not one person, but many. My dad tells me all the time that if you surround yourself with positive people who will be extremely successful. That you become the environment you surround yourself in. I found that in my group of women.
They all have been there through my break ups, my failures, my tears, my accomplishments, and my joy. They bring me more happiness than I could have ever imagined getting from just one person. Each one of them brings their own set of issues, love, and commitment to our group. We have our history nerd friend, our wild friend, our doctor friend, and our future therapist friend. And then there's me, and I'm the mom friend. If my girls are reading this, they know I hate being referred to as a mom, but in retrospect its true, I am. They love me for all my flaws, my craziness, and my issues. They are blunt with me, and can be stubborn. They tell me how it is and I do them same for them.
I don't believe in that word, person, anymore. Quite frankly I just don't like it. There is something so powerful and so magical about having a tribe of people on your side. It's like no matter what I will always have somebody in my ring at all times. We might not always be together, but we are always there for each other no matter what. If you don't have this kind of friendship, you need it. I know deep in my heart that they are the best people for me, and I'm forever grateful for them.
If you're struggling with a friendship or feel the same way I do, read this and know. IT'S OKAY TO NOT HAVE ONE PERSON. IT'S OKAY TO HAVE PEOPLE. There is no such thing as one person anymore. And if you follow that tv show, you know that Meredith Grey didn't have one person. She had people too. She had her tribe. You can have a tribe too. There is no greater feeling in the world then having a group of people on your side to love you, support you, and push you through it all. I'm forever grateful for my girls, and I hope that if they read this they know that I love them more than they know and I couldn't imagine my life without them. <3
friendship
About the author
I'm an aspiring writer, music believer, food endulger, and lover of life here to share my own experiences, ideas, advice, and beliefs!
Reader insights
Be the first to share your insights about this piece.
Add your insights