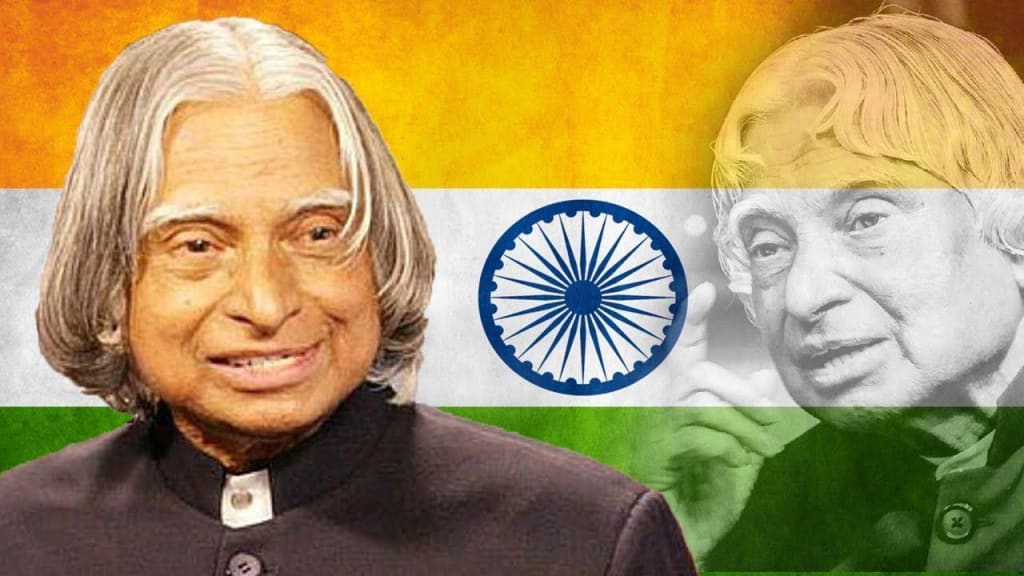 CHILDHOOD AND EDUCATION.
Avul Pakir Jainulabdeen Abdul Kalam was born on October 15, 1931, to a Tamil Muslim family in Rameswaram on Pamban Island, then in Madras. Presidency, and is now the Governor of Tamil Nadu. His father, Jainulabdeen Marakayar, was a boat owner and the imam of a nearby mosque, while his mother, Ashiamma, was a housewife. His father owned a ferry that transported Hindu pilgrims between Rameswaram and the now-deserted Dhanushkodi. Kalam was the youngest of five siblings, with four brothers and one sister.
His ancestors were wealthy Marakayar traders and landowners, with a large number of properties and large tracts of land. Marakayar are a Muslim ethnic group who claim descent from Arab traders and local women in coastal Tamil Nadu and Sri Lanka. The family business had included trading groceries between the mainland and the island, as well as transporting pilgrims between the mainland and Pamban. However, with the opening of the Pamban Bridge to the mainland in 1914, the businesses failed and, apart from the ancestral home, the family fortune and properties were lost by the 1920s. By the time Kalam was born, his family was impoverished.As a child, he had to sell newspapers to supplement his family's meagre income.
WORK AS A SCIENTIST.
This was my first stage, and I learned leadership from three outstanding teachers: Dr. Vikram Sarabhai, Prof. Satish Dhawan, and Dr. Brahm Prakash. This was a period of learning and knowledge acquisition for me.
After graduating from the Madras Institute of Technology in 1960, Kalam joined the Defense Research and Development Organization's Aeronautical Development Establishment (by Press Information Bureau, Government of India) as a scientist after joining the Defence Research and Development Service (DRDS). He began his career by designing a small hovercraft, but his choice of a job at DRDO did not convince him. Kalam joined the INCOSPAR, where he worked under the renowned space scientist Vikram Sarabhai. H. G. S. Murthy, the first Director of Thumba Equatorial Rocket Launching Station, interviewed and hired him for ISRO (TERLS).
Kalam was transferred to the Indian Space Research Organization (ISRO) in 1969, where he was the project director of India's first Satellite Launch Vehicle (SLV-III), which successfully launched the Rohini satellite into near-Earth orbit in July 1980. Kalam began independently working on an expandable rocket project at DRDO in 1965. Kalam received government approval in 1969 and expanded the programme to include more engineers.
At IIT Guwahati, Kalam addresses engineering students.He visited NASA's Langley Research Center in Hampton, Virginia, Goddard Space Flight Center in Greenbelt, Maryland, and Wallops Flight Facility from 1963 to 1964.Between the 1970s and the 1990s, Kalam worked on the Polar Satellite Launch Vehicle (PSLV) and SLV-III projects, both of which were successful.
From July 1992 to December 1999, Kalam was the Prime Minister's Chief Scientific Adviser and Secretary of the Defense Research and Development Organization.
During this time, he was heavily involved in politics and technology, and the Pokhran-II nuclear tests were carried out. During the testing phase, Kalam and Rajagopala Chidambaram shared the role of Chief Project Coordinator. During this time, media coverage of Kalam elevated him to the position of the country's most well-known nuclear scientist. However, the site test director, K Santhanam, stated that the thermonuclear bomb was a "fizzle" and chastised Kalam for issuing an incorrect report. Both Kalam and Chidambaram denied the allegations.
In 1998, Kalam collaborated with cardiologist Soma Raju to develop the "Kalam- Raju Stent," a low-cost coronary stent. The Kalam-Raju Tablet, a rugged tablet computer for rural health care, was designed by the duo in 2012.
PRESIDENCY.
Kalam was India's 11th president, succeeding K. R. Narayanan. He won the 2002 presidential election with 922,884 electoral votes, surpassing Lakshmi Sahgal's 107,366 votes. His term ran from July 25, 2002 to July 25, 2007.
On June 10, 2002, the National Democratic Alliance (NDA), which was in power at the time, announced that Kalam would be nominated for President, and both the Samajwadi Party and the Nationalist Congress Party supported his candidature. After the Samajwadi Party announced its support for Kalam, Narayanan decided not to run for re-election, clearing the field.
The presidential election polling began in Parliament and state assemblies on 15 July 2002, with the media claiming that the election was a one-sided affair and Kalam's victory was a foregone conclusion; the count was held on 18 July. Kalam was sworn in as the 11th President of the Republic of India on July 25, after which he moved into the Rashtrapati Bhavan.
Before becoming President of India, Kalam was the third person to be awarded the Bharat Ratna, India's highest civilian honour. The previous recipients of the Bharat Ratna were Sarvepalli Radhakrishnan (1954) and Zakir Hussain (1963). He was also the first scientist and bachelor to live in Rashtrapati Bhawan.
POST-PRESIDENCY.
After leaving office, Kalam became a visiting professor at the Indian Institutes of Management Shillong, Ahmedabad, and Indore; an honorary fellow of the Indian Institute of Science, Bangalore; chancellor of the Indian Institute of Space Science and Technology Thiruvananthapuram; professor of Aerospace Engineering at Anna University; and an adjunct at many other academic and research institutions across India. He taught technology at Banaras Hindu University and Anna University, as well as information technology at the International Institute of Information Technology in Hyderabad.
In 2011, civil groups chastised Kalam for his stance on the Koodankulam Nuclear Power Plant; he supported the plant's construction and was accused of failing to consult with local residents. Protesters were hostile to his visit because they saw him as a pro-nuclear scientist and were unimpressed by his assurances about the plant's safety features.
In May 2012, Kalam launched the What Can I Give Movement, a youth-oriented initiative with the overarching goal of combating corruption.
WRITINGS.
A. P. J. Abdul Kalam makes a speech
Kalam strongly advocated in his book India 2020 for an action plan to transform India into a "knowledge superpower" and developed nation by 2020. He saw his work on India's nuclear weapons programme as a way to solidify India's position as a future superpower.
I've identified five areas where India has a core competence for integrated action: (1) agriculture and food processing; (2) education and healthcare; (3) information and communication technology; (4) infrastructure, including reliable and quality electric power, surface transportation, and infrastructure for all parts of the country; and (5) self-reliance in critical technologies. These five areas are interconnected and, if advanced in a coordinated manner, will result in food, economic, and national security.
Kalam recalls a "transformative moment" in his life when he asked Pramukh Swami, the guru of the BAPS Swaminarayan Sampradaya, how India could realise this five-pronged development vision. Pramukh Swami's response—to add a sixth area of developing faith in God and spirituality to overcome the current climate of crime and corruption—became Kalam's spiritual vision for the next 15 years, which he describes in his final book, Transcendence: My Spiritual Experiences with Pramukh Swamiji, which was published just a month before his death.
It was reported that there was a high demand in South Korea for translated versions of his books.
Other developments in science and technology piqued Kalam's interest, including a research programme aimed at developing biomedical implants. He also favoured open source software over proprietary software, predicting that widespread use of free software would bring the benefits of information technology to more people.Kalam set a goal of interacting with 100,000 students in the two years following his resignation as scientific adviser in 1999. He went on to say, "I feel at ease around young people, particularly high school students. I intend to share my experiences with them in the future, igniting their imaginations and preparing them to work for a developed India, for which a road map is already available." " His dream is for every student to use their latent fire in the heart to light up the sky with victory.
AWARDS AND HONORATIONS.
The main article is: A. P. J. Abdul Kalam has received 7 honorary doctorates from 40 universities, according to a list of honours and awards. For his work with ISRO and DRDO, as well as his role as a scientific advisor to the government, he was awarded the Padma Bhushan in 1981 and the Padma Vibhushan in 1990 by the Government of India. Kalam was awarded the Bharat Ratna, India's highest civilian honour, in 1997 for his contributions to scientific research and the modernization of defence technology in India. In 2013, he was the recipient of the Von Braun Award from the National Space Society "to recognise excellence in the \smanagement and leadership of a space-related project".Kalam was ranked second in Outlook India's poll of the Greatest Indian in 2012.
Kalam received numerous tributes after his death. The Tamil Nadu state government declared his birthday, October 15, to be "Youth Renaissance Day" throughout the state; the state government also established the "Dr. A. P. J. Abdul Kalam Award," which consists of an 8-gram gold medal, a certificate, and 500,000 (US$6,300). Beginning in 2015, the award will be given annually on Independence Day to residents of the state who have made significant contributions to scientific advancement, the humanities, or student welfare.
On the occasion of Kalam's birth anniversary in 2015, the CBSE included topics on his name in the CBSE expression series.
On the 84th anniversary of Kalam's birth, Prime Minister Narendra Modi ceremonially released postage stamps commemorating him at DRDO Bhawan in New Delhi on October 15, 2015.
NASA's Jet Propulsion Laboratory (JPL) discovered a new bacterium on the International Space Station (ISS) filters and named it Solibacillus kalamii in honour of late President Dr. A. P. J. Abdul Kalam.
Following Kalam's death, several educational and scientific institutions, as well as other locations, were renamed or named in his honour.
After his death, Kerala Technological University, headquartered in Thiruvananthapuram, where Kalam spent many years, was renamed A P J Abdul Kalam Technological University.
The Bihar state government renamed an agricultural college in Kishanganj, Bihar, the "Dr. Kalam Agricultural College, Kishanganj" on the day of Kalam's funeral. The state government also announced that a proposed science city would be named after Kalam.
Kalam Institute of Health Technology is India's first medical technology institute, located in Visakhapatnam.
The Uttar Pradesh state government renamed Uttar Pradesh Technical University (UPTU) A. P. J. Abdul Kalam Technical University.
The A. P. J. Abdul Kalam Memorial Travancore Institute of Digestive Diseases is a new research institute attached to the Travancore Medical College Hospital in Kollam, Kerala.
A new academic complex at Kerala's Mahatma Gandhi University. Dr. A. P. J. Abdul Kalam Science City construction began in Patna in February 2019.
A new science centre and planetarium has opened in Lawspet, Puducherry.
The Fulbright-Kalam Climate Fellowship was established in September 2014 by India and the United States.
The first call for applications for the fellowship, which will allow up to six Indian PhD students and postdoctoral researchers to work with US host institutions for six to twelve months, was issued on Friday, March 12, 2016. The Fulbright programme will be administered by the binational US-India Educational Foundation (USIEF).
Dr. APJ Abdul Kalam Planetarium was named after him in Burla, Sambalpur, Odisha.
DEATH.
A week before his death, Kalam was in Bijnor.
Kalam travelled to Shillong on July 27, 2015, to give a lecture titled "Creating a Livable Planet Earth" at the Indian Institute of Management Shillong. He felt some discomfort while climbing a flight of stairs, but he was able to enter the auditorium after a brief rest. He collapsed around 6:35 p.m. IST, only five minutes into his lecture. He was rushed to the nearby Bethany Hospital in critical condition, but he had no pulse or other signs of life when he arrived.
Despite being placed in the intensive care unit, Kalam died at 7:45 p.m. IST from a sudden cardiac arrest.His last words, to his aide Srijan Pal Singh, were reportedly: "Funny guy! Are you doing well?"
Reader insights
Be the first to share your insights about this piece.
Add your insights