Dinner with Nancy, Bob, Tom and Minh
One question. Answered in full.
"Who would you have dinner with if you could have dinner with anyone, alive or dead?"
The best answer to this question (that I've heard) came from a sincere kid.
"Oh, definitely someone alive."
This question is often tossed around, and there is a strategy for a "correct" answer.
It's easier to pick a historical figure. The dead and legendary have a defined legacy. With some exceptions, they have been fully "vetted." Even if you don't know much about them as actual people, you know where you stand with them.
With a living person, you run the risk of catching them before a fall. Although he was the same person, having dinner with Bill Cosby in '89 vs. '19 would be dinner with two very different people.
The living or dead issue only matters if you're considering dinner with a stranger. Maybe you're looking for one last dinner with a loved one. Or perhaps you've found your "forever person," and you only want another night with your partner. Adorable.
I once got this question at a job interview. I got the job, and it might have been the best job I've ever had. Unfortunately, I've forgotten what my answer was, so it's time to revisit.
Let's consider this article part of the interview for my next job. I hope it will become the new best job I've ever had, so it seems appropriate. What's the job? That always plays a part in the "right" answer. You have to pick a person that shows you're a fit for the position.
I wrote about it in-depth here. It's a total self-starter, and I'm already a few weeks behind on the original plan. Not up for reading an 8,000 word, five-part essay about folk tales, pop music, and my career? Here's the short of it. I'm creating something called "Aftermath," and it's a scheme to turn an imaginary restaurant into a real one. Along the way, I'd like to address systemic problems in the restaurant industry and fight food insecurity.
Well, that was easier to explain than I thought. That saved you so much time. You're welcome.
After giving this "dinner" question some thought, I've decided on four people that, theoretically, I could have dinner with tonight. Four may seem greedy, but it'd be next to impossible to get them all together for one dinner.
Though my pick is dinner with the living, it has the difficulty of dinner with the dead.
NANCY & BOB
Meet my parents. I'll be having dinner with them in about ten minutes.
In 2019 I published a book about making a career in the restaurant industry. I rarely mention the title, and I recommend against reading it. In 2021 it did $64.52 in sales (around 60 copies). That's more than I'd expect, but it's not great.
I'm 99% sure only one person has read the book from cover to cover. Nancy. Like most moms, she's the ultimate cheerleader. That said, yesterday she asked me to choose between two things. I responded, "That's like me asking you, 'Who do you love more, Dad, or your children?'"
She shot back, "Oh, Bob. He treats me nicer! He understands me."
Bob and Nancy met as college students in an interfaith youth group. They have behaved like twitter-pated puppies ever since. The secret? They compliment each other.
Bob is all brain. Nancy is all heart. They do switch off on occasion. Bob tears up during touching commercials. He's also pathologically worried about others' well-being. Nancy can read your soul from a "hello," and she recalls that thing you said back in April of '82.
Nancy is relentlessly sweet. She sends me a card in the mail with a supportive message approximately every two days. This is odd because I'm 43, and we currently live in the same house. I'm not a member of the LGBTQA+ community, but Nancy has repeatedly told me that she hopes I'd feel comfortable "coming out" to her. Most adult children are pestered for grandkids. She's still bugging me to find out what would make me happy.
Bob fixes things. From cars and computers to 90-year-old tractors and space stations. At the age of 13, he made an oscilloscope out of scrap metal and a CRT. When it comes to the other CRT, he's a member of the NAACP, ACLU, and argues for reparations. He votes for Bernie (or Kucinich) in national elections, enjoys a good protest, and left the Catholic church over gay marriage. He also works for the world's leading braille software developer. In his spare time, he advocates for the public as the head of the local board of health - a harsh job as of late.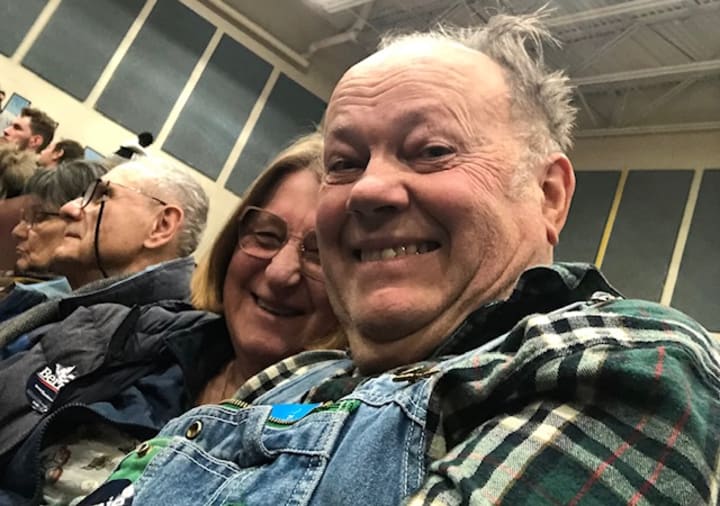 Bob and Nancy also drive me bonkers 99% of the time.
They're cute, but it can be difficult to explain certain things to them. They don't understand that many people are unhappy most of the time. They don't seem to understand loneliness and desperation. They care about these things, but I don't think they've shared in that experience.
Don't misunderstand. They've lost loved ones. They've experienced financial insecurity. I've seen them frustrated, stressed, and angry. I don't think either of them has ever experienced fear on a deep level. That sounds wild, but there's a reason. I'm not sure either has ever felt alone, at least not in half a century. They found the "right person" too soon. They missed out on a bunch of pain and desperation.
Their loss?
Neither of them has had a struggle-free life. They've dealt with sick children, public speaking, and car accidents. All these create fear. But I doubt they've ever feared life more than death. They're the rare folk who've never felt out of place more than a few hours at a time.
Am I being naïve? Maybe. Am I jealous? Absolutely.
Justice, they understand. Kindness is their keystone. Yet it's always been hard to explain my own occasional bouts of depression. As intelligent and empathetic as they may be, I get a head tilt and a head pat any time I've expressed these feelings. They care a lot, but they don't seem to relate.
Every child thinks, "Oh, Mom and Dad don't understand the world the way I do."
Yeah, but no.
Everyone seemed to know that Bob and Nancy were different when I was growing up. My classmates. Other adults. Teachers. It even caused problems from time to time. It can be isolating when your parents are different, everyone knows it, but no one understands why. It's cliche, but people fear what they don't understand. Few have understood my parents. It's not like they don't have friends, but their dynamic with those outside their duo is different. People orbit them, and rarely intersect.
They most confuse their kids, parents, siblings, and cousins. I was always surprised at family gatherings when I had so much in common with everyone… except my parents.
Imagine being at a family event and having to decipher your father to his brother. Not acting as a language interpreter. I'm talking about literally having to explain the words of one person to the other. How does that happen? Nancy and Bob are how.
Unconditional love and total support for each other means it's easy for them to give love and support to others. They already have their oxygen masks on and are ready to help everyone else in the plane crash that is life. It's beautiful and completely alien.
A big part of Aftermath is that I'm cooking for my parents. If you follow me here, you'll see that I make a different meal or cocktail each day. Nancy and Bob are almost always just off-camera. They drink the cheese-popcorn martinis and eat my liver and onion hamburgers. They've opened their home to all my experiments, where one side is toast, and the other side is raw dough. It's all fully half-baked, and they're here for every bad idea.
Nancy tells me everything is excellent before she's tasted it.
Part of Aftermath is about finding my own oxygen mask so I can help others. I doubt my "oxygen" lies in a relationship. Instead, I think it's about dedicating myself to something. Bob and Nancy are helping me with that search.
Aftermath is about love and support, but I also think it's about understanding. Bob and Nancy have always been my love and support system. But as for understanding, growing up, I Iearned to turn elsewhere.
TOM
Tom described my mother to me this way, "Nancy is quite possibly the sweetest person I have ever met. I can't understand a word she says." His experience was (and still is) my experience.
When Nancy explains something to you, she gives you everything all at once. Each word means one thing, represents two other ideas, and there's always one idea left unspoken.
Tom loves Hemmingway. Short sentences: direct thoughts, no fluff.
As a high school freshman, I met Tom when he cast me as Aide Williams in One Flew Over the Cuckoo's Nest. The following year he became my sophomore English teacher, but he was also in charge of the drama club. I was the only freshman, and as such, I became the cast "pet." He was the parent who made sure the puppy got walked and wasn't abused.
In many ways, Tom had much in common with my Dad. Both bordered on stoic and are quiet and thoughtful. Both are from immigrant families in and around New York City. Although I didn't know it at the time, Tom even went to college with my Dad's younger brother.
My father worked on Skylab, and Tom went to Woodstock. Both were cool things, but I went to high school in the '90s. Woodstock was trendy and had a highly anticipated sequel coming. Skylab had burned up. (So would Woodstock' 99).
The most significant difference between Tom and other authority figures in my life was that he was interested in music, art, and literature. This is what I was into. Regardless of the medium, I like a good tale. He was the first person to recognize and foster my love of a good story.
With Tom, I'd talk about things artistic and philosophical. He gave me lists of books to read, movies to see, and music I should listen to. We had disagreements over taste, but trying to convince each other was part of the fun.
Nancy had a car accident my junior year, and while Bob was understandably wrapped up in that, I turned to Tom for emotional support. He was also the first person I talked to about my conflicted feelings towards religion. A secular-humanist teaching in a Catholic school he welcomed the discussion. Then there was that time I wrote an essay confessing my crush on another student. It was "accidentally" published in the school literary magazine (long story). He helped me through the overwhelming embarrassment.
Tom was also the first male authority figure, other than my father, who wasn't always using his dick as a helicopter. He could be prickly and grumpy, but he wasn't unkind or toxic. He was tolerant. He apologized to students when he realized he was in the wrong. He paused when talking and chose his words carefully. I wasn't the only student who confided in him.
His children, Andy (8ish) and Lauren (5ish) were in our homeroom one morning. His wife worked as a nurse out of state, and it was not uncommon for the kids to be around.
Lauren spilled chocolate milk all over his desk as we stood for the pledge of allegiance. She panicked. Tom smiled, laughed, reassured her, and ducked out to grab paper towels. Meanwhile, Andy, dressed in a Boy Scout uniform, stood ramrod straight for the pledge in an attempt to be "extra good." It was a Norman Rockwell tableau. Tom took care of it all with a smile. A proud dad.
He accepted things as they were. He didn't need to bend reality to his demands. He let his kids and students make mistakes while offering guidance without judgment.
I did not enjoy high school, but Tom made the time tolerable. He let me pass in all sorts of weird papers. He gave me the correct grade, if not always a good one, without crushing my spirit. When I handed in a report on Jack Kerouac written on the side of a spare tire, he put it on permanent display in his class.
When I graduated, I didn't want to go to college at first. He helped me figure out where my head was at. I'd go to his house and tutor Andy in math. I'd have dinner with his family. I was usually in charge of making the salad. Afterward, we'd smoke cigars on his porch and talk. By this point, he insisted I call him Tom.
He was also the first to give me the nickname Jack, which is what I've gone by ever since.
Tom taught me that it was okay not to be understood or follow an expected trajectory. A potentially exciting discovery was always possible, so long as you kept going.
That attitude is going to be crucial if Aftermath is to succeed. But more importantly, he taught me the importance of sharing when it comes to knowledge and taste.
What is a restaurant, if not an exercise in sharing knowledge and taste?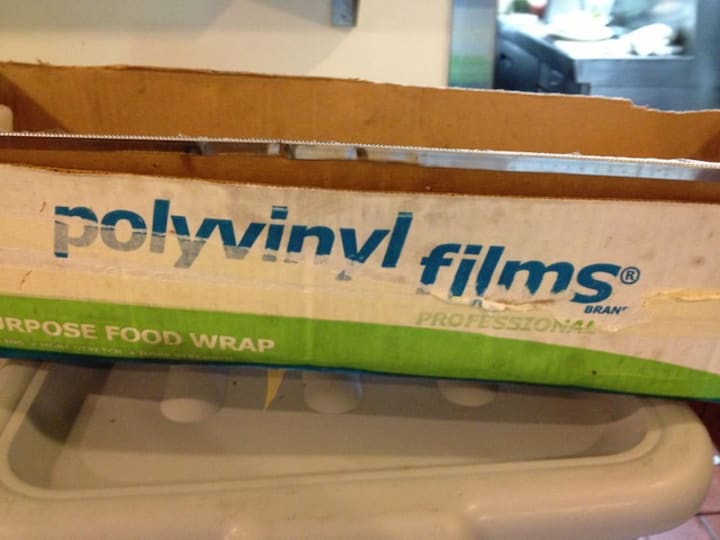 MINH
Minh calls me "Jack-Jack," which suits her playful nature. It also made me feel comfortable at another time in my life when I felt like an outsider.
In 2004 I moved to LA to work in film and TV. In about three years, I went from sleeping on the floor and working four jobs to living by the beach with a cushy studio job. I was doing something that should have made me happy. It wasn't.
One October day, I rode the bus while reading Michael Ruhlman's Soul of a Chef. The book was making me feel things. I came from a family of bakers. I regularly watched Food Network, and I'd worked in restaurants through college and into my first few years in LA.
Was I following the wrong path?
At that moment, going down Wilshire on the 720, I decided to go back into restaurants.
I got off the bus in front of the SAG-AFTRA building and scrolled through Craigslist. I responded to an ad: "Farm to Table Cook/Chef de Cuisine (Hollywood/Beachwood)." I said I was a culinary student (lie) with restaurant experience (true) looking for kitchen hours.
Minh wrote back and said if I could get there by seven, I could trail her dishwasher.
Walking into a posh cafe in the Hollywood hills, I didn't fit in as either a guest or as an employee. I spent a couple of hours working with a guy annoyed by my cluelessness. After my trial, Chef gave me a seat at the bar and delivered me the best turkey burger I've ever had. She kindly told me I wasn't what they were looking for. I left dejected. My girlfriend and her uncle took me out to Koreatown for beers, karaoke, and daechang.
Minh texted the following day, saying, "If you can get here by three, you got the job."
When I started, it was an all Spanish-speaking kitchen. I was a slow white dude who knew half of what he was doing and understood 10% of what was said. The first month wasn't my best. For most of the prior decade, I'd worked nine-to-five at a desk. It showed. After the first week, my hands cramped to the point where I thought I'd damaged something. I also had issues with breathing that seemed to come from the industrial degreaser. I was out of my depth, a fish in space.
I put my head down and repeated a mantra through gritted teeth, "The only way out is through."
The owner reprimanded me several times for washing dishes too loudly. She was right. I was loud because I was angry. I'd abandoned a comfy and well-paying career for a job that had me commuting on a bus for almost four hours a day. Once at the job, which I wasn't particularly good at, I was surrounded by people I could barely communicate with. I also made a quarter of the money I used to.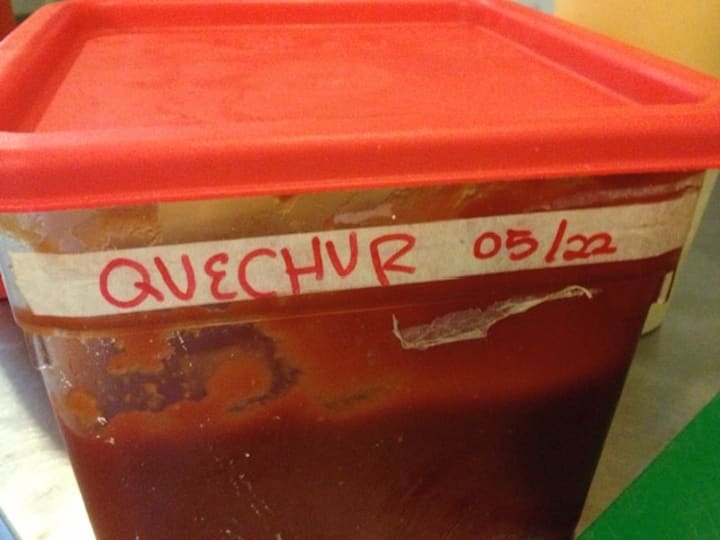 Then there was Minh.
In the same way that Tom encouraged me without letting me skate by, Minh welcomed me without acknowledging my frustration. I was obviously chewing on my misery much of the time, but she never called attention to it. She talked, and she listened to me, and most of all, she never stopped sharing her excitement about the food.
She would tool around in the kitchen long past close. I'm not sure if it was insomnia or the nature of a natural night owl. Even though I was last out, she was almost always still there. She played around in the kitchen, scrolled through her phone, and worked on her laptop.
There were mornings when I got there at 6 AM, and it was apparent she had only just left.
While I was doing my best to refine my sweeping and mopping technique, we'd chat. We'd talk about recipes, restaurants, and whether culinary school was worth it.
The first time I ever tasted coq au vin was late one night in her kitchen. It came from a tarnished yellow Le Cruset full of meat and a braising liquid that had become a thick umami-rich paste. The meat was for the next day's special, but she slathered the paste on bread and shared it with me. Picking out errant pieces of bouquet garni, she talked about how kitchen scraps were an excellent kitchen work perk.
It was impossible to disagree. Eventually, I made myself grilled cheeses from brioche ends and cheese scraps. The day crew would almost always simmer a "stone soup" sancocho and have horchata off to the side. After trimming scallops, I'd sautee the tough "feet" with butter and tarragon and eat it over pan-fried sticky rice.
I'd go home, exhausted, and come back the next day.
I never became a master dishwasher, but I improved. My body hurt less over time, and eventually, as always happens, they needed more kitchen help. During the days, I learned the basic basics from Claudia and Carlos. They were my age but had light years more experience. Maynor, the young prep guy, was there to smile, joke, and get shit done. He processed pounds and pounds of onions, potatoes, and eggs while telling jokes. Maynor still pops into my head any time I cut an onion.

But my main focus was baking. Minh came up through the pastry side, so she did the bulk of my training. Everything from pot de creme to jams to cookies. Then there was the thing that got her the job at this restaurant; her scones. Making them was a process both mechanical and sculptural. The mixer did about half the work, and the rest was done by hand. It involved sifting through the powder and making sure the butter chunks were the right size and shape.
Unfortunately, in my experience, few chefs are as happy to teach as Minh. Most Chefs seem to view leadership as asserting dominance. But Minh didn't need to prove her position. She knew her strengths. Working the line seemed to stress her out, but creating the menu and getting the team to understand what she was doing gave her peace of mind. She knew how to manage the problems, and she neither thrived on nor encouraged chaos.
Her talent was communication. Her medium was food.
Over time I learned a lot about leadership by watching Minh. My favorite was watching her screen potential hires. At the end of their stage, she'd ask them to make a salad. This seemed to be a crucial question, but I couldn't figure out what she was looking for. Creativity? Skill? Something else? So, I asked her.
"I want to see if they will respect the ingredients," she replied with a smile.
Minh respected everyone and asked little in return. If you had a sincere interest in food and respect for coworkers and ingredients, she could work with you.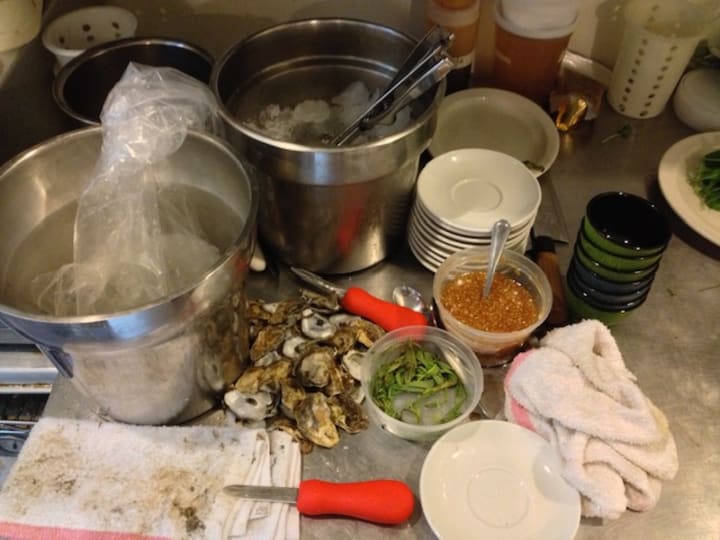 While I primarily worked with the Latinx day crew, I also did garde manger shifts that bled into dinner service. The night crew was made up of standard "hip" restaurant cliches. Manic tattooed white dudes with beards nattering on about Game of Thrones. The one exception was Minh's right hand, Aldo. He floated through the kitchen. He appeared to find the job effortless. Skinny, clean-shaven, calm, and sarcastic, he had the same sort of glee when it came to teaching that Minh did. Plus, he knew how to support her vision.
Minh corraled all these different people without yelling, scolding, or tantrums. The day crew, the night crew, and all the different personalities they contained worked together for her vision. She knew what she wanted, and she viewed any mistakes as opportunities.
Minh encouraged me to experiment and even put a couple of my items on the menu. The job never got easy, but I was sad to leave when I moved out of state. Minh was the rare restaurant boss who treated my departure like a celebration. She helped me track down my next job. She was excited to see me succeed. In my life, few Chefs come close to the level of admiration I have for Minh. Over the years, I've turned to her for career advice, and I try to see her whenever I'm back in LA.
After I left, I had many restaurant adventures, both good and bad. But, if she hadn't shown me such a positive standard, I don't know that I'd have stayed in the business. Working in a kitchen is a hard job, but she wanted everyone to enjoy their time. She did this with overwhelming kindness, patience, and good food.
Minh showed me how restaurants could be rewarding, even if the job sucked. She embodied a restaurant's plutonic ideal by making it a place that actually "restores."
I want to recreate this restaurant experience and share it with everyone. Aftermath might be my best path to that end.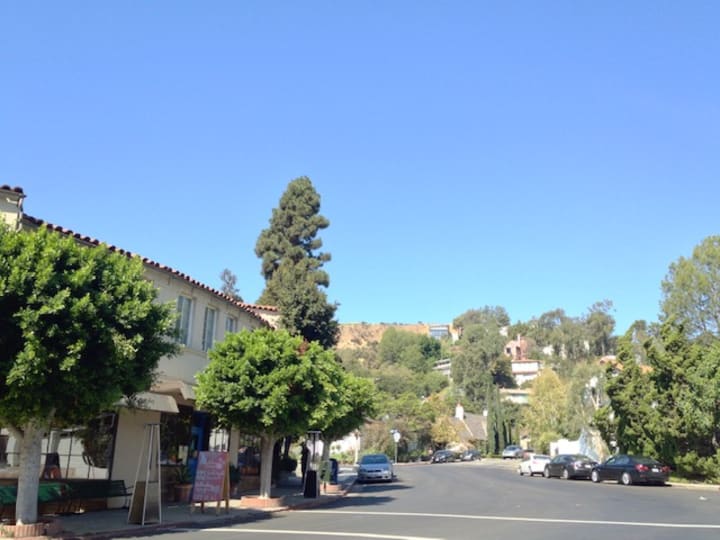 Where were we?
Oh yes.
If I could have dinner with anyone from the infinity of time and space, I'd have dinner with Nancy, Bob, Tom, and Minh.
I haven't seen Tom or Minh in years. I emailed back and forth with Tom's wife a few months back, and I owe them a follow-up. Minh and I communicate on brief occasions through Instagram, but she's been very busy as of late.
My parents are currently inescapable.
If it isn't obvious why I'd pick these four people, it's because they are the ones who brought me here. These people got me to the point where I thought creating an imaginary restaurant was a good idea.
We shall see.
_______________________________🐇
More in this Series
The Fly By Night Owl - Sometimes you start where you're supposed to be. (FICTION)
A Restaurant in the Aftermath - Can a real restaurant be built inside a fake one? (NONFICTION)
humanity
About the author
Obsessively thinking about the intersections of food, entertainment, commerce, human nature, and the end of the world.
Reader insights
Be the first to share your insights about this piece.
Add your insights