Dealing with Grief for the First Time as a 17 Year Old
"Growing up, I had never experienced real loss."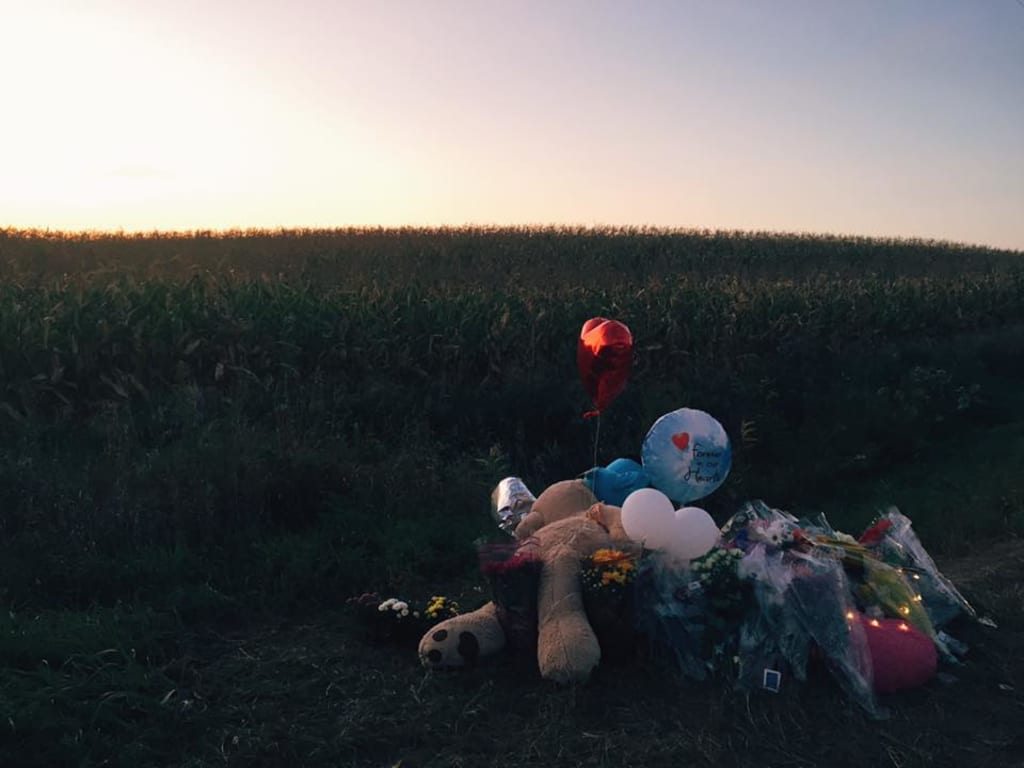 Growing up, I had never experienced real loss. I had lost a great-grandma or grandpa every now and then but being that I was so young, it didn't truly affect me; I didn't feel very much sadness. I had the mindset that nobody that I really loved and cherished would ever pass away or leave me. That mindset transformed for me in the very beginning of my junior year in high school.
On September 14, 2017, I lost one of my best friends in a tragic car crash. It was a normal day, I saw Ja'Mason whom I talked to every day in my third-period class, FST (Function, Stat, Trig). We usually conversed as the bell rang to dismiss class, but this day, we didn't. There wasn't a specific reason, we were all just pretty exhausted and didn't think much of it. After school ended, I remember driving home and hearing police sirens screeching extremely loud for nearly ten minutes straight. Once again, I didn't think much of it; I just hoped whoever was involved was safe and okay. At about 7 PM, I was laying down with my cousin who had come over to do homework with me, when I got the excruciating text message. I immediately yelled, "No, no, no, no," when I suddenly threw my phone at the ground and shoved my hands over my mouth in shock. I then felt warm tears start running down my cheeks. This was the exact moment that I figured out what losing someone that you love genuinely felt like. I finally understood, and to this day, I would never wish that pain among my worst enemy. My good friend whom I had known since Kindergarten, Ja'Mason Moffett, had passed away in a car crash at sixteen years old. Twenty days before his seventeenth birthday.
For a girl like me who loved school and learning, after the accident, that all changed. I couldn't get out of bed in the morning, and if I made it to school, I couldn't focus. All I could do was stare at the desk that he sat in hoping he would walk through those doors and come sit next to me again. I seemed to be content when I was with other friends who were dealing with his loss; but as soon as I was by myself, it all went downhill. I couldn't stop crying. I didn't know how to stop crying—it just happened without my control. My anxiety became severe and my depression got the best of me for quite some time. I gained weight, couldn't focus in school, couldn't stop thinking about death and why God had to take Ja'Mason. The boy who I had been friends with all my life, the boy who always had a gigantic smile on his face, the boy who had so many friends and family who loved him so dearly. Why him?
As months and months went on without him, I knew I had to pick up the pieces and put myself back together. I knew grief was natural and that I was dealing with it for the first time, but I knew I couldn't let it consume me forever. I thought to myself how wasting my life away, curled up in my bed for days at a time wasn't how he would want me to be. I decided that I was going to get the best grades I had ever gotten, not only for myself but for my friend Ja'Mason who would've done the same thing. After I decided this, I started caring about my physical and mental health again. I started paying attention in class, doing my homework, going to work, going to therapy, going to the gym, and doing the activities that once made me sincerely happy.
As the school year came to an end, I was completely shocked by what I had done. I had managed to receive the best grades I had ever gotten. I taught myself that no matter what you're going through, as long as you take care of yourself and your mental health, you can accomplish anything you put your mind to. While you never stop missing the loved one that you lost, you have to accept that they are rooting you on from up above, watching over you; guarding and protecting you. Making myself proud and doing something that I didn't think I could do really made me realize my self-worth and helped me shape who I am today.
Ja'Mason Moffett (10/3/00-9/14/17)