Dating Is Hard, Vodka Is Easy
Dating is never easy and vodka never lets you down.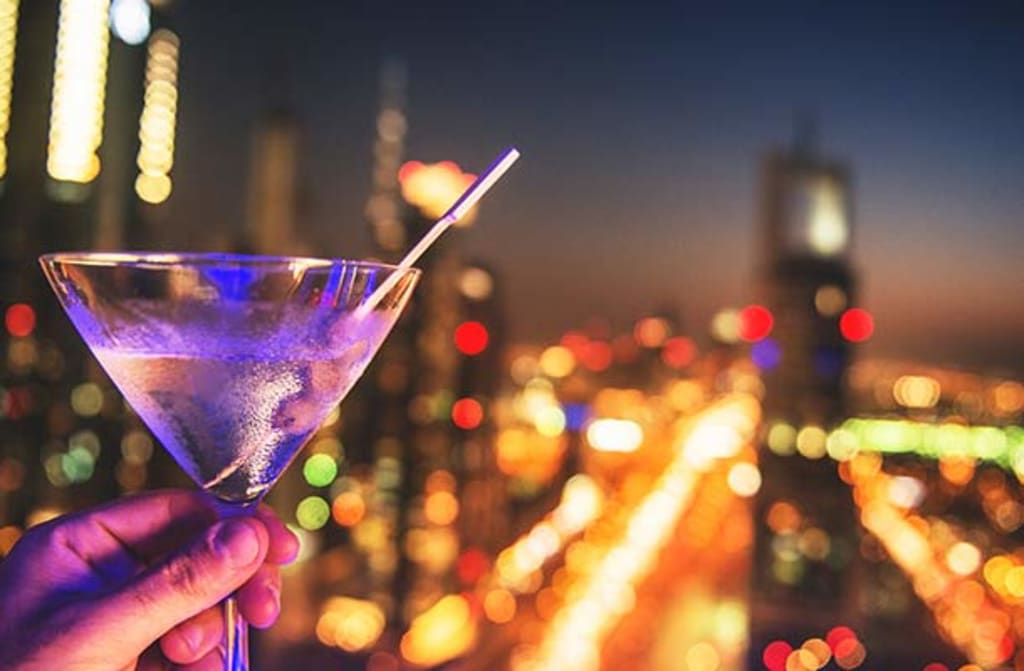 Ever since I moved back to the city, I have been on a dating frenzy. Some of the situations have been great and others, well that's best left to the Drunk Dating blog that I'm going to start. There's the one known as He Who Does Not Exist and then there's the Long Island Guy. But at the end of the day, you know who's always waiting for me? Smirnoff.
I met both Long Island Guy and He Who Does Not Exist on OkCupid. Both were charming and out. That doesn't seem like a big deal, but given my affinity for straight men, it was a big win for me. LIG and I know went out a few times and made out like teenagers, it was lovely. It had been so long since there had been passion like that in my life that I went with it. After he canceled plans on me at the last minute, I ended up ghosting (and then zombing?) him. The one I ghosted him for? None other than He Who Does Not Exist.
As if He Who Does Not Exist sensed that I was on the market, he messaged me on OkCupid. We talked for a couple of days before exchanging numbers and texting each other all day every day. That's not to mention that FaceTime that lasted until five in the morning. After our first date, it was pretty evident that we were going to be boyfriends. After six weeks full of drinking and drag queens, it was over. And what was waiting for me when I needed it the most? My handy bottle of Smirnoff and Barq's Root Beer.
After a quick holiday getaway to Michigan, I was back in the city, and the guys seemed to have missed me. On my sabbatical, LIG and I had started talking again, which is called a zombie I guess. So we went out and repeated the same scenario over again. This time though there was a twist, he had started talking to another guy while I was gone and they had a fight when I texted him again. Long story short, the new guy wanted to talk and make things work out. They're still a couple and LIG and I talk a few times a month. When he told, I drank half the bottle of Sake that my friend brought me from Japan.
Soon after, Paranoid Boy started messaging me on one of those dating but really hook up apps. He wanted to get married and what not. Now I move pretty fast, sometimes I can give lesbians a run for their money, but not even having met this guy, it seemed strange that he would tell me this. Yet common sense has never been my strong suit, and I went out with him anyways. To call the date a disaster would be an insult to disasters, it was so bad that I wondered if one of my rom-com ideas had magically come to life. After a tense conversation, we decided to part company. It was for the best, as was the adult lemonade I drank afterward.
Paranoid Boy did not stay gone for long. After just a few weeks, he was back and asking if we could be friends. Why not, I said. Though that part was obvious. See he had been scrolling through my Twitter feed and came across a snippet that I had posted on there from another essay that I wrote. And he claimed that he got a call from one of my friends, which was a lie because I had completely erased his number and existence from my phone. After he reads this, I'm pretty sure he'll be reaching out again. Hopefully, I am smarter this time. Or at least I have had some tequila.
Things escalated quickly again, and he was asking me on another date. In a bit of mental gymnastics that I am particularly proud of, I rationalized that it would be okay to try this thing again. He was a sweet guy, and even if there were some issues that he had, he overlooked mine. Then one day I remembered why I had decided that dating him would be akin to sitting through a Trump speech, he only cared about what he wanted. My friend came to town, it was the anniversary of her son's death. So I decided that it was my job to help entertain her and be there for her. Paranoid Boy kept asking for a date that whole week, even after I explained the situation. Finally, it boiled over, when I told him again that I was with my friend for the week, he got upset. Yes, he was mad that I was hanging out with a grieving friend and not him. So I told him that I didn't want anything romantic with him. He was hurt but said he wanted to preserve a friendship. That is until he talked to his mom and she told him that I was probably after his money. What? This was coming from the same man who got angry with his mother for various reasons during the time we talked. Fine, I cut off contact with him anyway. When he asked for my phone number the second time, I gave him one from an app that I used. My subconscious knew that it wasn't going to last and was protecting me from a psycho stalker situation. Not that he knows where I live or my real number but still. That night, we went out and got plastered on strong drinks from our favorite bar.
Almost immediately after that, One Week Guy came in. Now to be fair, we had talked before, but he disappeared for a while. When I sent him a text, it was actually by mistake. I had meant to send it to another guy that I was supposed to go out on a date with. It's what happens when you don't save phone numbers in your phone because guys are always in and out. So One Week Guy and I went out on a date. It was good, the chemistry was there, but almost instantly I knew that this was not going to last. He was a grade A clinger, and I'm a writer who will sometimes go days without speaking to another person, especially if I'm in the zone. Plus, he constantly wanted to talk on the phone. What kind of person talks on the phone nowadays? I mean there's texting available, why not do that? The breakup with One Week Guy came when I went out with my friends instead of going to the movies with him. He asked me to call him in the morning (worse than a telemarketer), and I simply said that this wasn't working out and hung up the phone. It was too early for a phone call but not a mimosa.
Does it seem like I have bad luck in dating? I do, but I also have great success with drinking. Maybe I need to combine the two and date a bartender. That's not a half bad idea, I'm sure I'll be writing about that soon.