Dating: Do's & Don'ts
Dating 101: Baby, Let's Get Intentional!
4 Things to Keep in Mind!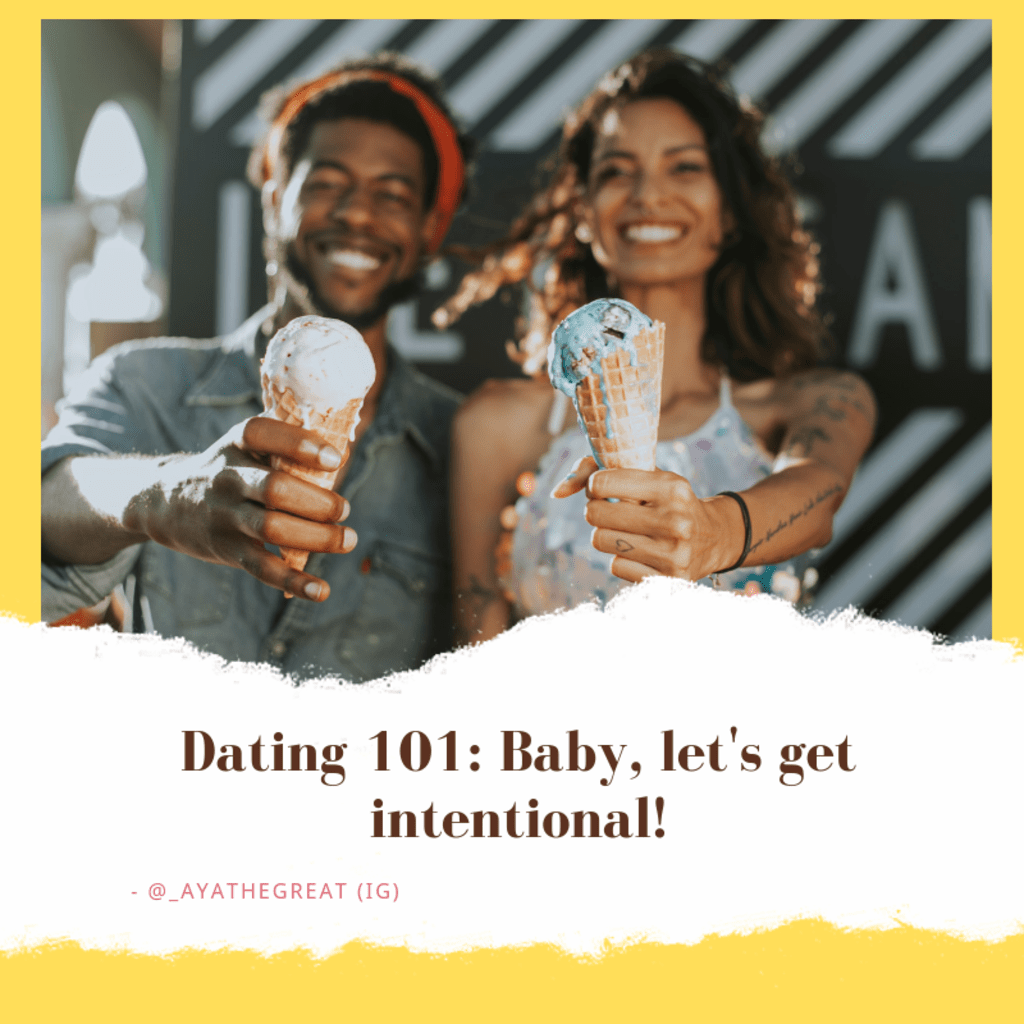 Hi, I am here to provide a conversational piece on dating. I want you to think of this as a moment of honesty and a time to self-assess how things are going in this category of your life. This is a judgement free zone with an honest perspective based on my own personal experiences. In summary, I'm just going to give it to you straight.
For starters, if you're obnoxiously labeled as a millennial we all can collectively agree that dating in this climate has been trash. Yes, I said it! TRASH! However, thankfully there are levels to it and I'm here to cover the first floor. Keep reading.
When you are dating/pursuing someone, here are some things to keep in mind:
Check-in with yourself FIRST. Are you in a position to give 110 percent to dating/relationship? Are you actively working towards growth, healing, or preparing yourself for your next steps in life? How's your spirit? I notice that a lot of people who are actively seeking a partner or are simply interested in dating sometimes aren't mentally, emotionally, and spiritually prepared for what it entails.
Be honest and clear about what you want. It's interesting how you can sit and discuss what you're looking for, what you desire, and when it arrives in some form you're immediately unsure. We're adults and should be able to have a clear conversation on what we're both looking for. Be honest about what you're interested in whether it's just to date, have sex, or a relationship; just keep it real. You're doing yourself a favor by staying true to what you want because why not?? We all deserve to have the best experiences in life.
Consistency is important. Put forth the effort to build a connection. Simple. Frequent conversations, quality time, and allowing things to flow between you two. If someone wants to make time for you they will in the best way that they can. I understand we are busy in this lifetime however, we all deserve someone who is willing as well as ready to be present in our lives. In my famous words, "TRUST THE PROCESS!"
Communication! Communication! Communication! Effective communication with your person of interest is major. To add more to the formula of communication, establishing healthy practices are vital too. We live in a technology driven world where we have access to many forms of communication so there is NO excuse as to why you aren't talking/checking-in with each other.