Birthday
From the Incubator Into the Fire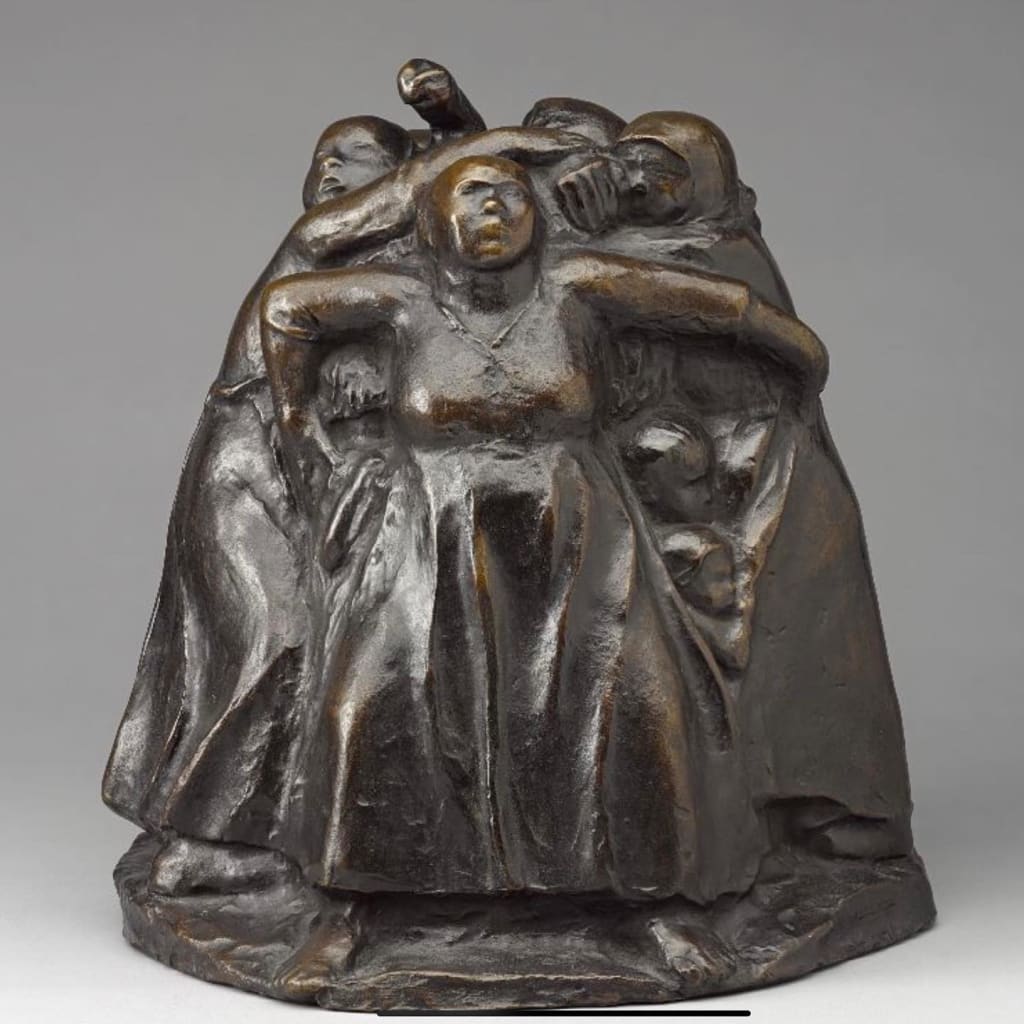 Tower of Mothers, Käthe Kollwitz: mothers huddling to shiled their children from war.
On March 9, 2022, in Mariupol, Ukraine, after the World Health Organization already had verified 18 attacks on healthcare facilities, including those upon workers and ambulances, an attack apparently targeted a maternal and pediatric facility there. Children, newborns, and women in labor either escaped--or didn't--the rubble associated with the large crater impact. A world power casually stepped on the weakest and least powerful in a defining moment among a series of defining moments.
We are a species that reproduces via maternity in a beautiful and miraculous process that results in the births of not only babies, but entire families, which represents the pinnacle of societal evolution. This raises existentialism into the realm of the sublime. Thus, this attack is indescribable, for there is no one word that can accurately label this ultimate descrecration on humanity. This also makes the grand architect of the invasion of Ukraine ineffable.
As a person well versed in the science of reproduction, I am privileged to see the spiritual beauty of its machinations: how certain hormones begin gender; how asymmetric twists and turns of a hollow clump of tissue ends up as a synchronized pump at the center of our circulatory circuit; how the invagination of an organ creates the peaks and valleys of neural tissue allowing for more surface area to anchor thought itself; how positive and negative feedback loops allow us to walk hand-in-hand within the circadian rhythm that intimately connects us with our home's spinning on its axis; how internal surveillance constantly prowls our bodies to eliminate those things that would do us harm; and how hormonal, physical, and rhythmic forces combine, like tumblers in a lock, to unleash one vector force--outward--to free a newborn to join his or her family, the extrauterine world, and the tangled web we weave, on a special day called "birthday."
This begins the journey into freedom for each of us. Then, every person's life choices weave a web of interaction with everyone else's, and these webs of sentience are civilization. Once available for all to navigate, civilization can be displayed proudly or eaten ritualistically. But our web is more than a 2-dimensional plot of real estate. All of humanity's family trees sprout above and below it, with branches that are metaphors for the umbilical cords of those who bravely enter the human biome and risk the freedoms of life on the web, from their first birthdays onward.
In his 1856 poem, "Maud Muller," John Greenleaf Whittier, laments,
"For of all sad words of tongue or pen, The saddest are these: 'It might have been!'"
When "what might have been" becomes an unwelcome sizeable hole in that sliver of quantum existence in which we bask, the web shrinks.
Recently, the Ukrainian Ministry had listed the most popular boys' and girls names in Ukraine, and the saddest birthdays are of those who might have been, had an invasion not taken place or a maternity hospital not been bombed. I mourn the Oleksanders, Danylos, Maksyms, Vladyslavs, and other boys who might have been; I mourn the Anastasias, Alinas, Darias, Katerynas, and other girls who might have been. I mourn the shrinking of our web. There is a predator on it intending to devour it.
"Ineffable" is a word used to describe that which cannot be described, something too serious, too momentous, or too extreme to be put into words. "Apocalyptic" comes close, but really doesn't cut it when watching the Breaking News, breaking, as the whole world watches, unable to put what they're feeling into words.
"Ineffable" is something a human being cannot abide, much less survive. I know I can't survive it. The ineffable hurts. But I wonder, when does a different point of view become a disagreement? A disagreement become a conflict? A conflict become a war? Seeking actualization become Manifest Destiny, whose war's consequences become ineffable? Like the things associated with the very word, the transition slips by unnoticed, but anyone with the sensibility of humanity will know it when it happens. I certainly did, and I am Everyman.
So, now that that the transition into the ineffable has happened, maybe as one half of the world slept or the other half fought or escaped or fretted or even labored, Vladimir Putin joins the ranks of the other ineffables--the Pol Pots, the Adolf Hitlers, the Idi Amins, and many others for this growing chapter in the book of crimes against humanity--against maternity, against progeny, against ontogeny, against freedom, and against evolution itself. He joins them...and Herod the Great, in particular.
humanity
About the author
Writing full time now in Phase II of his life. Tangential thinking and hippocampal reality from left to right on the page.
https://www.amazon.com/Gerard-DiLeo/e/B00JE6LL2W/
email: [email protected]
Reader insights
Be the first to share your insights about this piece.
Add your insights