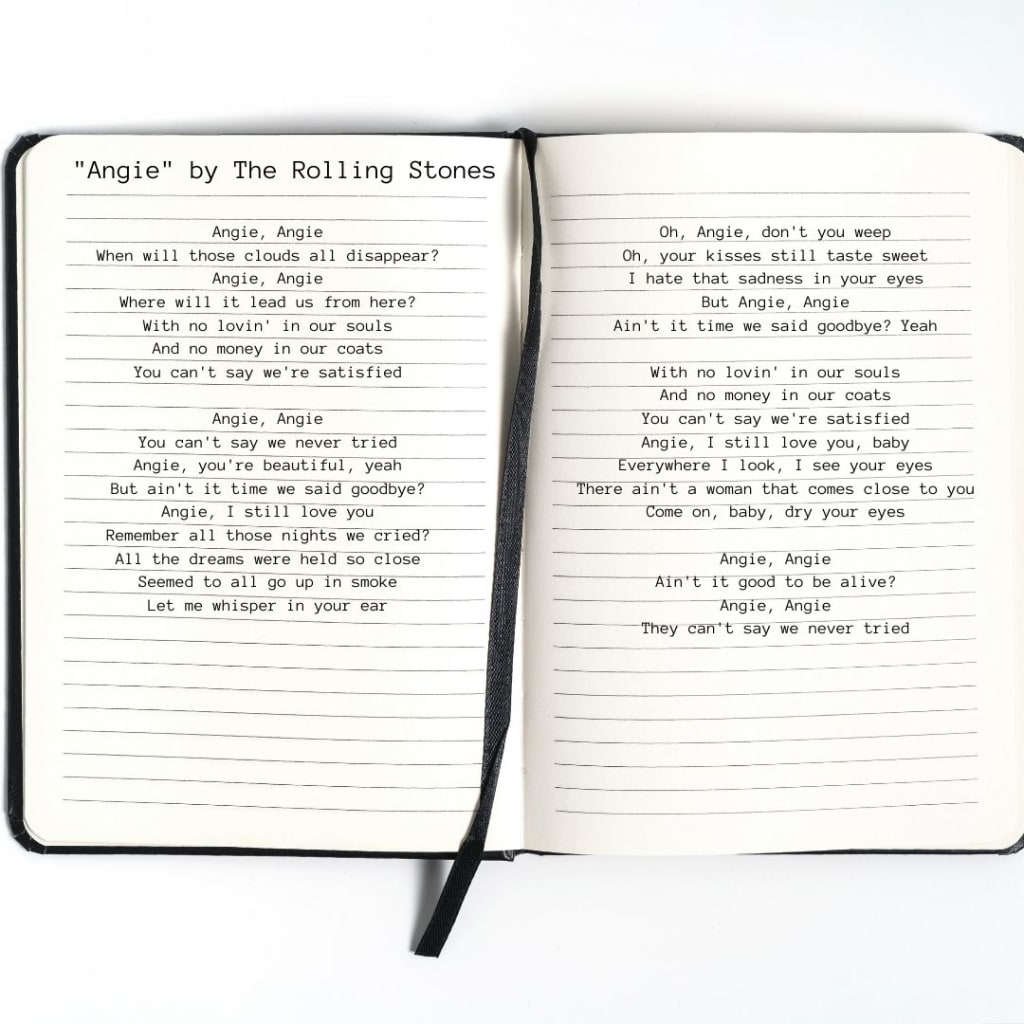 I felt their words heavy and unclear on my pages. They were the last words, the end of the book and the end of me — or so I thought. But, let's start from the beginning, my beginning....
I was created like the millions of others that look like me, in a factory made for mass production. I was brought home by an awkward, but pretty teenage girl, who wore bell-bottoms and a Farrah Fawcett hairstyle.
The real story begins on a cold winter morning when she pulled me out of a leather satchel to take notes, but was interrupted by her lab partner, a young man sitting next to her, who brazenly began writing on my first page. Suddenly I was passed from one side of a chemistry lab desk to the other. Quick awkward notes began to fill my pages: that was the beginning of their friendship.
1974
January 10th:
This class is boring.
I know!
What's your name?
Angie
I like that name. I think the teacher's onto us.
January 11th:
Hi.
Hi : )
What's your favorite song right now?
"Killing Me Softly With His Song" : ) What about you?
Too many to write. Have you heard "Angie" by the Stones? I'll show you after class.
Are you just saying this song because that's my name? : )
Maybe...
January 2oth:
Want to go to the movies tonight? Thinking the new Exorcist movie.
SCARY! But yes : )
January 21st:
I can't focus...I keep thinking about last night.
: )
Time passed and they no longer needed me as a buffer between them and their young, growing love. Words — previously written on my lined-paper — were now spoken intimately in soft whispers and giggles against lockers and football bleachers. I was now only pulled from a messy shelf for special, momentous occasions. I treasured those occasions.
1976
January 19th:
Angie, I fall in love with you more everyday. From the moment you sat next to me in Chemistry 101, I knew there was something different about you and I wanted to get to know you for the rest of my life. My love for you will never run cold. I commit to love and care for you until your last breath. Will you marry me?

"Everywhere I look, I see your eyes

There ain't a woman that comes close to you"
The response on the following page was hard to decipher because it was blurred by teardrops, but it read,
: ) I love you!
Soon I followed Angie into her new marital home and was stashed away on a shelf, collecting dust. I didn't mind. I took this neglect as a sign that their communication was occurring through words and touch, instead of my pages. Eventually, I was picked up again, a few years later, for another special occasion, as a means to congratulate each other…but somehow, I felt that it was the beginning of the end.
1978
January 9th:
My dearest love, I am so proud of you. You deserve this recognition. All your hard work is paying off. And the $20,000 is just icing on the cake. You are paving the way for a better life for us and I am so proud of you.
January 10th:
My baby, I love you. Your words mean so much. I couldn't have done this without you. This achievement is just as much yours as mine. I won't let us down. We are going to live a great life.
The notes stopped again for a period of time. I became grey and dusty, stored away on a hidden shelf, forgotten. When a shaking hand finally returned to collect me, something felt amiss. Love had became cold. Their feelings were no longer communicated through touch and became too difficult to speak. They reverted back to writing words on my pure white pages, once again like nervous teens too scared to speak their thoughts — but this time injecting my blank skin with poison.
1980
January 1st:
This New Year makes me realize I can't go on like this. I'm in a marriage alone. You're never home. Your behavior is selfish and I can't stand to be around you when you actually are home. I'm not saying it's all your fault...but I just don't recognize you anymore. It was better when we were poor and had something to dream about. Now there's nothing. I'm leaving, going back home to my mom's. Don't try to follow me.

"All the dreams we held so close

Seemed to all go up in smoke."
Janary 2nd:
Fine. If that's what you really want, I can't stop you.

"Angie, Angie

You can't say we never tried

Angie, you're beautiful, yeah

But ain't it time we said goodbye?"
I was packed away along with Angie's personal things and moved out of the home that had cultivated their love. My black leather body cracked and faded as it became covered in inches of dust. Most of my white pages were now full of black ink. I wanted to scream out their words, the early words, the loving words. I knew those words were still inside their souls, somewhere deep. How can someone write something that's meant to last forever only to forget it a few years later?
So now you are caught up in our story. I thought this was the end: the ending to their love story and my use. I assumed I'd remain packed away and eventually thrown out by careless relatives.
But, something changed this early January morning. The door to the storage room was opened and the top to my box was lifted. Two familiar bodies stood above me. I felt cold, fresh winter wind on my leather. A dry hand picked up my body as a soft breath blew off the silvery dust. It was a new day and a new ending was about to be written. Their fingers opened me to my last two pages. I felt the black ink massaging my skin, hydrating my aging body. Once again, like the early days, I was being passed back and forth.
January 5th:
What are you doing here? I told you not to follow me : )
I miss you. I'm not perfect, we definitely know that. But I want to work to make us work. I've never stopped loving you.

"Angie, I still love you, baby

Everywhere I look, I see your eyes

There ain't a woman that comes close to you

Come on, baby, dry your eyes"
: ) I always loved that song and I will always love you. Let's go home.
My pages are now full. They are filled with memories, loving words and hateful words. They are filled with a love story. I mean a real love story that has good, bad and ugly chapters. I will be stashed away again, kept only for reference and nostalgia, no longer for use. I'm sure there will be more black notebooks filled with the continuation of this love story. A story is never finished, even if the pages are complete. But my part of the story is complete — at last, with a happy ending.

Natalie Spack
I always have a notebook around so I can write down my thoughts! Anything from scripts, short stories, novels, songs, to poems! I also love comedy and make my own funny sketches on youtube (www.youtube.com/nataliespack)
See all posts by Natalie Spack →