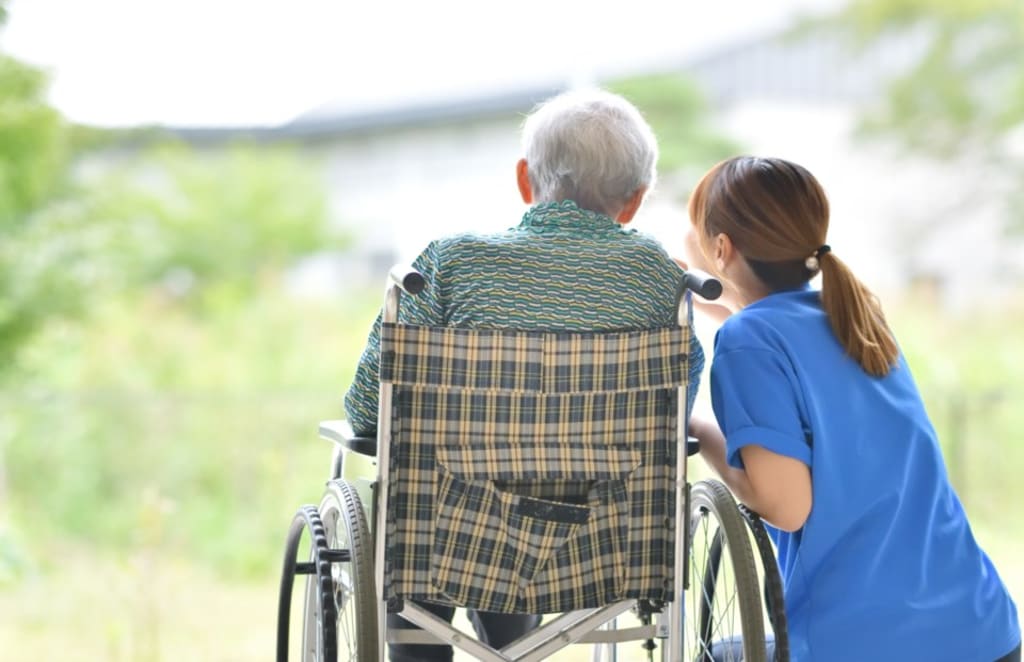 Image from Kitchenertoday.com
I love my job because it shaped who I am today. Is my answer too cliché? Yeah, I think so too.
To be honest, I'm quite fed up with my job. But when you look at the big picture, I've quit and got re-hired twice… so that says a lot (both about me and about the workplace).
I'm fed up because people are quitting left and right, and nothing is changing to stop them from leaving. Their reasons are endless: no opportunities for growth, burnout, (too much) forced overtime, not enough benefits, not getting the vacation days they want, having to work on their weekend off… The main solution would be to hire more people, but none are applying.
But they're not quitting because the place is shabby. They're not quitting because the clients are disrespectful. They're not quitting because the working conditions are inhumane. They're quitting because they're exhausted. All healthcare workers are.
I've worked in a nursing home since the age of 14 (I'm 22 now). And I've quit twice only because I attended schools that made it much less feasible for me to continue working there. Still, every time I was back in town I re-applied and they welcomed me back with open arms.
I worked in food services, housekeeping, and activity departments. After the first time I left, I could've applied in any restaurant or store – any place that hired students, really – but I always ended up going back to the Home.
I didn't go back because I loved washing floors, or pouring teas and coffees, or playing bingo with Alzheimer's patients. I didn't go back because I love the split shifts and working short and wearing scrubs. I went back because of the people. Both the ones I worked with and the ones I took care of. The thing is, those people – staff and residents – are so darn inspiring, that I always wanted to go back.
I have a coworker with whom I made homemade Witch costumes (and they were kick-ass, by the way) in order to walk around the building on Halloween and distribute treats to the residents. This was during the pandemic when the children weren't allowed to come to the nursing home to collect candy.
I have coworkers with whom I've started a book club, something I've always wanted to be a part of but never managed to do with fellow classmates of mine, even though we were studying creative writing. You'd think more of them would enjoy reading.
I have lost a coworker to cancer.
I have coworkers who came back to work immediately after a miscarriage.
I have coworkers whose relatives are in and out of the hospital, but who still show up when they are scheduled.
I have coworkers who crochet, knit, write, and play guitar during their breaks.
I have coworkers who volunteer frequently, even if they already have a full work week.
I have coworkers who've become my best friends.
I have coworkers who are my family.
As for the residents, I could go on and on. First, it's safe to say that I've seen many – too many – come and go during the 8 years I've been working at the nursing home.
I've had my boobs grabbed, my butt slapped, and too many nails have dug into my skin.
I've received cards and gifts and the warmest hugs.
I've laughed and I've cried.
I've made some of them fall (by accident I swear!), and I've helped them reach stuff they couldn't reach anymore.
One of them told me about how the love of their life showed up at her doorstep when she was a 70-year-old widow.
One of them met Frank Sinatra and the Queen of England.
One of them tried convincing me that prostitution should be a part of my job description.
One of them wouldn't stop trying to set me up with her grandson.
All of them kept confusing me for my little sister (who also works there).
The residents as well as the staff (and the volunteers too, of course) were always the reason I would come back. We all knew each other so well that it showed right away if someone was having a bad day. On those days, residents would invite us in to talk about what's on our minds and offer us a treat. Employees would often switch tasks to give the easier ones to the person having a bad day. And sometimes, we would just give that person a long hug.
As of a week ago, I don't work there anymore (school is to blame, once again), but I still and always will consider myself part of the Wales Home family. Thanks to them, I learned how to speak up and take initiative (now I'm told I do it too much!) and I learned how to be patient – very, very patient. I've become a leader, a listener, a problem solver, a perfectionist, an optimist, a hard worker… I've become a better person.
***
Want to read more of my work? Visit my Instagram (@n.m.blom), my Facebook page (Noémi Blom – Writer), or my Vocal profile!
humor
She/Her
Student @Sheridan College
Honours Bachelor in Creative Writing & Publishing 2023
I love reading, writing stories, giving feedback, and helping other writers with their creative work. Once I graduate, I want to teach, write and edit!