5 Things Will Smith Slapping Chris Rock Taught Me About Self-care
Unpacking the 2022 Oscars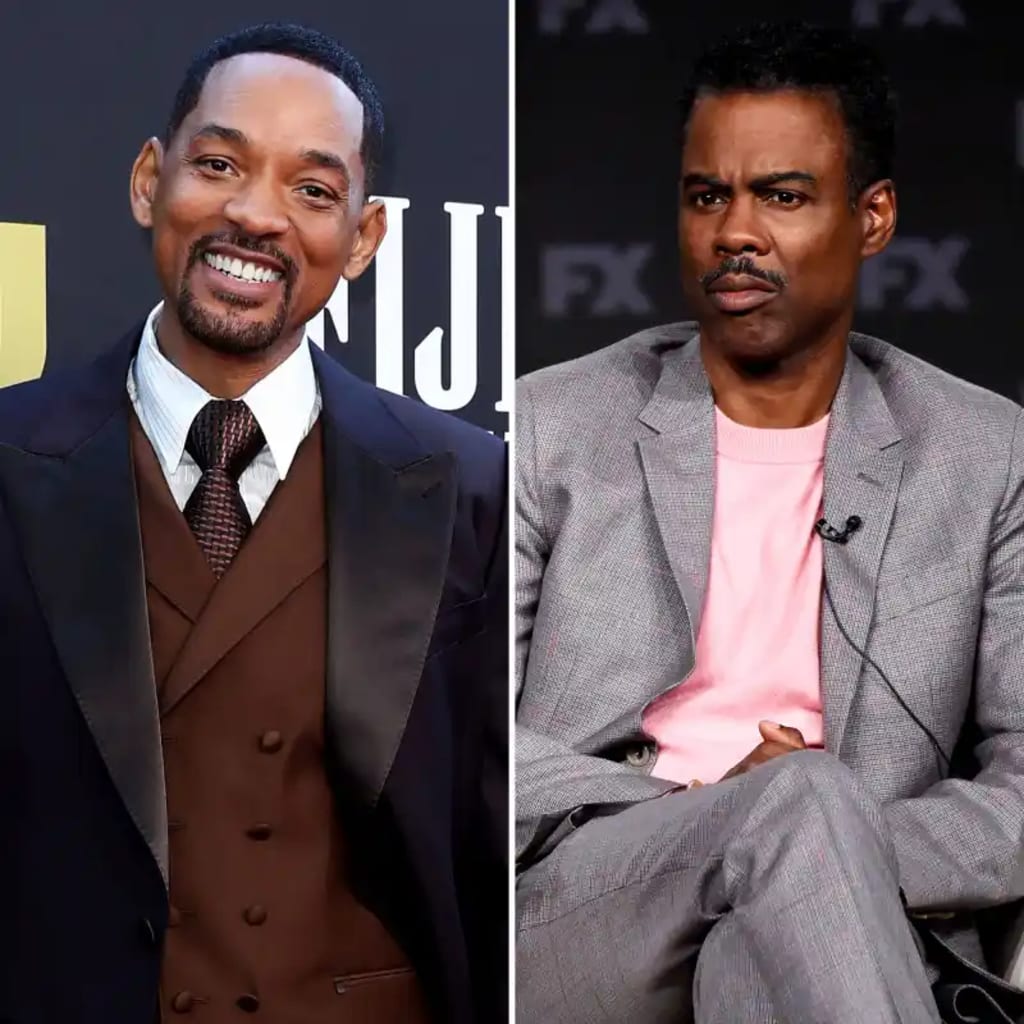 By now, whether you wanted to or not, you must have seen the recent video of Will Smith's apology to Chris Rock for his infamous 'slap heard around the world' that took place at the 2022 Oscars when he took to the stage and slapped Rock in the face after he made a G.I. Jane joke in reference to Jada Pinkett Smith's hair loss, which is due to alopecia.
Ever since the slap first happened back in March, Smith has received much backlash from Hollywood counterparts and others. Everyone had an opinion one way or another about his actions and the profanities that followed. The moment was his fall from grace -- a long way from the 22-year-old Fresh Prince of Bel-Air from West Philadelphia. But isn't a fall all about how you bounce back that makes all the difference?
One thing that was crystal clear after the slap took place was how much Smith was troubled by his own actions and the turmoil he was facing within his prestige. His acceptance speech was emotional for him as he grasped to articulate his truth and even through the tv screen you could see he fought back tears; it was all so shocking and uncomfortable. We have all head the saying, "hurt people hurt people" and it was apparent that Smith was going through a lot more than what played out on the stage that night. Despite the ridicule of cancel culture, he never did defend the assault on Rock because make no mistake, he was 100% in the wrong.
But as much as the controversy was in the actual event that took place, it was the ripple effect it had afterward that sealed the deal and kept it replaying on all major media outlets. After being in the movie industry for over thirty years, violence was never the headline associated with Smith. In fact, as much as him and his family have been in the media, the fact is undeniable that they have always responded with openness about their lives and lifestyle whether we agreed or not. So, the infamous slap begs the question... Was the slap a moment in time that captured what happens when you get pushed to the brink? To the brink of what, exactly is the very thing I am sure Smith has taken hiatus from the public eye these last few months to figure out for himself. Meanwhile, lessons can always be learned and here are the five that the Will Smith slap taught me about self-care:
1.) No amount of success matters if you don't address all the stuff going on inside.
All the money in the world and climbing the ladder to the pinnacle of success won't mean anything if you are burying the unhealed trauma in your life. Yes, Smith may have signed up for the lifestyle of a celebrity and all that comes with it but that doesn't make him superhuman or free from missteps. I hope he is getting the healing he needs that will help catapult him in the right direction.
2.) Guard your peace of mind
Having control over our emotions is one of the ways to safeguard our peace of mind and relationships. We all get angry and frustrated at things that someone may say to us or about us and our loved ones but how you respond makes all the difference. Guarding our peace is the first line of defense that we have for navigating this world and the people we interact with.
3.) Own your stuff and take accountability
They say hindsight is 20/20, which means we all do things that seem like a good idea in the moment but later on look back with regret or gain a better perspective of a situation. It is important to acknowledge your shortcomings, not to condemn yourself, but to learn and grow from the mistakes you make.
4.) Don't put anyone on a pedestal
With the accessibility to celebrities on social media, their fame and allure seem a little less untouchable. However, there is still an unwritten standard that we hold our favorite celebrities to that give them more responsibility to do the right thing than the average person. When they act unusually or in a way that we disapprove we tend to vilify them on social media or in the press but when it comes down to it, they are human just like you and me and at some point they stumble and slip off the pedestal. Likewise, don't beat yourself up when you act out of character. This is an indicator that something within your being needs to be addressed. Take the time to step back, assess your actions and the root cause, and get to work on how to come out better on the other side to avoid it happening again.
5.) We are all one decision away from a completely different life
We are a culmination of the actions we take in life and the imprint those actions leave on others and the world around us. One action can change your life forever. This slap was one moment in Will Smith's life out of all of the other moments that he has created his life around but it's one many people won't forget, including Chris Rock. As painful as some of our weakest and darkest moments can be, they can be the very thing that God may use to bring you to the next level in life or to help someone else come out of their darkness. You may never experience an exchange like the one Smith and Rock had but we all have a pivotal moment that shapes the rest of our lives. Don't run, hide or live in shame but dig deep to heal and let God turn that moment into beauty from ashes.
Reader insights
Outstanding
Excellent work. Looking forward to reading more!
Add your insights