10 Things to Stop Doing on Dating Apps
Let me, help you, help yourself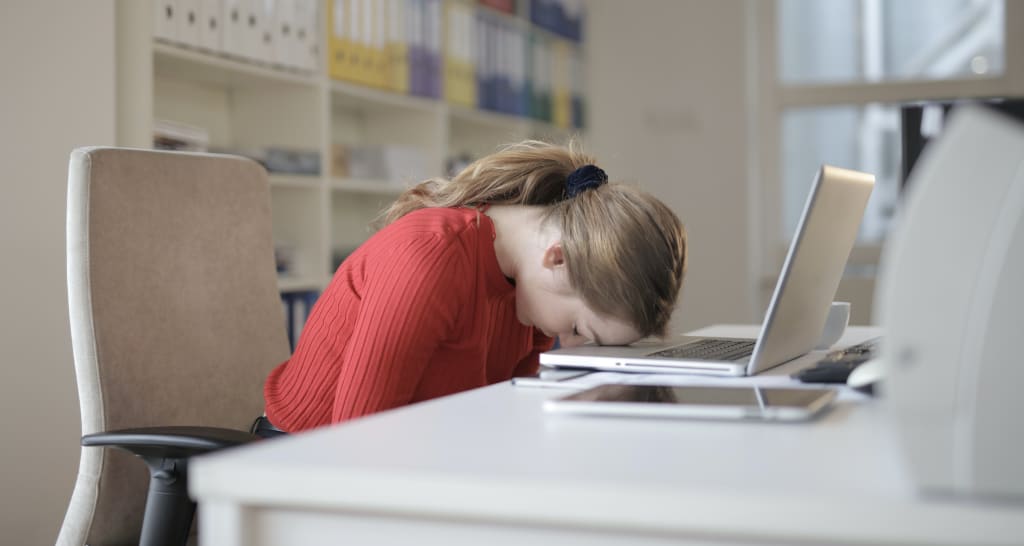 2020 was a year filled with many challenges. The year presented an especially unique challenge for a particular community: single people. As an active member of that community, the pandemic drove us out of parties and bars; two places that once served as a hub for people who preferred a more natural approach to finding love. We had a lot of free time and nowhere to go. We even made some questionable decisions like dating people we had absolutely nothing in common with (& their names often began with the letter J).
If there's one thing I became an expert in, it's navigating the world of online dating. I decided to join Hinge after my relationship from Season 1 of Covid came to an end. It was unfamiliar territory and one that I became embarrassingly familiar with. For your entertainment, I compiled a list of things you should avoid doing if you do decide to join the online world of preying on humans in hopes to find the one you'll spend the rest of your life with. Here's to finding love in the next pandemic:
1. Serenading at first swipe
There's no perfect science to starting a successful conversation, but I can assure you this won't get you far:




This is your first interaction with contestant #164 and first impressions are everything. If someone came up to me at a bar and told me any of the above, respectfully, it would call for a roundhouse kick to the face. When it comes to making the first move, think about how you would approach someone in real life. And if you'd actually consider using any of the lines from above, see photo in #8.
2. Looking like 2 different people in all of your pictures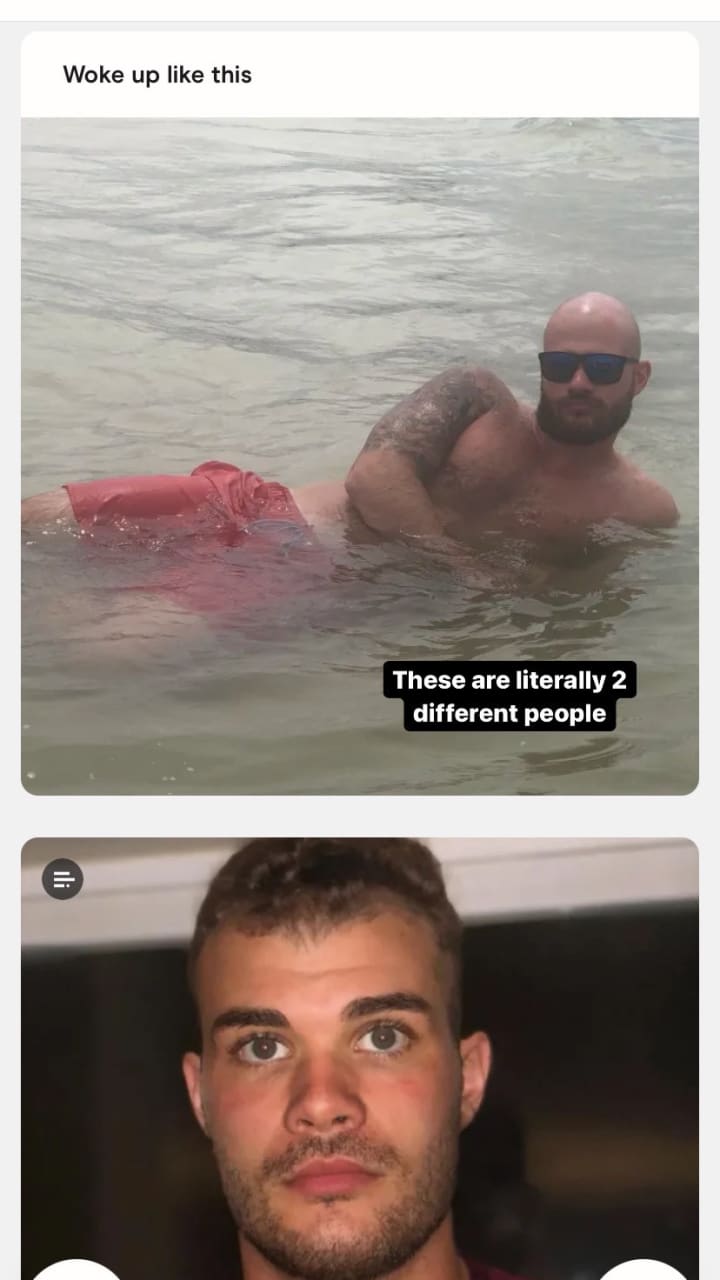 This is the main reason I was always hesitant about joining the online dating world. Imagine making plans to meet someone for the first time and you're looking for 1 of 2 men. I'm already worried about the potential of meeting up with a serial killer, or worse, someone who isn't up to date on the Royal Family's ongoing feud with Meghan and Harry. The last thing I should be worried about is finding my date in the first place.
3. Having too many group photos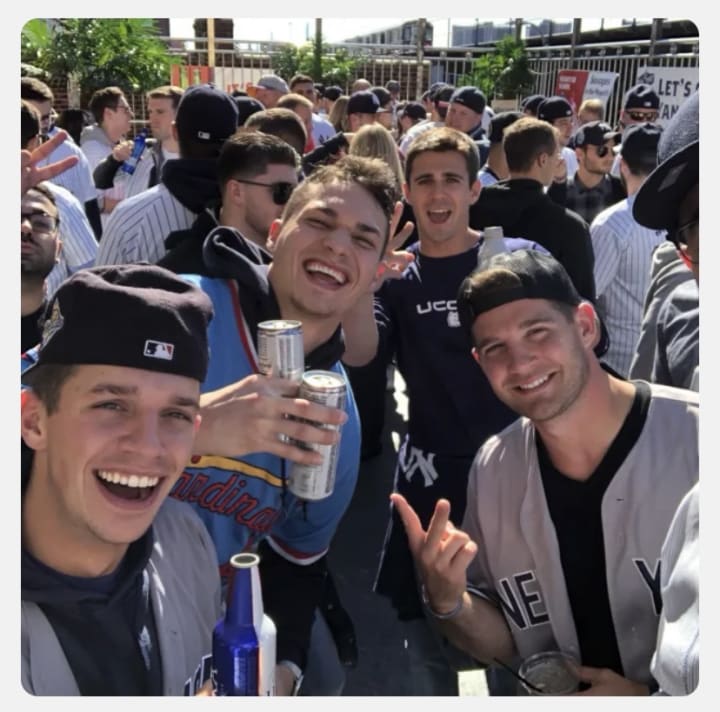 This is not a scavenger hunt. I'm not against a group photo, but let's limit the amount of times I have to spot the difference between Evan, Jared, and Kevin. Hinge best practices (according to me) are 1-2 group photos to show you have somewhat of a social life. Anything over that leaves room for ambiguity and hurts your chances of scoring a date.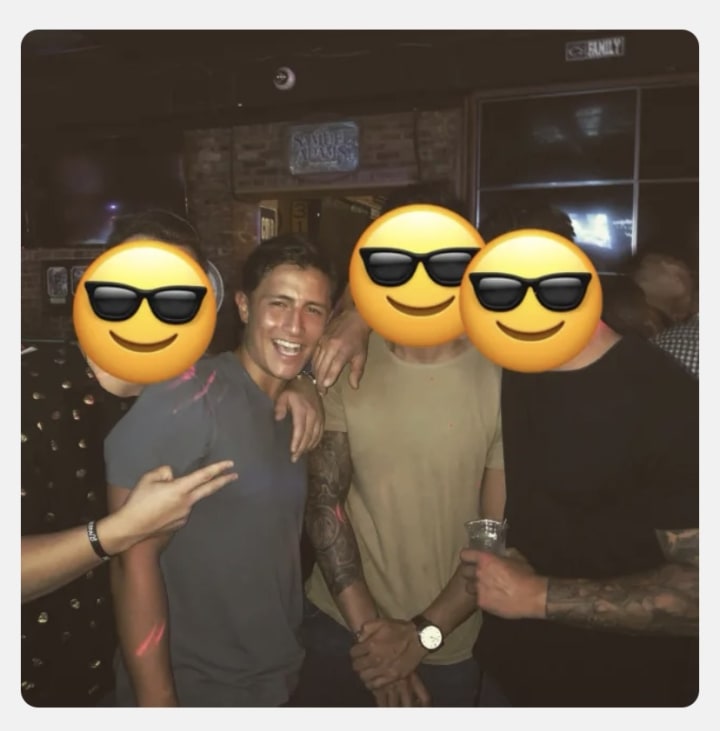 And if you're going to post a group photo, at least let me see if your friends are better looking (I'm contradicting myself here but mind your business).
4. Mirror selfies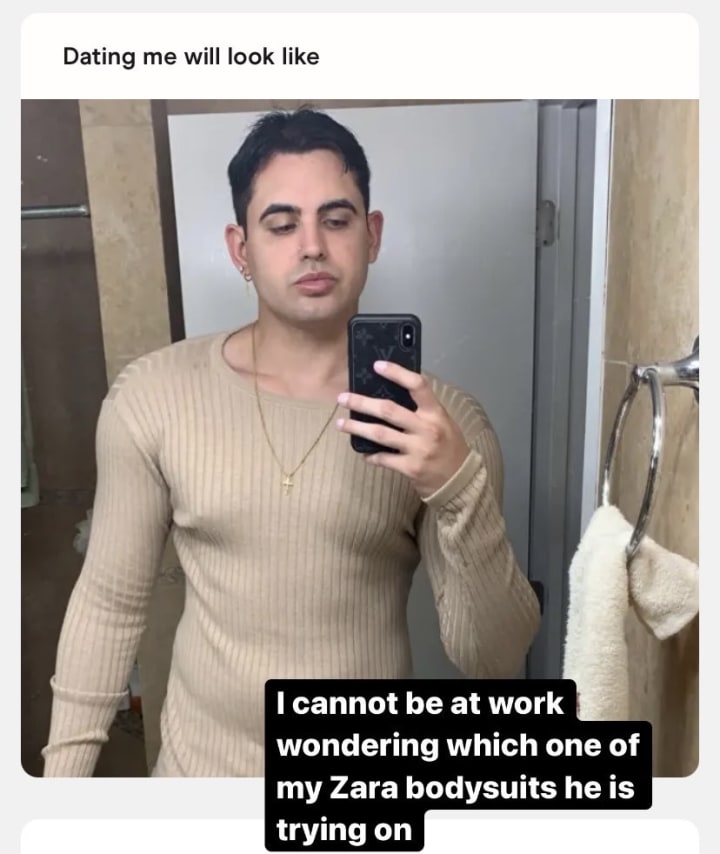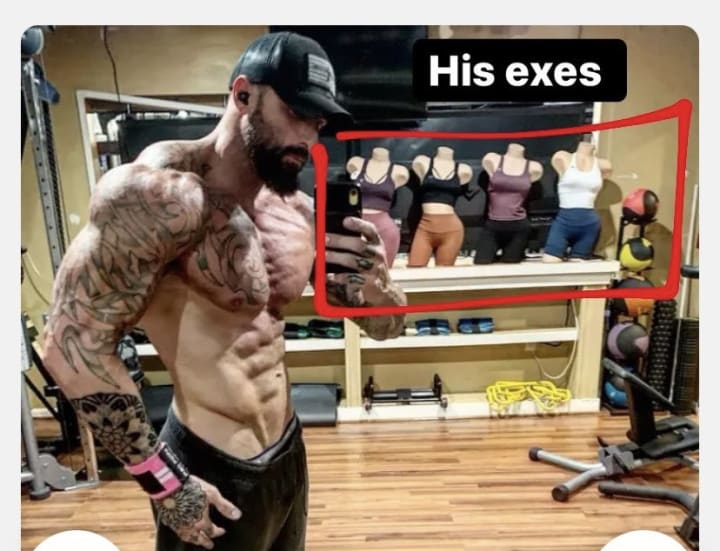 Let's talk about the dreaded mirror selfie. To be clear, I love the confidence exuded in both of these photos. I'm all for self-love but let's keep pictures like these to a minimum, or at least exclusive to your 'Close Friends' story. If you're looking for a solid picture to post, consider a picture taken of you, or even a selfie with a friend. It's time to leave mirror pics in 2020, unless you prefer Gen Z cancels them for you.
5. Your first conversation with someone should not be paragraphs long
It's 2021 and we're tired. If you send me a novel to read upon first swipe, I'm not only going to unmatch with you, I'm sending your profile in the group chat to discuss your crime. I recommend using one of the prompts on your love interest's profile (it's why they're there). It's important to read the room and follow her lead when it comes to responses. If you're sending her multiple messages and she's responding with one-liners, it's best to activate damage control while you still have her attention. But if you're in the mood to ruin the conversation entirely, ask for her Snapchat username.
6. Putting text over a woman's face to let me know that's just your sister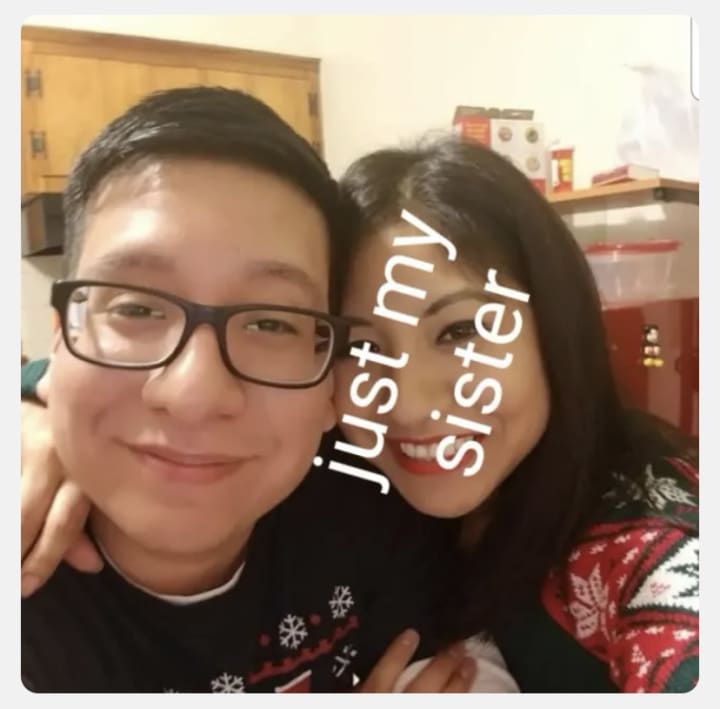 Now what in the Tuscaloosa, Alabama is this about. No woman, and let me repeat, no woman, had any doubts that wasn't your side chick on your dating profile. In fact, it just makes you look guilty of trying to cover something up. Just post the photo and keep it moving, Peter.
7. Photos of your car
Unless you're a transformer, pack it up. No further comments here.
8. Your job is not a personality (and neither is your dog)
While your new promotion to senior assistant manager of operations at Deloitte is very endearing, it is not at all unique or interesting. We all have jobs and we're still on this app together (which makes us equals, at least in this regard). I'd also like to point out that we all love dogs and think they're an absolute gift to this world. That being said, please don't spend the limited time we get to speak by telling me how you would die for Bella. That is very admirable and just a tad concerning.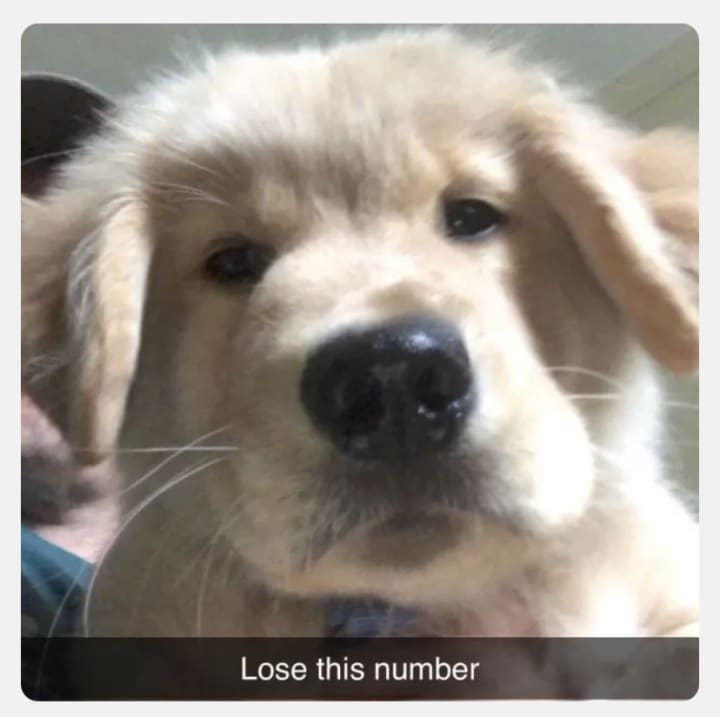 9. If you have to say you're not a douchebag, you're probably a douchebag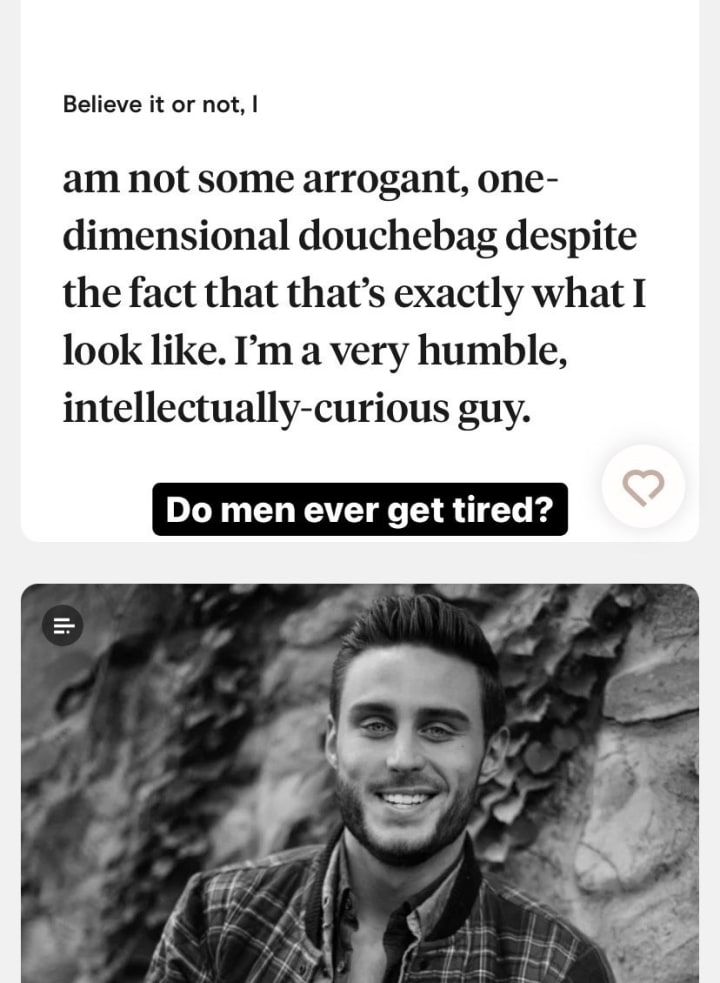 I would honestly rather your personality be your job. If you find it important to clarify this, it probably means you've gotten it a lot or you're just entirely obsessed with yourself. Either way, I'd urge you to do some soul searching before joining the app to figure out what you're really looking for: A soulmate or a soul, mate.
10. Lying about your height
If you're insecure just say that, babe. But truly, there's no need to be. Celebrate your height because if you don't, no one else will. We love a short confident king!
__________
In conclusion, online dating shouldn't be exhausting. My best advice is to be yourself and keep it simple. Strategize and develop an intentional dating profile to showcase your best self, both online and off. Cheers to finding love in 2021 and deleting these apps forever.
*I do not own the rights to any of these photos just the excellent commentary*
Reader insights
Be the first to share your insights about this piece.
Add your insights