Review of "13 Slays Till X-Mas", A Horror, Christmas Anthology
The collaborative efforts of several independent directors presents a feature-length ensemble of 13 frightful, holiday-themed shorts now available for pre-order on Scream Team Releasing.
Trailer for "13 Slays Till X-Mas"
Blood Moon Pictures has given horror fans far and wide the latest Blu-ray to drop for pre-order on Scream Team Releasing: "13 Slays Till X-Mas", a bloodsoakingly good horror anthology from creator, director, writer and producer P.J. Starks, known for "Volumes of Blood", and writer, director and producer Eric Huskisson that features 13 Christmas-themed stories. The anthology film collaboration with several indie filmmakers is as wholesome of a terror fest as it is gruesome, and even as we've entered February, the Christmas aspect of "13 Slays Till X-Mas" is a year-round type of enjoyable (and not to mention, we've needed more holiday horror in the genre!).
With countless Easter eggs that any horror fiend could spot and a cast and crew list with some of indie horror's biggest upcoming talent, "13 Slays Till X-Mas" is an impressive anthology packed with killer Christmas trees, killer clowns and an unexpected conclusion. The synopsis reads, "On December 24th, five seemingly random men are invited to a dive bar by a mysterious e-mail. They decide to pass the time by resurrecting the old tradition of telling scary stories on Christmas Eve. As each take turns spinning yarns of yuletide terror, it becomes evident, they may be harboring a dark and deadly secret."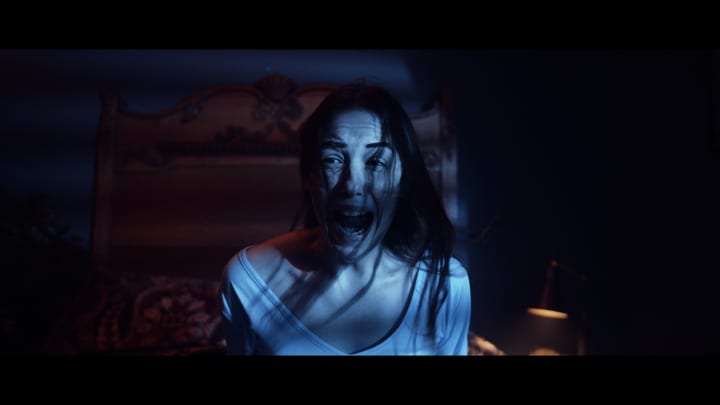 The fast paced "13 Slays Till X-Mas" is currently on pre-order from Scream Team Releasing with orders slated to begin shipping between February 25 and March 2, according to the website at the time of this publication. The score from composer Rocky Gray, known for his work in "10/31", is one of the best parts of this horror anthology and those quick enough on pre-ordering the Blu-ray feature will receive a free digital download of the soundtrack to their email.
One conclusion watchers will come to after viewing "13 Slays Till X-Mas" is that everyone that worked on the film is knowledgeable in their line of work, but most importantly, they had fun and enjoyed what they created with their fellow friends and colleagues. Every short is different, there's unexpected twists and turns, plenty of gore, epic kill scenes, and even some vicious reindeer (though, no animals were harmed during filming). As far as Christmas horror movies go, "13 Slays Till X-Mas" has all you need for a rad choice to watch after dark. The humorous dialogue, excellent acting most of the time, and festive set decorating keep you invested. Is it worth the purchase? Absolutely; it's a film you could confidently buy as an any-occasion type of gift for all horror buff friends or to treat yourself.
Beings there's a total of 13 stories in this thrilling, killer anthology, it's only appropriate I briefly dive into each one separately to ensure you know what you're getting into, spoiler free.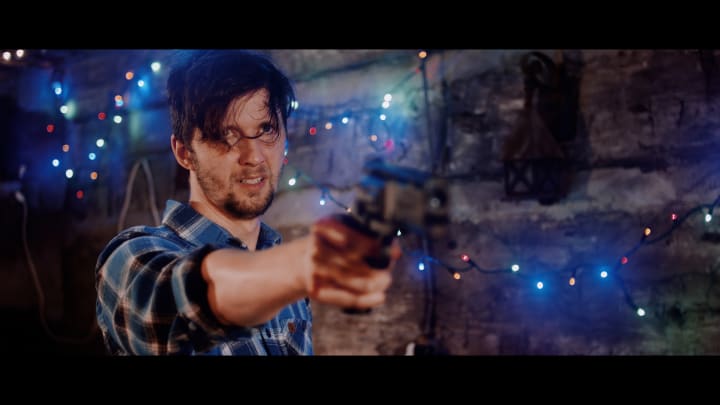 Following a surprise faux movie trailer and your Christmas-y atmospheric, well-done introduction sketch to the gang at the dive bar, the "13 Slays Till X-Mas" film starts off with a story from writers and directors William Capps and Julie Streble ("Volumes of Blood: Horror Stories") regarding two women who meet at their late mother's residence to decorate it one final time for the holidays, though, the reasoning for her passing soon becomes a cause for concern. The short, titled "Like A Family", stars both Streble and Capps with Lauren Argo as the other on-screen talent and Matt Goodlit working special effects. It's hauntingly eerie and an excellent start to the horror packed anthology.
Next, "13 Slays Till X-Mas" gives us a piece from writer Vorasine Vince Phrommany and director Carlos Omar de Leon called "The Devil's Due". This one will tug on your humanity as it centers around a father daughter duo grief stricken during the holidays one year after the loss of the family's wife and mother. It stars Rod Kasai, Sasha Schectman and Desire Jansen.
Writer, director and editor Blair Hoyle's short "One More Gift" is the first that brought laughter out of me with it's disconcerting and comedic performances from Ian F. Scott and Brian Boggs. There's something unnerving about these characters which lands this addition to the 13 "13 Slays Till X-Mas" shorts as one of my personal favorites.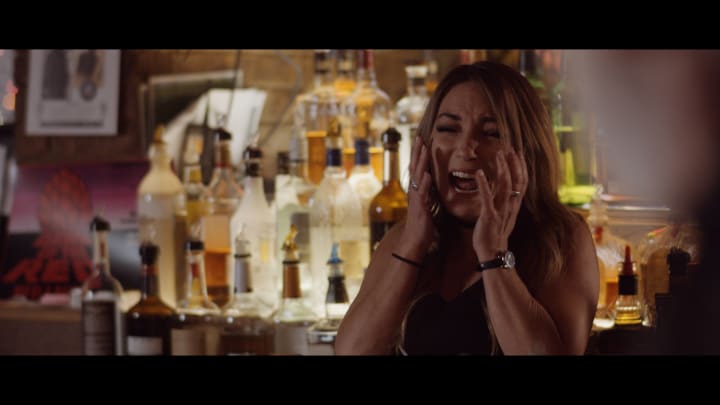 Things begin to heat up in terms of fear inducing themes, gore filled death scenes and terrifying holiday shenanigans with "It's A Wonderful Death", directed, written and edited by John Mason. The special effects really help carry the dark narrative, with SFX by Jill Pugh and actors Chris Killian and Ryan King in the lead. The plot follows a divorced dad about to take his own life while alone on Christmas when he is visited by an angel of some sort. Jessica Anderson, Dean Shortland, and Clare and John Michael Mason also star.
When "Don't Kill Santa On Christmas" started playing in "13 Slays Till X-Mas", at this point, the horror short stories have been so well executed that the immersed watcher will get a real kick out of everything that writer, director and editor Sean Blevins' ("Volumes of Blood: Horror Stories") part of the anthology has to offer. Following the tragic, recent loss of his wife and daughter, a mall Santa comes home to two burglars with a more insidious plan in store. Francis Whitaker, J.P. Lebangood, Brandon Shell, Nicole Blevins and Ava Blevins are cast in what Rotten Tomatoes critic Tracy Allen from PopHorror is calling her favorite short from "13 Slays Till X-Mas".
Those who become uneasy at the sight of clowns may need to look away for some of the cinematic sequences in this next nightmarish short from director, writer and editor Jed Brian (read my interview with him on his feature-length, found-footage horror film "Unlisted Owner" here!). Steven Potts, Quinton Kiser and Steve Christopher lead the cast in the creepshow that is "Kringles the Christmas Clown", with Kringles sporting in my opinion the best special effects makeup in the entire anthology from Tabitha Blackwell. When a father tries convincing his son to sleep on Christmas Eve by sharing a haunting tale of Santa's brother, Kringles the Christmas Clown, the night begins to spiral out of control fast. Cassondra Brian and Jace Brian make appearances as well.
From director and writer Drew Marvick, next in line in "13 Slays Till X-Mas" is another favorite of mine starring Parker Lemon Marvick and Degan Marvick titled "Santa Claws". With the short's own director also cast as the antagonist, alongside the exceptionally talented Sophie the bearded dragon who played as herself, this story is an awesome horror watch. The synopsis is summed up as a brother teasing his sister for still believing in Santa Claus. Both youth in the short film performed well and made their mark in the filmmaking industry, a place they both have a bright future in if they so choose to embark on that path; this is an excellent addition to their reels and you can tell everyone had fun making it.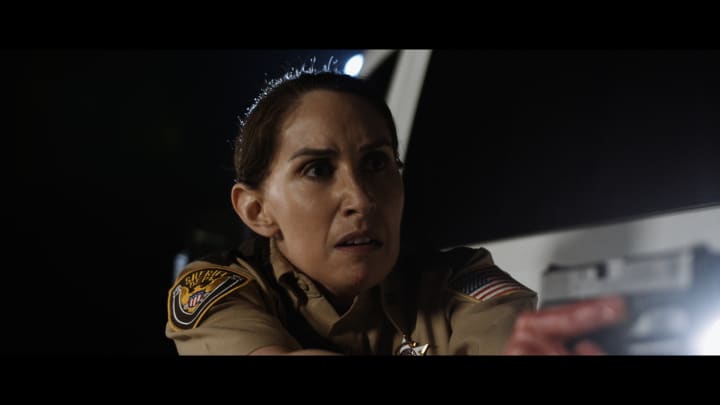 Huskisson's written and directed short film in "13 Slays Till X-Mas" debuts with "The Scareionette", edited by Starks and featuring some fine wardrobe work from Anne Welsh. When a woman stumbles upon a creepy doll while grabbing Christmas decorations out of storage, her girlfriend begins to act differently, only for matters to worsen for the couple later into the evening. With talent by the likes of Roni Jonah, Kaylee Williams, James Stokes, Barbie Clark, Grady Cooper and Bethany Westerfield, "The Scareionette"'s stellar cast, professional camera work and lighting help keep viewers on the edge of their seats, and I'm going to assume this is particularly the case for any with a phobia of dolls also (the one in this is extra spooky).
Continuing with more from Starks as writer and Alex Clark credited as director and editor, next on the diverse horror anthology "13 Slays Till X-Mas" is a thrilling ride told through multiple angles of the same story and it's truly better explained as something you'd have to watch for yourself. The sinister vibes and color composition make the short called "A Christmas To Dismember" one to remember, and the play on its' name gives this one some extra points in my book. Sonya Delormier, Jillian Carpenter, Wesley Johnson, Brad Youngman, Nate Gross, Ryan Matthew Ziegler, Worth Mountjoy, Jeffrey Reddick and Sadie Katz make up the cast list.
One of the best ending twists happens in "Dead Air", written by Starks and directed by Brittany Blanton. The sets in this are my favorite in "13 Slays Till X-Mas". As the plot goes, a man becomes increasingly suspicious and hostile over rumors that he's going to be replaced on his nightly radio slot. This was such an interesting watch I nearly missed the special appearance from "Kringles the Christmas Clown" director Jed Brian. Wes Bartlett, Kevin Clark, Gerrimy Keiffer and more fill the indie star-studded cast list.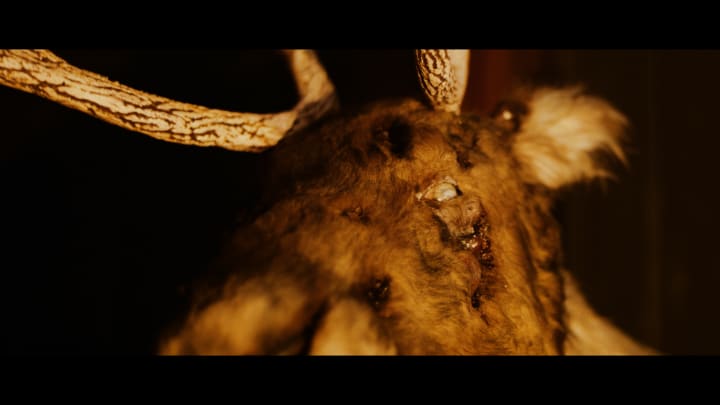 Demonic caroling creatures come knocking at the door to a couple's Christmas party in "Jingle Bellz", directed, written and edited by Shawn Burkett, who also served as the short film oroduction's director of photography, and one of the two gaffers and camera operators. The rockin', killer short in "13 Slays Till X-Mas" casted Travis Wilson, Emily McAnulty, Michael Reeves, Scott Gillespie, Mike Pleska, Payton Pleska, Rob Collins, Stephen J. Hodke and "Dead Air" director Blanton.
The final story in the "13 Slays Till X-Mas" anthology is a frightening tale by the name of "The Killer Caribou". Far from the Christmas classic "Prancer", this short film speaks for itself in the short's title. It was quite an end to a Christmas horror, one you'd least expect but are entirely content with. John Hale is credited as director, writer and editor, with Cory Ruch and Benjamin Robert Svoboda in the incredible SFX department. Greg Harpold, Michael Merchant and RJ Campbell star.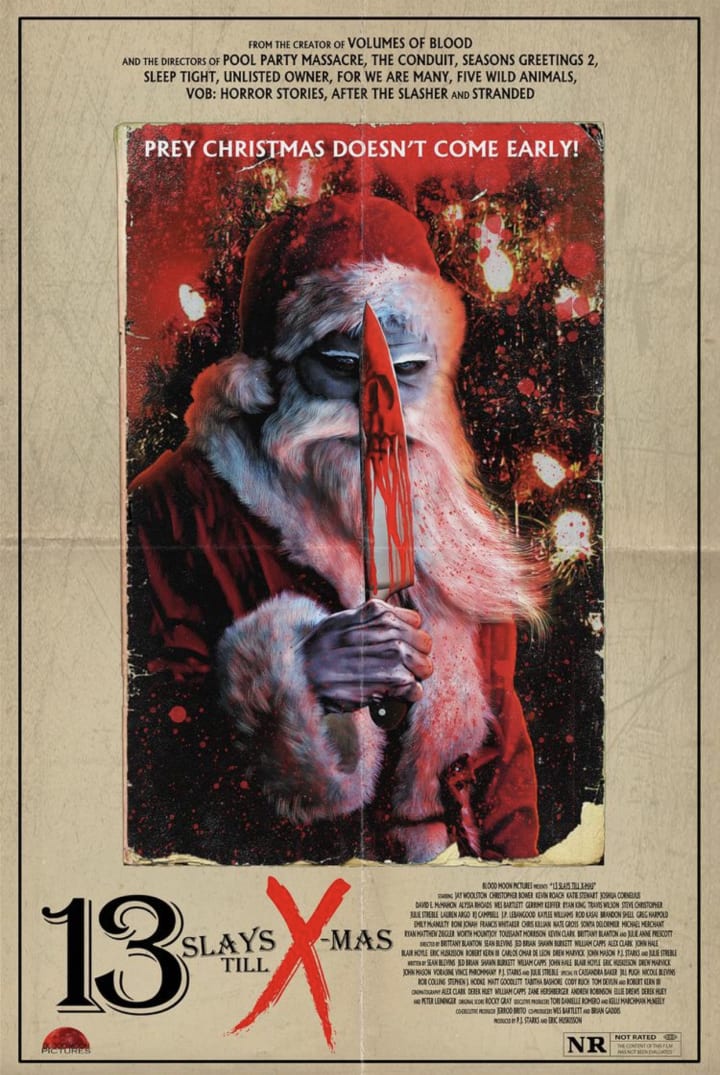 To conclude, the film professionals behind "13 Slays Till X-Mas" put together something to be proud of, its impressive how communications were likely top-notch to keep this project in motion from start to finish and indie horror fans are going to enjoy every bit of it. It's not perfect, but it's a solid effort towards a genre in horror that isn't dipped into as enough as it deserves. I am ecstatic for and have no doubt I'll be seeing more from the same cast and crew going forward. I won't give any details to the ending of the anthology; just know that it will not disappoint.
Special thanks to P.J. Starks and Jed Brian for the screening material.
•••
Thanks for reading! Leave a tip if you can to support articles like these, and if you pre-order and watch "13 Slays Till X-Mas", I'd love to hear your thoughts on Twitter @horrorwriterang!