Quest Factory: The Clinic
Escape Room or Walk-Through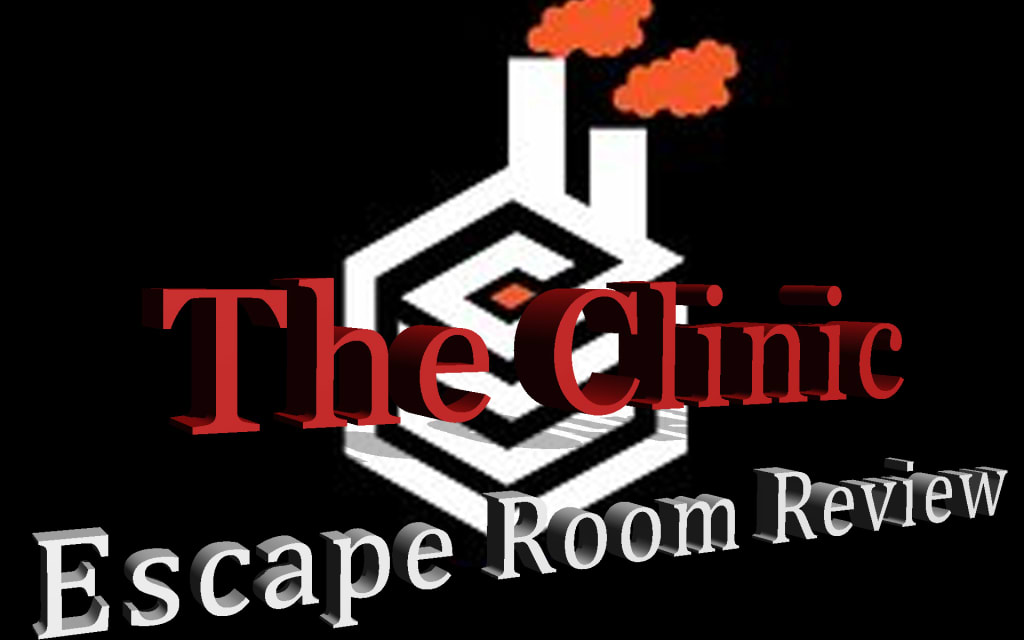 Website Link: https://thequestfactory.com/
What's up everyone? It's Dannis here covering the horrifying Clinic by Quest Factory. I have heard a few different things about this room, being that one: it is pretty scary, and two, it's more of a walk through with a puzzle here and there. So I gave my team up to the demented doctor to find out what this place was all about. I just didn't think the doctor would take me too. However, before we get into the review, here are some details about the Clinic by Quest Factory.
Details:
Located in near downtown Los Angeles, Quest Factory holds five rooms in a giant warehouse under the ten freeway. The Clinic can hold anywhere from 2-6 players, starting at $33 per person. However, if the players are between the ages of 12-17, the price does drop to $22 for those players. So in this case, if you're looking to save some money, it might be worth having younger players on your team, but who knows this room might be too intense for that age… or is it? Not only is the benefit of having younger players great for the price but Quest Factory is a private game, meaning they do not mix you with strangers. So if it is too intense the YOU are the only person to deal with them, not strangers. In any case, you don't have to make any friends, just try to remain friends after the game because this game has a difficulty rating of 7/10.
Story:
There is a demented doctor determined to create the perfect human. You have been kidnapped and brought to his Clinic to become his latest specimen. Escape before the doctor returns to continue his demented experiments.
Visuals:
Before my team and I went into the room, we had heard something specific about how you enter the game, but of course no one new for sure... Sure enough, once we got in there, the six of us knew we were in for a good scare. I do have to say that the entrance and start of the game is probably one of the best I have done and with over 70 games. That says something. Coming in at over 1,500 square ft., this room is one of the biggest I've played yet. It held a surprise around every corner. The room itself was not as gory as I anticipated; though there were a few realistic bodies here and there, it wasn't as bad as I thought. I knew it was just a game, but I still didn't want to go anywhere near them just in case, you know, they were to get up. Despite the bodies, the Clinic was focused more on the fear of dark places and loud noises rather than blood and gore. My favorite part though was when we were walking down the hall, I hear a distant voice from a teammate who supposedly had their hand on "my shoulder," "would did you stop walking," "I'm over here!" Needless to say, it wasn't me. However, as we progressed through the game, the scare factor wore off. We were no longer afraid to venture on our own to solve something or check things out, and I think that's where it fell short for me. I can't speak for the rest of the team, but I got WAY too comfortable walking around by myself. So,
I'm giving that 4 screams out of 5.
Puzzles:
Here's where things go back and forth. Some of the puzzles were repetitive, meaning you had to use the same logic to solve it, but just in various places. That's both a good and a bad thing; it shows the value of having something be used again, but it also gets old and predictable. The only problem is you need to find where to put the answer. It also does break a general rule of, "once you use something, it will not be used again." Like I said, "general rule," doesn't always work that way. With that being said, I don't think the puzzles were too hard, but the fear of what's happening around you can make them annoying. Now, I have read on a blog something about sins of an Escape Room, where it gives a list of things that should never happen in an escape room. Here is a major sin: NO AUDIO in the room. If there is no audio for the game-masters to hear us on the outside, they rely on only seeing what we are doing and give us help based on what they see. So as you can guess, it came time for us to ask for help, but they just kept telling us what we already knew because they can't hear us. So that led into the frustration with the puzzles which tied back into us being no longer scared. So I'm giving it 4 body parts out of 5.
Overall:
I can't be too mad about the game. I did enjoy it, don't get me wrong, I just think it was hyped up so much for me that I expected to be blown away. It's funny to think that before we went into the room, the six of us were discussing the order in which we would enter a room as we would proceed through the game. Though I found myself to be afraid and jittery on the outside of the game, once we got in, a door opened and I was head first into the dark. WHY? I'm not sure. In the end, I did like the room and had fun, despite the comfort.