Portrait of a Ghost
Flash fiction story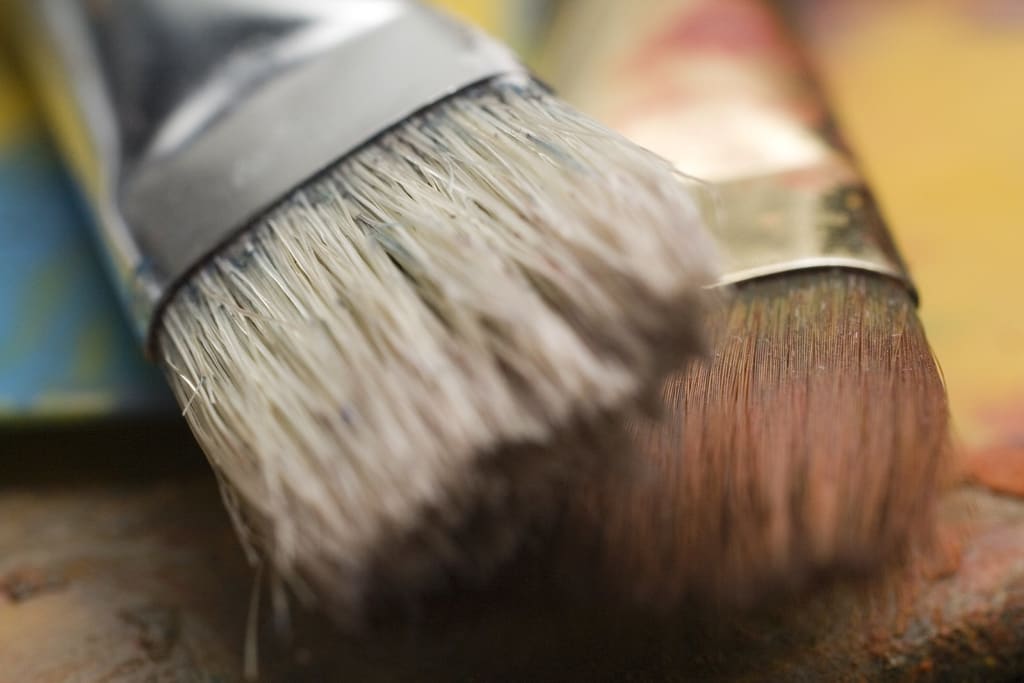 Patrick was an artist -not particularly famous or well-known- but did well enough, between his work in graphic design and occasionally being commissioned to paint portraits like the old style portraits people had made before photography was common. Upon request, he would even paint old-style clothing and backgrounds if provided with a decent sample picture while his subjects could pose in jeans and T-shirts. Of course, he charged extra for this service but then his clients were always satisfied to have a truly original piece of artwork to hang.
Occasionally he would get someone who would bring in a photograph of a deceased relative and request a painting from that, but he preferred to work with live models in his studio, if not in the desired setting.
Patrick did most of his graphic design work freelance from his studio – he had a desk area shoved into a corner with his computer and piles of his design projects haphazardly strewn. His desk was ancient but the computer was always up to date with two monitors and well organized files. He also had a tablet he'd take with him when not in the office. He'd learned long ago that while he may feel at home and creative in his cluttered studio, he was most productive when the real business end – his computer and files- was well organized. He was seated at the computer, putting some finalized color adjustments to an advertising pamphlet for a new restaurant opening down the street Rina's café, serving specialized coffee, pastries and sandwiches. He wanted to reflect the vibrant colors Rina had painted the space, a cheerful contrast to the bland faded and peeling paint the owners of the previous café left her with when they'd closed their doors two years earlier. The place was never very popular and had remained vacant for two years before Rina purchased it hoping to revitalize the area. Patrick wished her luck.
He was thinking about the old café trying to remember what had happened to the owners when the phone rang. "Patrick O'Doyle," he answered – he advertised his services as a graphic arts designer and as a vintage-style portrait painter under his name, both with the landline he had gotten for his business. He had it set up to occasionally forward calls to his iPhone and could check messages from his phone too but he felt having the landline made him seem more professional.
"I'd like you to paint a portrait of my great-grandmother, Edith Remington," said a male voice on the other end.
Patrick pulled up the pricing form he had prepared. "Now will this be in person, or will I be working from photographs?"
The voice on the other end hesitated. "There was a fire at my brother's house. He had the only photographs of her. He's working on putting together a family history and we wanted to include a picture of her. Please, could you come here and paint her for us?"
"If you don't have any old pictures, how will I know what to paint?"
"Please, just try."
They made a consultation appointment for the following evening. Patrick reminded Thomas that daytime hours were best for him to do his actual painting, or perhaps at his studio, trying to imagine how he would produce such a painting. Maybe she was still alive, but elderly? Or maybe another relative strongly resembled her.
Patrick arrived at the house at 6pm the next day, just after the sun had set. the house was a large Victorian, painted pale yellow with a blue trim. A young gentleman went out of the house to meet him, perhaps in his early 20's with sandy blonde hair. "Thomas Remington," he introduced himself, "Please come inside."
Patrick followed Thomas inside and was surprised to see the entire place decorated with antiques, not a single modern item, not even a computer or television. Patrick immediately felt as if he had been transported to the 1920's. A second glance at Thomas showed that his simple attire of pants and dress shirt also seemed to match the era. "I see what you mean about wanting me to come over," Patrick remarked. "I imagine this is what the place looked like when she was in her prime. Did you redecorate the room for the portrait?"
Thomas regarded Patrick for a moment before responding. "No. You will do the painting in the parlor. This way."
Patrick followed Thomas down a dark hallway to a room that was illuminated by old-fashioned gas lamps and a fireplace. An older woman, perhaps in her 50's, was seated by the fireplace, elegant, dressed in clothing from the turn of the century, her hair carefully styled. "You would like me to paint her as she is in this room?" Patrick asked.
"I want you to paint Edith, just as she is." Thomas replied.
"Now did she have any physical traits that differed from this model at all? I'd be happy to look at other family photos or accounts and make any necessary adjustments."
"Please, just paint her."
Patrick, pleased that he had thought to bring his materials with him, went to his car to retrieve everything he needed, though wishing he had thought of bringing additional lamps. The lighting in the parlor was not as bright as he would have preferred and Thomas told him that he could not provide more lamps, said working during the day would be impossible, but he could feel free to use the kerosene lamps in the cabinet. The kerosene lamps reminded Patrick of his childhood when a strong enough storm might knock out the power for hours or even days. One more hurricane had left them without power for nearly a week without power when he was little, almost too small to remember how they got by with no electricity for that long. Patrick arranged four of the lamps around the room before lighting them and using the knob on the side to adjust the wick and make the lamps bright enough. The additional lamps provided adequate light for Patrick to feel confident he could work but it was a softer light than he was used to. In no time at all he found himself adjusting to the new environment as he painted a women who regarded him silently and scarcely moved. He worked on the painting for several hours, well into the night, when he realized the time. He and Thomas made two more appointments for the following evenings and then he went home, taking the painting with him.
The next day, Patrick looked at the painting in the daylight and noticed his work had taken on a somewhat different quality, as if the old-time environment he had painted it somehow expressed itself in the painting, leaving his others – even the supposed "vintage" portraits seemed bright and modern by comparison. Perhaps he should invest in antique gas or kerosene lamps for his studio. Patrick worked hard on the painting over the next couple of days. It was turning out to be his best portrait yet, the subject seemed so alive and really seemed to speak to the era. Thomas was very pleased with the final product, stating that he had captured her likeness perfectly before presenting him with a check.
The following morning Patrick saw an email from his bank. Apparently there had been an issue with the first check he had gotten from Thomas Remington – the account was closed. Patrick hadn't deposited the second check yet and called his number to try to ask him about getting another check. He got a message saying the line was out of service so he figured he would drive over and talk to him. He drove over and searched to see that there must have been a fire the night before. The building had clearly been severely damaged and the crumbling remains were blackened with smoke. Patrick parked down the street and pulled out his iPhone, opening up a news app. The local news didn't say anything about a fire, not even when he did a Google search. He searched the name Thomas Remington and the only result was a young man with brown hair darker than the Thomas he had met and was listed as living in Springfield. He finally found information about the house – there had been a fire there two years earlier, and this house was also listed in an index of haunted places. It had been empty for three years prior to the fire while the previous owner Theresa Remington lived in a nursing home. She had passed away a few months ago, leaving Thomas and James Remington as the sole heirs, the same Thomas listed as living in Springfield. Feeling somewhat uneasy, Patrick made his way to the remains of the house and cautiously went inside. The main structure of the house seemed to be still intact but the furniture and decorations were all gone. He walked until he got to the parlor where he painted the portrait. There, just as he left it, was the painting. Was this some sort of elaborate hoax? He wondered. Not sure what else to do, he picked up the portrait and carried it to his car- the issue with the checks not clearing made the portrait still his, should someone call to try to claim it. He decided to try to contact the owner of the house and descendant of Thomas.
He called the number listed for young Thomas Remington but hesitated when he reached voicemail, then hung up without leaving a message. What would he say? "Hi, I was visited by the ghost of your grandfather?" Just didn't seem right. He tried the number for James who answered right away. "I'm not sure how to explain this but I paint portraits and a few days ago I was commissioned to paint a picture of Edith Remington but the person who made that request has disappeared. I have the portrait if you would like to see it."
James seemed surprised and hesitant, he said he didn't know of anyone who could have made that request. He said he had been working on writing the family history and was getting plans drawn up to restore the old house that had burned down, he wanted it to look just as his grandmother kept it looking in the 1920's and he had thought he might turn it into a museum or donate it to the historical society. He worked for the historical society. He had been clearing things out of the house into storage to begin the renovation project when the house caught on fire and he'd lost some items that were in the house including some family photographs and a portrait of his great grandmother. He agreed to look at the portrait. When he saw it, James stared in disbelief. It was nearly an exact replica of a photograph he'd had of her, but had been badly burned in the fire. "How did you ever manage to paint that?"
"Well, I'm not sure I believe it myself." He told him the complete story of how he had been asked to paint a portrait, here at the house, which had appeared in perfect condition.
"You said they disappeared?"
"Last night after I finished the portrait I left it in the parlor and was given a check for final payment." He explained the issue with the checks.
"May I see the check?" Patrick handed it to James who examined it. "This was from my grandmother's account. She'd always handled the finances since she owned this little café, you know, the one that just reopened as Rina's. She ran it with her parents and became full owner when she met my grandfather and kept it going until a few years ago when she had a stroke and we had to move her to a nursing home. She passed away a couple months ago."
"Sounds like she was an interesting woman."
"You have no idea. I've been writing a family history and have some of her old journals. The stories I could tell you. You know, I was just thinking the other day how disappointed I was that I'd lost that picture of Edith in the fire. I was about to start going through some old family pictures to see if the framed picture might be in the background of any of them. It's almost as if one of their ghosts somehow knew to contact you."
James eventually decided to buy the portrait from Patrick. A few days later he got another phone call with a similar request and when he finished that portrait he'd gotten another request. It wasn't long before Patrick O'Doyle became famously known as the painter of the deceased.
fiction
New to Vocal - bio is a work in progress.
Receive stories by Crystal Purcell in

your feed