May - A Movie Review
'May' urges all audiences to embrace their inner weirdness. Nobody can change you.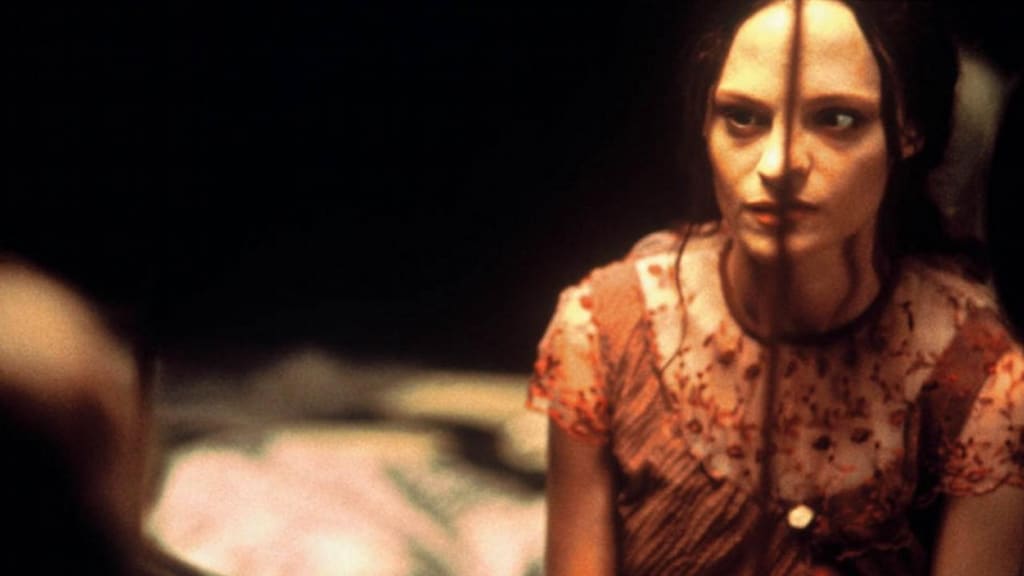 I love gross. Have you met May? She is the epitome of all gross things.
May is a 2002 drama-horror about a socially awkward young woman with a lazy eye. May just wants to fit in with the world. Developing a crush on a man with perfect hands, May's strange behavior ruins the relationship making her spiral into madness.
I came across the title for May a long time ago. Deciding to watch it based on a recommendation, May is a dark film. I liked it and I was disturbed by its content at the same time. Nobody should ever judge anybody based on first impressions. As the film urges, embrace your inner weirdness. Nobody can change you.
Nobody other than Angela Bettis could have played May like her. Ever since I watched Bettis play the title role in Carrie (2002), I became more intrigued by her abilities. Bettis' best moment was where she happily talks about a very detailed dark and gruesome story to her crush. May's dark humor is her best trait. But it turns people away.
Desiring for a friend becomes so big that she snaps. Big time. Bettis put all her emotion into May delving into her broken mind. As the audience, you empathize with her. Everybody sees a bit of them in May. We're all weird in our own way.
Other credits to include are Jeremy Sisto, Anna Faris, James Duvall, Nichole Hiltz, Kevin Gage, Merle Kennedy, Chandler Riley Hecht, and Rachel David. Supporting characters are a test for both May and the audience. Not everyone you meet is going to treat you nicely. We have to be aware of who is going to trick us.
There needed to be more scenes with May as a child. Reportedly, most of May's scenes from her childhood were cut to move into her adulthood faster. I would have liked to see more scenes from her childhood in order to get a better grasp of her character.
I have mixed feelings for Anna Faris's character. May is a bold film that made risky choices. Farris's character got on my nerves, especially with the high-pitched voice she used. That is all part of the character. All in all, I like how the film was open to a gay woman. Except, her behavior to May was disturbing.
It's a sad, albeit important lesson that all genders can take advantage of someone. Adam (Sisto) is a great example of that, too. I liked his interactions with May. At first, he is intrigued by her unique personality but then he slowly becomes more and more disturbed.
Most of the horror in May is body gore. I was not expecting this. My stomach turned at the reveal of May's creation in the climax. For audiences who are turned off by that, I suggest that you don't watch this film. It is a very disturbing climax.
Up until the ending, the film follows the tale of this woman who is slowly slipping away into insanity. Lucky McKee did a great job of obtaining audiences to empathize with May. He made this film as a way to tell audiences who relate to May are not alone. Don't be afraid of who you are. Embrace your inner weirdness and don't let anybody shame you.
Mental health plays a key role in May. If we saw more scenes that delved into May's childhood, we would have seen how her mother affected her. Reach out and seek help.
Viewer discretion is advised if you ever watch May. This underrated film needs to be talked about more. I was disturbing and yet I enjoyed it at the same time.
movie review
Writing has been my passion since I was 11 years old. I love creating stories from fiction, poetry, fanfiction. I enjoy writing movie reviews. I would love to become a creative writing teacher and leave the world inspiring minds.
Receive stories by Marielle Sabbag in

your feed