I Know What You Did Last Summer - A Movie Review
'I Know What You Did Last Summer' holds a valuable lesson of the ill-effects of keeping a secret.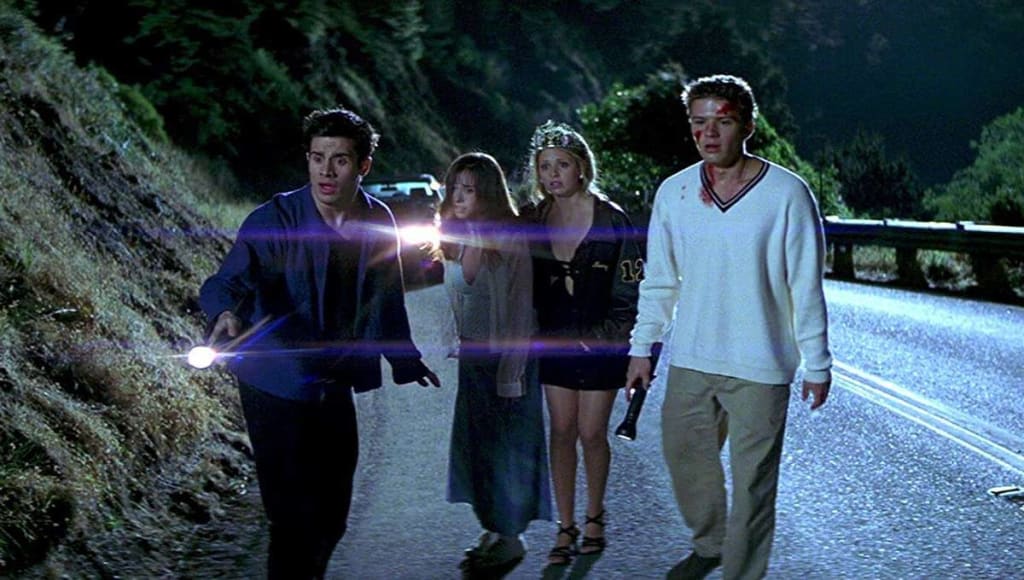 Don't do anything you may regret. Or the past will come back and haunt you.
I Know What You Did Last Summer is a 1997 thriller about a group of friends who cover up the tracks following a tragic accident. Reluctantly vowing to keep it secret, their guilt manifests into their estrangement. One year later, they get threatening messages from a stalker brandishing a sharp hook.
I am not sure how I have never seen this film until now. Although I Know What You Did Last Summer is a cliche stalker film, it was entertaining. The film holds a valuable message about the negative consequences of what keeping a secret can do to your life.
Jennifer Love Hewitt, Sarah Michelle Geller, Ryan Phillippe, and Freddie Prinze Jr., were terrific in their roles as the quartet. Occasionally, their performances were a bit over-the-top and cringy. Hewitt had too many scenes where she screamed her brains out when she could have been more helpful.
That being said they each delivered a believable representation of the ill-effects of guilt. Guilt can affect you mentally, physically, or it destroys a friendship. The quarter did a nice job with their friendship. The way they express how they miss one another felt genuine. Keeping this devastating secret ruined their chances of exploring their first semester of college.
Other credits to include are Muse Watson, Bridgette Wilson-Sampras, Anne Heche, Johnny Galecki, Stuart Greer, and an ensemble of many more. Wilson-Sampras's character deserved a bigger role for her abrasive personality. I would have liked to see her character be more aware of the situation instead of being oblivious.
Anne Heche's character felt forced. Heche stated that the only direction she was given was to act scary. Although she conveyed the right emotion using a real-life tragedy to inhabit her part, in the end, Heche had nothing to do with the story.
The story was confusing in parts. Some scenes cut away too soon because of the editing. Parts of the story that were confusing involving the history of the accident. And a subplot regarding one of the quartet was never explained in detail either. It is never explained thoroughly.
Other than flawed parts of the story, I Know What You Did Last Summer is genuinely scary at times. For audiences who are triggered by stalker films, this is not for you. The stalker performs startling actions that are very threatening. He gets into the quartet's minds removing evidence, trying to run them over with a car, or even cutting off their hair!
Geller's scene where she is frantically running throughout the streets is one of the best chase sequences. It deserves an award. Overall, I Know What You Did Last Summer manages to be a scary film despite some obvious jump scares. I thought the film was going to be hoaky and not take itself seriously. Yeah, I gasped a couple of times. The ending is suspenseful.
Reportedly, everybody had a fun time working on the film because of Jim Gillespie's direction. I was surprised to learn that some scare scenes were added in post-production that weren't in the original script.
Gillespie did a fantastic job with the direction of scenes, most notably in the climax. He paid crucial attention to the editing process going back to make little changes that would not become plot holes. And he devised an effective moral of what keeping a secret can do to you.
I Know What You Did Last Summer spawned two sequels. You have to check this film out for the spooky season if you have not yet seen it.