Vocal + Assist
Behind the Scenes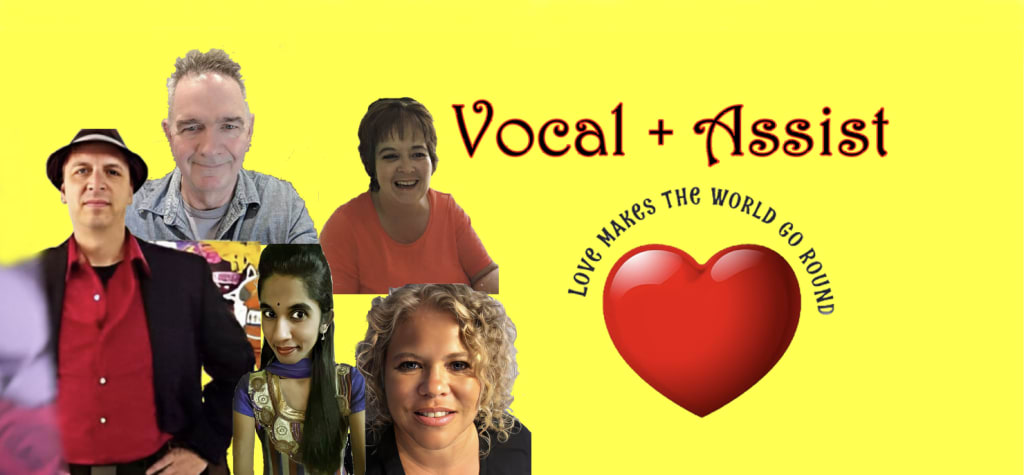 Rick, Mike, Cathy, Dharrsheena, Heather
My name is Rick Henry Christopher. For the longest time most of you have known me simply as Rick Henry. Recently, I added Christopher to my name as a way of paying tribute to my fantastic brother Chris who unexpectedly passed away in 2021 at the young age of 58. I miss him greatly and think of him daily.
Love is the driver in everything I do...
I have been on the internet since 2001 with various related music forums, websites, and blogs. I found early success with one of my websites getting more than 8,000 unique visitors per month and attracting quite a few celebrities.
Around 2005 I made it onto MySpace and encountered a similar success with more than 5,000 friends. This in turn led to interviews with celebrities and steady Amazon affiliate sales through the links I posted.
I finally landed on Facebook in 2009 continuing with my brand. I have created a staggering number of groups, maybe 40 to 50 and something like 25 pages. Most of them are no longer active. Since my mom became sick, I am not able to maintain them anymore.
I have always had this yearning to reach out... The internet is where I flourished!!!
There was my short lived highly unusual comedy show on YouTube called Mr. Hank's World. Many people would chant the tagline "Hello Friends."
In 2011 I created The Word Thoughts Blog which is a blog hosted on the Blogger website. This is one of my most popular projects. However, I have not updated it since about 2017. My most popular blog post received 105,000 unique views. With several others capturing between 35,000 to 45,000 views.
In 2020 my YouTube interview show called Rick Henry's Talk Show debuted. I have interviewed many well known musicians such as Terry Draper from the Canadian band Klaatu, Russell Javors the bass player in Billy Joel's band, Trombonist, trumpeter Nick Vayenas a longtime member of Michael Buble's band, disco legend D.C. LaRue and several others. I hosted some great guests but really did not enjoy the success I've achieved with my websites, blogs, and groups.
In case Vinnie Zummo, guitarist in Joe Jackson's band (1980s - 1990s) - I still have your interview in the can and I've been thinking about it quite a bit lately and I need to find the time to make this happen and get your interview online.
My talk show ended in November 2020 when my mom became very ill. I was working on the Vinnie Zummo interview at the time but never had the chance to finish it.
Getting back to Facebook I want to speak about a little group called Vocal + Assist. It's not a super large group currently it has 391 members. But here's the thing - it's an active little group where the members are more like friends and family. Our motto is "Let Love Rule" and "Love Makes the World Go Round."
The group started small and grew very slow. Vocal + Assist was an underdog. I think people were expecting it to fail. Mike Singleton - MikeyDred was the first group member. Then came Melissa Ingoldsby.
The Assist in Vocal + Assist equals HELP. Vocal + Assist is all about helping each other to be a success.
Mike and I began chatting back and forth on Messenger. He started helping me out with posting Author of the Day a few times a week as my mom's dementia progressed, I had to spend more time with her and our sleep became very inconsistent. I was becoming sleep deprived. Mike's help was very much appreciated.
What was initially intended to be just a few weeks ended up turning into months. Mike came up with some great ideas and he brought in quite a few people.
As I learned how to reprioritize my time I became better equipped to deal with the advances of my mom's illness and continue to write and reciprocate the reads.
With this reprioritization I was able to become more involved with Vocal + Assist and re-establish my presence.
I learned to work around my mom's illness in order to get back onto social media!!!
Mike and I began communicating back and forth about the group. He and I came up with a few ideas. I think he came to discover that I was good at resolving issues in a manner that was fair to everyone involved. Fairness has always been my focal point. I do not favor my friends over those I don't know. Everybody gets a fair chance.
Fairness has always been my focal point
As time went on Mike and I added a few Group Experts. Of which I saw as a springboard to becoming a moderator. Dharrsheena Raja Segarran was the first group moderator. A few months later Heather Hubler became a group expert. But because of her high engagement in reading people's stories and leaving responses and hearts in both Vocal and Facebook she was quickly promoted to the moderator position. Once she became a moderator Heather displayed a natural sense of leadership, fairness, and organizational skills and she was given an admin position. I guess the next step for Heather is to award her the position of Group Creator. Or oh wait is that one I get to keep? 😎😜
Since Heather's moderation position was open, Mike, Heather, and I brought Cathy Holmes in to fill Heather's shoes and boy oh boy Cathy really fills those shoes like dynamite fills a hole in the dirt 🤩. Cathy brings a great sense of humor to the gang. She couldn't be all that bad. After all she loves Pink Floyd.
The way things happen at Vocal + Assist is everything begins as a conversation between Mike, Heather, and I. Then we take what we've discussed to Dharrsheena and Cathy where the five of us have equal voice in conversation. Then we vote on the issues facing the group.
One thing I am very conscious of; is that I never go in with the attitude that this is my group, and this is how it will be. Everything is fair and everything is voted on. The five of us have an equal voice in representing what is best for our little Facebook group called Vocal + Assist.
The following are statements from The Vocal + Assist staff:
All the Admins bring different things to the table and all are committed to improving and developing V+A, we are all supportive and there for all members when we can be, admins and moderators have a global spread so there is likely to always be someone around if needed
Over the last several months, I've had the pleasure of becoming an invested member of the V+A fb group. It's a vibrant, supportive community that I've flourished in both as a writer and reader. I was thrilled when Rick and Mike asked me to first be a group expert, then a moderator, and most recently an admin. Being a part of the behind-the-scenes workings has continued to show me what dedication there is to keeping the group a safe, engaging, successful place to be. Group rules, suggestions, and staff positions are all voted on privately, and great thought is given to ways to actively improve as the membership continues to grow and expand. It's one of my favorite places on facebook.
At first when I joined this group, I quickly realised it was different from the others. The group only had about 90 members at that time, but it had a very pleasant atmosphere and unlike other groups, there was engagement in posts here. I was also very impressed with Author of the Day, Tag Author and Tag Reader, and Three's a Crowd. It was original and it helped us get more reads. Then we gained a lot more members and they all have been so active in returning reads. This group is the epitome of reciprocation! We also have a great team of Admins, Moderators and Groups Experts. If any one of us Admins or Moderators has an idea for the group, we would voice it out to get the feedback of the other Admins and Moderators. We would then have a vote to decide whether to go forward with that idea. We are very respective of each other and I'm so grateful to be a Moderator in this group 💖
It's a wonderful group filled with talented writers who happily support their fellow authors. The admins strive to make a pleasant and easy to navigate experience by allowing daily solo posts, as well highlighting individual members on featured threads. Suggestions on how to improve the experience are welcomed and encouraged, then discussed and voted on by admin staff. I have recently been honoured to have been named a moderator. They don't make me do a lot of work, thankfully. Otherwise, I may have to remind them that I won 2nd place in a challenge for a piece in which I mentioned something about shoving someone face-first into a paper shredder.
Fairness is the game... or it's really not a game... it's reality... Assist and it shall come back to you tenfold... I get by with a little help from my friends!!!
Thank you for taking the time to read this article. I hope that if you haven't yet visited Vocal + Assist that you will take a minute to come visit our crazy talented family and read a few good works while you're there!!!
With Love, Rick Henry Christopher
About the Creator
Writing is a distraction for me. It takes me to places unknown that fulfill my need for intellectual stimulus, emotional release, and a soothing of the breaks and bruises of the day.
https://www.facebook.com/groups/vocalplusassist
Reader insights
Outstanding
Excellent work. Looking forward to reading more!
Top insights
Compelling and original writing

Creative use of language & vocab

Easy to read and follow

Well-structured & engaging content

Heartfelt and relatable

The story invoked strong personal emotions
On-point and relevant

Writing reflected the title & theme

Eye opening

Niche topic & fresh perspectives

Masterful proofreading

Zero grammar & spelling mistakes

Excellent storytelling

Original narrative & well developed characters

Expert insights and opinions

Arguments were carefully researched and presented
Add your insights