Stella's Cryptic Words to TJ May Have a Hidden Meaning
Molly's fiancé may be in danger should they marry.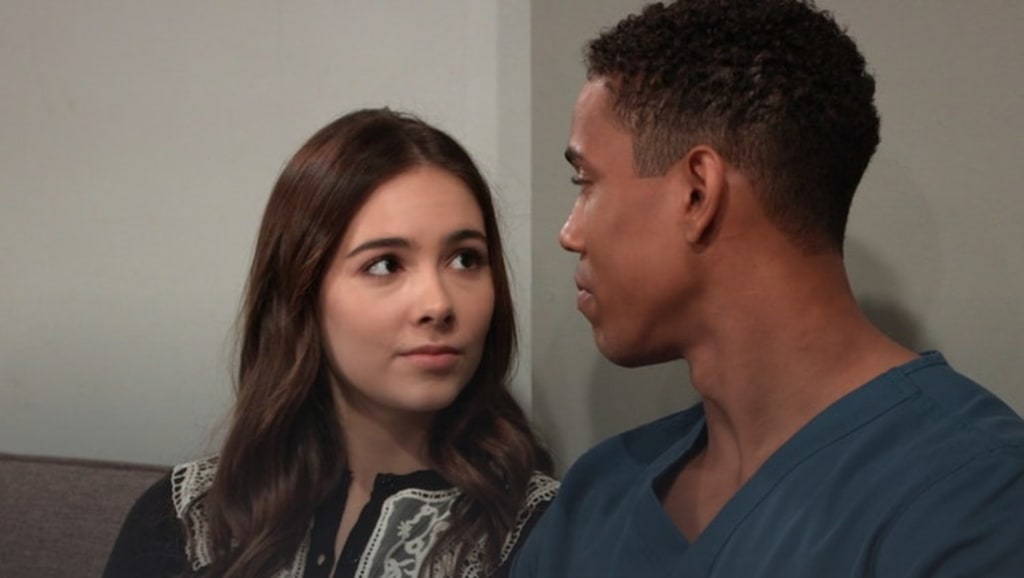 Stella gave her nephew a warning about Molly
Last week on General Hospital Stella Henry gave her great nephew TJ a stern warning regarding his desire to marry Molly Lancing Davis. Auntie Stella reminded the young man that he is black and his fiancé to be is white. She pointed out that there will be people against them and their road would be a hard one. She then kissed Jordan's son on the cheek and gave him a big embrace. Something about the way the exchange took place gave the impression that trouble is coming for Sean Butler's biological son.
General Hospital has addressed interracial relationships in the past with little fanfare. Edward Quartermaine had a son with Mary Mae who was African American. Anna dates Andre Maddox and Molly's mom Alexis was once hot and heavy with TJ's dad Sean. Sonny's dad Mike is currently married to Yvonne who is black and no one batted an eyelash. Perhaps the emphasis is on young Mr. Ashford and Ms. Lancing Davis because of their ages. Stella's dire warning to her nephew has some viewers wondering what is coming later for Jordan's son.
Were Aunt Stella's words a preview of the future should Molly say yes? TJ asked Alexis for permission to marry her daughter but she said it was not her place to give an answer so TJ has to ask Molly, who has been absent since Halloween when Alexis first became ill. The young couple is rarely seen together in Port Charles and when they are it is usually around family and friends. Only rarely have they been shown being romantic and there must be a reason. TJ and Molly have been together for several years so something needs to be done regarding the relationship.
Spoiler alerts don't mention any up coming storylines involving the young couple so who knows when TJ will pop the question. There is also the issue of whether or not she will say yes. Alexis painted her daughter as strong willed, opinionated and one who cannot be pushed into any situation. Perhaps Molly has other aspirations and marriage is not even on her mind. There has not been any news that the pairing of these two has caused social media backlash so viewers will have to wait and see where this is going.
The writers could have simply had Stella talk to her grandson because of the rise in white supremacy and her words were meant to be a political statement. Perhaps they thought the message would be better received by viewers if it came from Stella instead of Curtis. It would have been nice if while Hayden was in town she had cleared Sean's name and TJ's biological dad would get out of jail and spend some time with him. If Shawn Blakemore is unable to reprise the role it could be recast considering that both Jordan and her son are recasts.
Sean is wasting away in jail for a crime he did not commit and no one sees to care. His son is now desiring to become a married man and he is missing it all. Did Auntie Stella simply give her nephew some words of wisdom, or will TJ encounter some type of tragedy because he is black and Molly is white? Perhaps the writers want to kill off the character because they don't know what to do with him. Be sure to continue watching General Hospital each weekday afternoon on ABC at 2:00 PM EST.
With Alexis facing death and TJ wanting to pop the questions, viewers should see Molly on screen pretty soon. If she says yes, perhaps her dad Rick may show up to walk her down the aisle. Of course the headstrong daughter of two attorneys's could always say no. Recently on The Young and the Restless, Victoria Newman refused a proposal from Billy Abbott, but later they had a commitment ceremony, which is not legal or binding. Perhaps Rick Lancing's daughter will consider the same. Continue to watch for spoiler alerts to update what is going on with your favorite Port Charles characters.