'General Hospital' Turkey Day Episode Did Not Disappoint
The Quartermaine's ate pizza, Brad confessed the Wiley/Jonah secret to Lucas, and Kendra tried to murder Alexis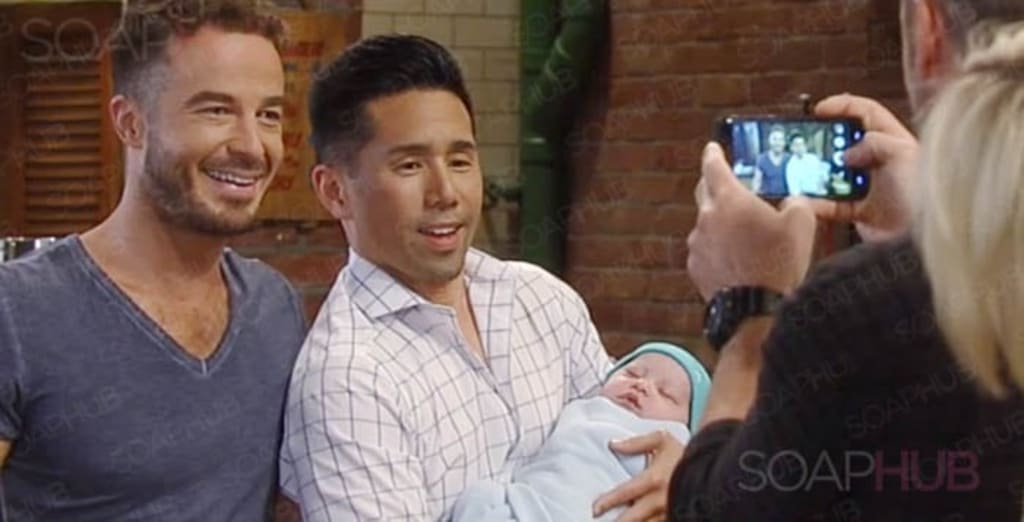 Brad, Lucas and Wiley's life as they know it is over
Turkey day on General Hospital came on Monday, December 1st and with it some exciting drama. Things were pretty tame at the Corinthos home, where Sonny, Carly, Josslyn, and Michael, filled Dev and Sasha in on the Quatermaine tradition of eating Pizza for Thanksgiving since the mid 1990s. Sonny was sad that Mike had to be taken back to Turning Woods and Carly tried her best to help him deal with his father's declining condition. Meanwhile Julian and Neil put the pieces together and figured out Kendra is Kiefer's sister, but they were unable to locate Alexis who checked herself out of the hospital.
Lucas begged Brad to tell him the truth of why everything changed after they adopted Wiley. The two men argued until Carly called and asked her brother to come to her home for Thanksgiving dinner. Lucas convinced Brad to come along and this is where fate intervened. Julian had cut the brake line on his son in law's car and had no idea that his son would be the one driving. Lucas continued arguing with Brad and demanding that he tell him what is really going on. Finally Brad confesses that Wiley is not the baby they originally adopted but the son of Nelle and Michael. At that moment the brakes failed and the vehicle hit another car broadside.
On Friday Kendra had visited her brother's grave and Alexis followed her. Ms. Bauer hit the lawyer over the head with a rock and driven her unconscious victim to the area where her brother had been run down. She gave Christina's mom a shot of something that woke her up, but Ms. Davis was not able to speak. Kiefer's sister placed Alexis in the road then backed up her car with the intention of killing her but as she went forward, Lucas was coming up from a side road and that's when his brakes failed. He hit Kendra's vehicle before she could run over Alexis.
Perry Shen announced Sunday on social media that he will no longer be a member of the General Hospital cast, so Brad obviously will die. Lucas knows the truth so let's hope he does not have amnesia from the crash and Michael can reunite with his son. Kendra will probably die as well and if not go to jail. It will more than likely be touch and go for Alexis but eventually she will recover. Julian will be devastated to know that he put his own son's life in danger. Soaps She Knows says that this week Jordan will find some evidence inconclusive. This will most likely be related to whether or not she can determine if Brad's vehicle was tampered with.
In the midst of this sad turn of events, there were some bright moments at the Quartermaine house. Brook Lyn and Lulu were arguing with each other about Dante and Lulu moving on with Dustin. Monica blasted her niece for taking down the decorations that Olivia and Leo had placed around the house. Olivia then went into the kitchen and screamed. She emerged accusing her stepdaughter of doing away with the entire Thanksgiving dinner. In reality, Monica had called Epiphany to come and take the food to the hospital staff who were working.
Rocco and Leo got along really well as the adults were bickering. Monica stood smiling next to Franco who was confused by all the goings on. Olivia and Lulu were arguing with Brook Lyn who swore she did not do away with the holiday meal. Ned looked exasperated and there were several references to his daughter acting just like her grandma Tracy. Once the pizza arrived, everyone settled down and sang, "We Gather Together to Ask the Lord's Blessing." Even the children joined in. Wiley was said to be there in the house but he was never shown.
Be sure to stay tuned to General Hospital weekday afternoons on ABC at 2:00 PM EST. Things are about to intensify whether Brad makes it or not because Lucas knows the truth. If he does not die, he will probably leave Port Charles. Julian and Obrecht seem to be in the clear for now, but soap fans know that secrets always come out.