Genoa City Experiences Turmoil During a Blackout
Strange things will happen in the dark on The Young and the Restless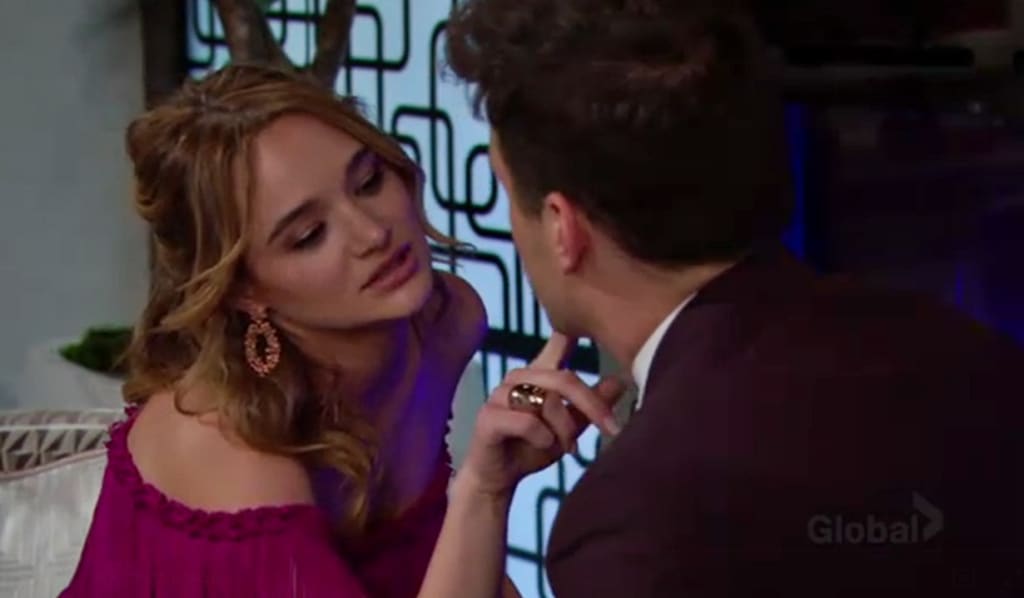 Kyle and Summer may get caught in the snow storm and blackout
According to Soaps In Depth a blackout during a snow storm this week will be quite revealing on The Young and the Restless. It appears this will be a turning point in the "Villy" relationship and there may be no coming back from it. The writers can't seem to let this couple be happy and even had them do a commitment ceremony instead of getting married again. Now it appears that when the lights are out during the storm, both of them may have to reassess their feelings. Billy has been acting out of character and it looks like his dark side will return. Now that Victoria is the CEO of Newman she may feel adventurous and want to take risks.
When the lights go out, Billy will be stuck in a dive bar with Amanda who is being harassed by a drunk patron. Ms. Sinclair will get an assist from Jack's little brother and the two will spend some time talking to each other. Spoilers don't say how far things will go between the duo, but it's possible that while inebriated, feeling sorry for themselves and waiting out the story, they may kiss or even hook up. If something happens between the lawyer and Vicki's baby daddy, it probably will not lead to anything serious. They will simply be two lonely souls who console each other.
Soaps She Knows says that Billy will be in danger this week and also hide a secret. This could relate to his being out in the snow storm as well as whatever happens between him and Amanda. In the meantime Victoria will be in the dark with Rey at Newman Enterprises. Celeb Dirty Laundry says that Victoria will receive an apology which most likely will come from Detective Rosales. He probably is sorry for all the times he arrested her when she was innocent. On Monday's episode of The Young and the Restless Billy and Vicki seemed somewhat disconnected as they discussed his future now that he is unemployed. It's possible that sparks could fly between the Newman exec and the detective because she may be getting bored with her non husband.
Spoilers don't mention any other Genoa City residents who get caught in the dark while it is snowing, but here are a few possibilities to consider. Chelsea will be at Adam's because of Conner and there could be a hot Chaddam reunion. On Monday Chelsea tried her best to get Nick to understand why she needs to be with Adam and Conner. She told Nick he was the only man in her heart and he should not imagine things that are not true. Nick pointed out that Adam will do everything he can to win Chelsea back and when she did not agree he walked off. The snow storm and blackout might be what gives Chaddam fans just what they have been hoping for.
Theo could get snowed in at Society which has turned into his second home. The restaurant is where he has been spending a lot of his free time and talking to Kyle's wife. Theo and Lola may have a chance to get a little closer but nothing more is likely to happen at least not right now. Nick and Phyllis may find themselves stranded somewhere together and things could heat up and turn into a hookup. Summer and Kyle both are dedicated to Jabot and love to burn the midnight oil. They may be working late an have to spend the night together in the dark and their feelings for each other could come to the surface.
Abby and Chance could be stranded at the Grand Phoenix and sparks could fly in the darkness. Devon and Elena's relationship seems to be at a standstill and the pretty intern appears to be harboring secret feelings for Nate, who is interested in Amanda. On Monday Ms. Dawson told Devon that she loved him and was not going anywhere but her eyes light up when she looks at Dr. Hastings. It's probable that somehow during the blackout Nate and Elena are in close proximity and who knows what will happen. The action begins on Tuesday so be sure to tune in at 12:30 PM EST on CBS, to find out what happens in the dark.