Simone Biles Is Now A Married Woman
Simone Biles and Jonathan Owens tied the knot in a small intimate wedding in a courtroom before a judge.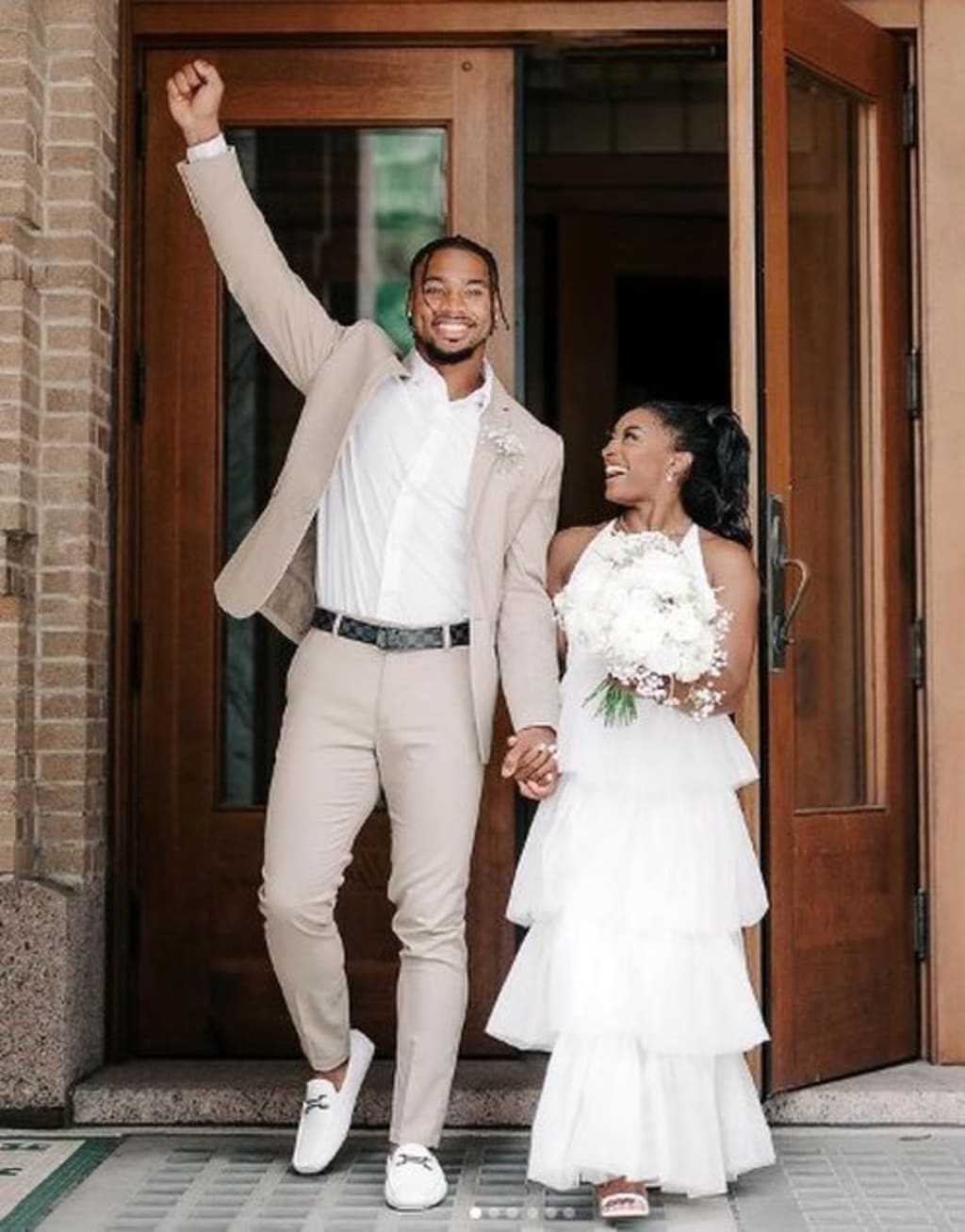 Mr. and Mrs. Jonathan Owens/SimoneBilesOwens Instagram
Simone Biles has another title as of Saturday, April 22, 2023. Wikipedia did not waste any time adding that title to her name. Now, that she is a married woman, her name has been officially and legally changed to Simone Biles Owens. Simone added "Owens" to her name on social media.
The 26-year-old USA Gymnastics star and world champion and NFL player Jonathan Owens got married a few days after the couple posted a picture of them holding a Texas marriage license with the caption, "Almost time to say, 'I do.'"
Simone and Jonathan Met Online
Simone was the one who initiated the first move after meeting Jonathan through the dating app Raya in March 2020. She made her relationship with Owens Instagram official months later.
Owen said when the pandemic hit in 2021, they were able to get to know each other better because of the COVID-19 shutdown.
Jonathan told Texas Monthly:
"It was one of the few times in her life where everything was just shut off and she couldn't do anything. So we used it to get to know each other—really get to know each other. It created our bond and made it stronger. Now I'm so thankful."
Simone and Jonathan's Engagement
After dating for two years, Simone posted the announcement of their engagement along with photos of the proposal on Valentine's February 14, 2022. Jonathan proposed under a gazebo in Houston, Texas. The ring he put on her finger was a three-carat oval-cut diamond ring featuring a diamond-encrusted band, designed by jeweler ZoFrost.
For more than a year, Simone has been posting exciting clues about their upcoming wedding, including hints about the date and location.
Simone and Jonathan's Wedding
With all the clues and guessing over a year, they got married in an intimate ceremony. Simone posted on Instagram on Saturday, April 22. 2023, that she and Jonathan had tied the knot.
Simone and Jonathan chose to have a small wedding in Houston, Texas at a courthouse with a judge presiding over the nuptials. The gymnast captioned the photos, "I do." Jonathan commented: "Wifey got a great ring to it… First day of forever."
Simone wore a four-tiered white wedding gown, featuring a plunging halter neckline and an open back with crossing straps that tied at the waist. She paired the gown with white, strappy open-toed heels, diamond stud earrings, and a matching pendant necklace, while carrying a white bouquet
Jonathan wore a light taupe suit with a white button-up shirt, a black checkered belt, and white loafers with silver embellishments.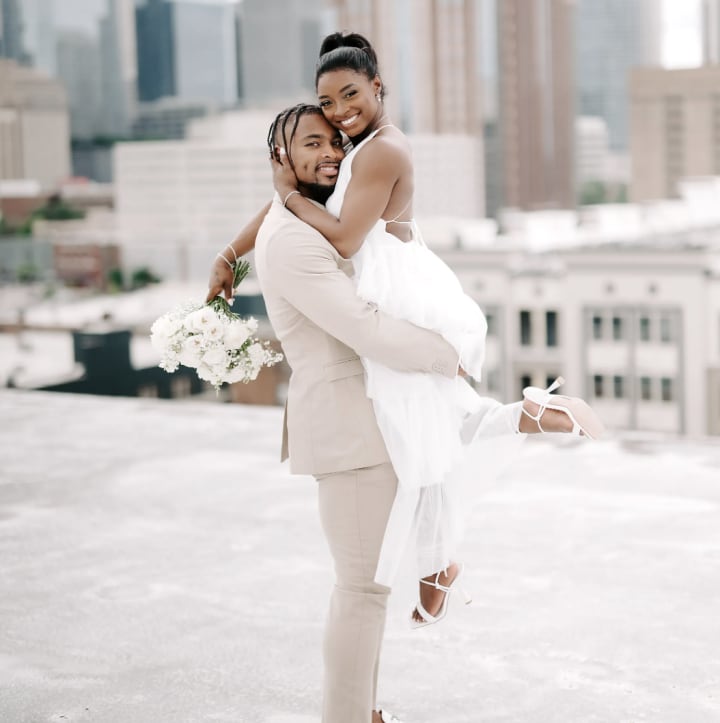 Another Wedding Coming Up
The small courthouse location was low-keyed especially after the bride went all out for her bridal shower and joint bachelorette weekend in Belize. Mrs. Owens indcated that "their real wedding" is coming up.
She posted:
"We had to get married 'legally' here in the US—since our wedding will be a destination wedding."
Simone confessed that she purchased her entire courthouse wedding outfit the week of the wedding for $120. They wore inexpensive Amazon rings because they're saving their real rings for "the big day." The gymnast said she will be writing her own vows for their Belize wedding.
About Simone Biles Owens
Simone is the most decorated gymnast in the history of the Gymnastics World Championships. She is considered to be the greatest gymnast of all time after having won 25 World Championship medals, including 19 gold medals. That is the most World medals of any gymnast. She is the first American female gymnast to win a World medal in every event.
About Jonathan Owens
Jonathan Owens is a 27-year-old professional American football safety for the Houston Texans of the National Football League (NFL). He stands 5 ft. 11 in. tall while his new wife stands 4 ft. 8 in.
About the Creator
Margaret Minnicks shares articles with readers all over the world. Topics include celebrities, royal family, movies, television, foods, drinks, health issues, and other interesting things. Thanks in advance for TIPS that are sent my way.
Reader insights
Be the first to share your insights about this piece.
Add your insights