Mark Consuelos' First Week as Kelly Ripa's Permanent Co-Host
Mark Consuelos has been a guest co-host many times with his wife before, now it's permanent.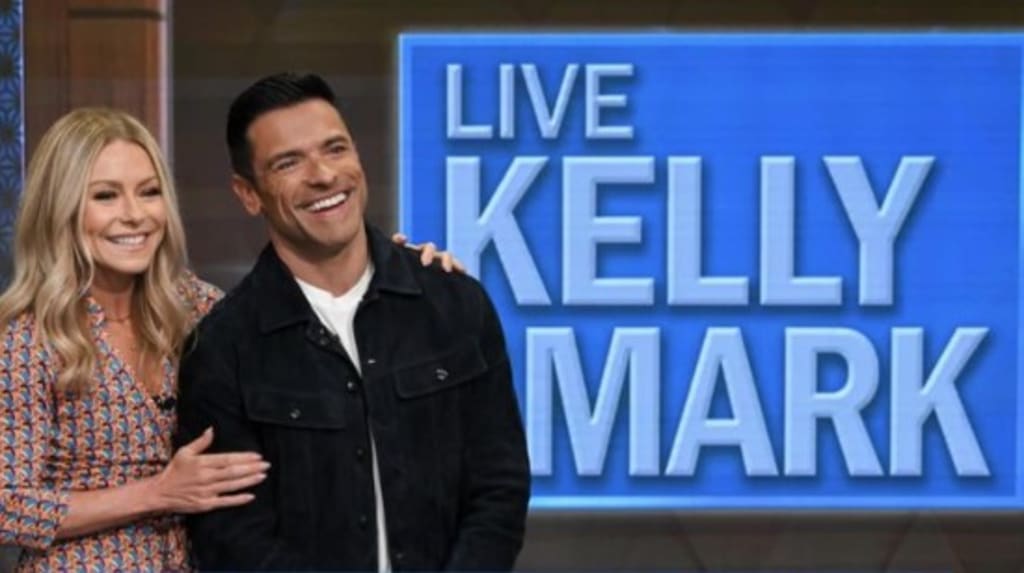 Mark Consuelos has completed his first week on Live as Kelly Ripa's new permanent co-host. Mark has been a guest co-host many times over the years. Now he and his wife get to work together every day "until one of them dies," according to Kelly.
Kelly and Ryan
Ryan Seacrest was Kelly's co-host before leaving on April 14, 2023, to do his other jobs and move back to California. For six years, he commuted to New York to host Live with Kelly and Ryan.
Kelly and Mark
Mark Consuelos replaced Ryan Seacrest as his wife's permanent co-host on April 17, 2023.
Kelly summed up her thoughts about Mark's first week. She told Us Weekly:
"I had no concerns about how well he was going to do, and he really proved me right. I'm so proud of him, but I was never worried."
Mark also gave himself a pat on the back after his first week of working full time with his wife.
What Did Viewers Think?
According to Page Six, it was the show's most-viewed week in nearly three years. The network is hoping Consuelos will help bring in a younger demo after having co-starred in the CW hit Riverdale.
Many viewers tuned in on the first day to watch the married couple host together. Some continued to watch the entire first week. The relevant question is: "Will viewers continue watching them every weekday?"
So far, viewers have mixed feelings about Ripa and Consuelos' hosting together. Some viewers said the show is "brutal" to watch. The Daily Mail calls the morning show "disastrous."
Some viewers admit they were turned off by the couple's PDA throughout each show. Mark touched his wife's arm and put his hand on her lap more than once during every episode.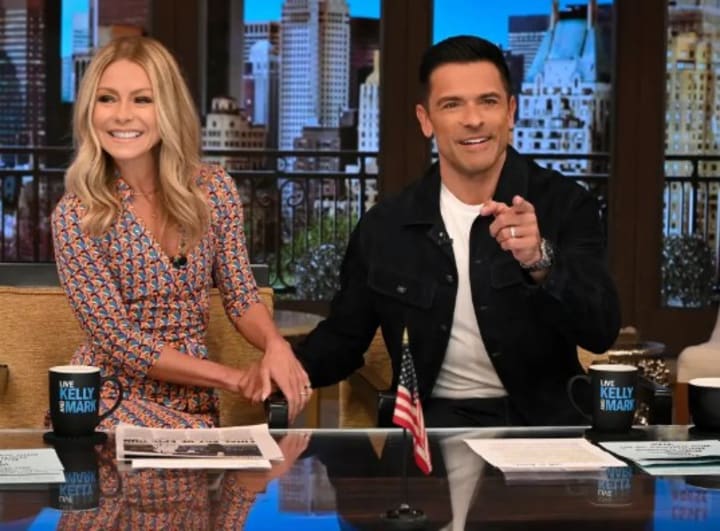 Kelly repeatedly interrupts Mark during every story he tells. However, Mark is extremely patient with her and allows her to change and challenge what he says.
The format has always been to have about 20 minutes at the beginning of the show to talk about something that's going on in the news from the newspapers and magazines that longtime show producer Michael Gelman gives them to discuss. They barely get through the clippings because of the time wasted because of Kelly's interruptions.

The Couple
Kelly and Mark, both 52, have been married for 27 years. They have three grown children: Michael, 25, Lola, 21, and Joaquin, 20. What viewers didn't know about that family before, they surely will find out about it now.
During Mark's first week, viewers learned some insignificant things about him from what he and his wife said. Here are just a few of those things:
Mark takes cold showers. Kelly does not.
Mark doesn't smell. He doesn't even have morning breath.
Mark's barber is silent while cutting his hair.
Mark dresses himself.
Mark snores loudly. Kelly played a recording to prove it.
Personal details about their intimacy are not off limits.
Criticisms of "Live with Kelly and Mark"
Most of the comments on social media have been about the couple's PDA and Kelly's interruptions.
"I am so happy to see Mark & Kelly this morning….But Kelly could PLEASE LET HIM TALK….!!! OMG…!,"
"Let him start and finish a story his way…It's the only way it's going to work.."
"Remember the days with [original co-host] Regis [Philbin] when REAL social & news issues were discussed? NOT 'Bedtime eating & sleeping habits' …"
"Is there something wrong with Mark's right hand? It seems it a magnet and Kelly's leg is metal. He is either touching her leg or arm. LEAVE THE MARRIAGE AT THE HOME! I mean come on!!!"
'Two days in and I'm sick of hearing about their perfect love, life, and family. It's too much."
Kelly and Mark's Reaction to Criticisms
According to a Live production source, Kelly and Mark find the negative complaints on social media "irritating" about their first week of officially hosting Live together.
Kelly says she has been through that before with each new co-host. She added that Live has always been about two people discussing what they did the night before, what restaurants they went to, what they read, watched on television, and listened to.
About the Creator
Margaret Minnicks shares articles with readers all over the world. Topics include celebrities, royal family, movies, television, foods, drinks, health issues, and other interesting things. Thanks in advance for TIPS that are sent my way.
Reader insights
Be the first to share your insights about this piece.
Add your insights