She Said - A Movie Review
'She Said' portrays a serious story.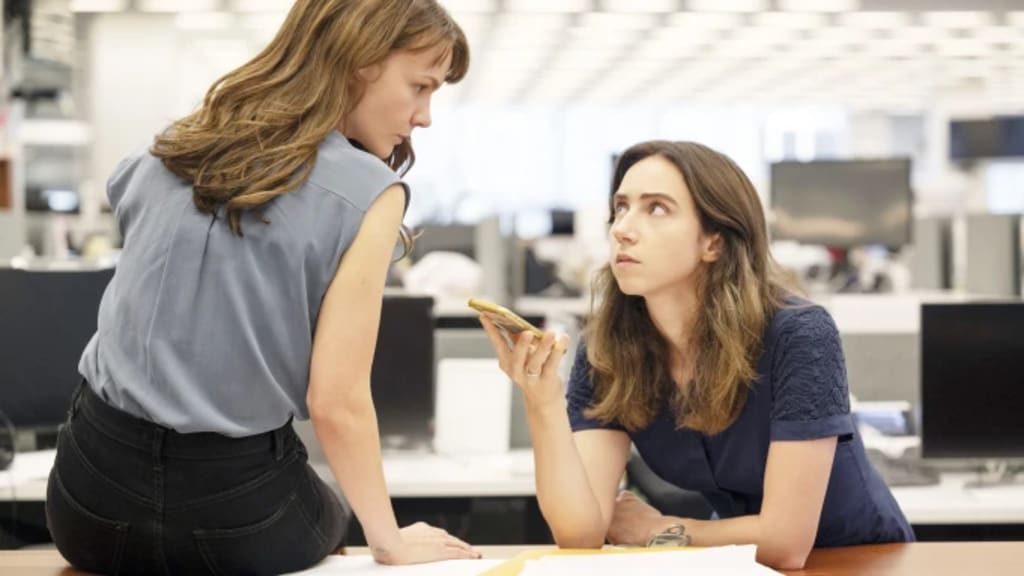 We may be able to use the truth to protect others. Just keep going.
Based on true events, She Said is a 2022 film. A team of New York Time reporters breaks one of the most controversial scandals. Exposing the contentious events behind the Harvey Weinstein sexual assault cases in Hollywood breaks the silence of several women.
She Said portrays a serious story. The film's subject matter is not an easy topic. Documenting the hard work and resilience of a team of dedicated journalists, they identified a haven for struggling women to find their voices.
Zoe Kazan and Carey Mulligan are excellent in their magnificent portrayals of Jodie Kantor and Megan Twohey. It's not fair that just Mulligan was nominated in certain award categories! Both actresses pertained to screentime and superb teamwork.
Aside from their hard work and determination, the comradery between the women is the best example of co-workers. At no point does one get ahead of the other for their own benefit. They are in this together, fact-checking and encouraging one another when they're at a loss.
Every role in She Said took courage. Patricia Clarkson deserves a nomination of her own. She is a fantastic actress. Andre Brougher also conducts a strong performance. Other credits include Jennifer Ehle, Samantha Morton, Zach Grenier, Peter Friedman, and Ashley Judd who portrayed herself.
She Said is similar to Spotlight (2015). It's almost the same film, except detailing a different news story. These stories or so important. This news story dug into the personal lives of the reporters, chewing away any free time they had. Still, they never backed down.
The film defines a positive example of the world of journalism. The facts are not right in front of you. You have to go digging in the cracks of the earth to find what you are looking for. It's not easy. Even though you found your dream job, not every day is going to be the best.
The most defining scene in the film is the interview between Jodie and Zelda (Morton). In this bold telling of what transpired in the past, the subtle expressions of fear and commitment on Jodie's face mixed with Zelda's growing courage throughout her speech is the most powerful scene in the film. Jodie is not just doing this for her job.
Filming She Said took place in the actual New York Times building. A first. This was a good idea. I got a sense of what working in this building was like.
I had to take a short break from watching this film. It's a lot. She Said examines heavy themes pertaining to sexual assault. Marie Shrader boldly presented the topics. Flashbacks are never shown, but we hear recordings detailing uncomfortable dialogue.
While listening to this dialogue, Shrader slowly drives the camera through significant areas, like a hotel room with objects strung about, and clothes scattered on the ground. This image is enough to haunt your mind.
Interviews with previous victims could have been limited. By the end, there are one too many interviews detailing topics that have already been covered. I know that Schrader wanted every voice to be heard, but we understand that the last story is just as important as the first.
Never let anyone silence you. Shrader's extraordinary direction brought forth a pivotal story that is historical. It's because of New York Times that we have this story.
She Said ends with a perfect screenshot. This film is not for everyone but it's a story worth seeing. It deserves more recognition, especially during awards season.
About the Creator
Writing has been my passion since I was 11 years old. I love creating stories from fiction, poetry, fanfiction. I enjoy writing movie reviews. I would love to become a creative writing teacher and leave the world inspiring minds.
Reader insights
Be the first to share your insights about this piece.
Add your insights