Review of 'Rise of Knight and Sword'
Rise of Knight and Sword had so much potential, but it lacks cohesion and world-building and bears little resemblance to Le Morte d'Arthur.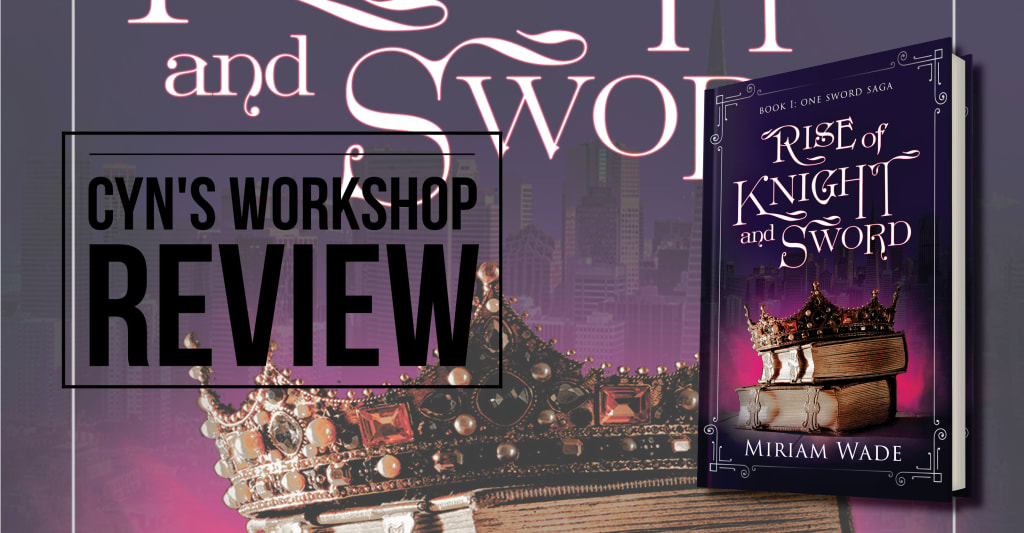 Avalon, city of kings. Sky towers and airships dominate its skyline, dinosaurs roam freely throughout its parklands, and bounty hunters lurk in its shadows.

Guinevere has always lived on the outskirts of Avalon, working as an archivist in the central library. While corruption runs rampant throughout the city, her life is fairly mundane and predictable. That is, until she discovers the map to Excalibur and uncovers a plot to usurp the throne.

Finding herself on the run from these would-be king-slayers, Guinevere sets out to find the mythical sword. But with no one to trust and no where to hide, she must form an uneasy alliance with a pair of notorious bounty hunters."

My future, and the future of Avalon are forward."

Rise of Knight and Sword is the first installment of the One Sword Saga. It reimagines Arthurian legend in a steampunk fantasy world at the height of the 1920's. Follow Guinevere and crew as they face off against smugglers, wild dinosaurs, hidden motives, and mistrust.
Review
Supposedly a retelling of King Arthur, Rise of Knight and Sword's claim is thin at best.
Where To Start….
This novel had so much potential, but it ultimately fell flat.
Let's be blunt; it wasn't good.
This was a DNF book.
It was that bad.
Rise of Knight and Sword markets itself as a steampunk retelling with the dinosaurs of King Arthur. I was also excited about the steampunk and iffy, at best, on the dinosaur aspect. But good writing and storytelling can take anything and stun the reader into silence.
So I gave it a shot.
My first disappointment came with the lack of steampunk. I was excited about steampunk and, instead, was handed cyberpunk. Nothing against cyberpunk, I like the genre, but it didn't work here, and it was not what was marketed.
We have a writer who does not seem to understand the difference between steampunk and cyberpunk. This did not bode well for me.
Next, there was a lack of world-building. As a result, I could not grasp the world we were supposed to be in. I love the original Jurassic Park movie and enjoyed everything that followed. Still, when the dinosaurs entered the plot, I was left bewildered.
Why were they there? What purpose do they have for the plot?
It did not fit.
So Much Potential…
There was a lot of potential in Rise of Knight, and Sword. Guinevere works as an archivist and discovers something that can lead her to Excalibur and destroy Uther's rule. She's a little brainy; she's sure of herself. There was a lot of potential to develop her character and dynamics, especially when the story took an Oceans 11 turn for storytelling.
Having Mordred and Arthur be best pals collecting bounties and smuggling for Morgan Le Fey has lots of potential. But the storytelling lacked substance; it lacked world-building to ground the reader in the story. So while there was some potential, it was just squandered on the oddness of it all.
Final Thoughts
Rise of Knight and Sword had so much potential but failed with poor world-building and a weird mix of genres that did not work; this was a disappointment.
Writing Quality : 1/10
Character Development : 1/10
"Couldn't Put It Down"-ness : 1/10
Intellectual Depth: 1/10
Originality: 1/10
Overall Rating: 0.5 out of 5.
Like this review?
Don't forget to follow Cyn's Workshop on Facebook | Instagram | TikTok | Twitter | Tumblr | Spotify | YouTube | BookBub | Goodreads | LinkedIn to stay tuned for future reviews.
About the Author
Cynthia Bujnicki graduated from Emerson College with a BA in Writing, Literature and Publishing. She has always loved to read since she was a child. A contributing writer for YA Fantasy Addicts, she is also the Editor-in-Chief for Cyn's Workshop. She lives in sunny South Florida with her husband, son and daughter and their two cats.
Reader insights
Be the first to share your insights about this piece.
Add your insights