North Shore Music Theatre's 'A Christmas Carol' Is a Brilliant Ghostly Tale
You don't want to miss out on this haunting tale.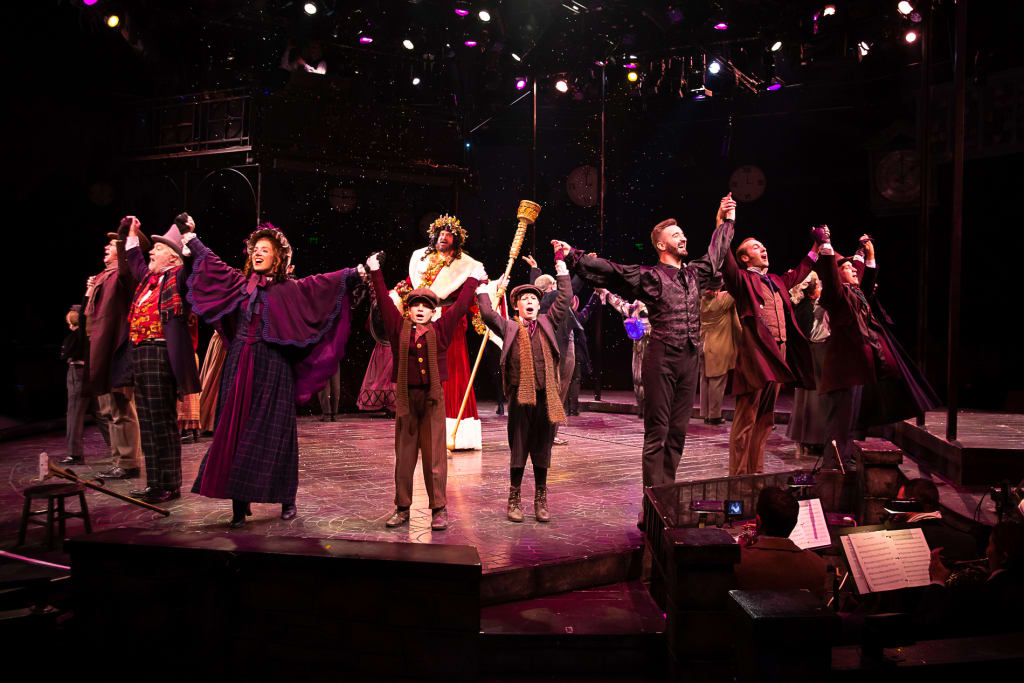 The cast performing 'A Christmas Carol' on the magic stage of North Shore Music Theatre. Photo Credit: Paul Lyden
North Shore Music Theatre's A Christmas Carol is a brilliant ghostly tale! It puts together the magical narrative of Charles Dickens' famous short story. Ebenezer Scrooge is sour towards the Christmas season. When he gets a visit from a late comrade, Jacob Marley, three ghosts are cursed to haunt him. The Ghost of Christmas Past, Christmas Present, and Yet to Come all take Scrooge on a life-changing journey.
Since 1989, North Shore Music Theater has performed phenomenal showings of A Christmas Carol. For the past three years, I have not missed a showing. No matter what, I always have a smile on my face because it is such a beautiful show to become entranced in.
David Coffee (Ebenezer Scrooge) has played the role of Scrooge for 25 years! It's like the character is meld into his skin. Coffee has wonderful comedic timing, and no matter what role he plays, a curmudgeon or a kind person, his bubbly and witty personality always shines through! I could honestly go on forever about Coffee. He is light on his toes, frolicking about the stage, and uttering the famous catchphrase, 'Humbug!'
A Christmas Carol is a stunning performance filled with dances, beautiful attire from the 1800s, and even acrobatics! The show feels so real like you're actually wandering around the streets of London. The theatre is about imagining and believing. As an actor or tech crew member, you need to believe that you can put on a show to an audience of 1500. That's my favorite aspect of theatre!
Several other cast members fill the stage, such as Bob Cratchit, his wife, and their children, including Tiny Tim! The whole ensemble does a terrific job! Some even appear in two roles!
The classic is narrated by a mysterious narrator performed by Tommy Labanaris. He presents the audience this wonderful story and even hints at a few subtle clues. Labanaris immediately grabs your attention the second he is onstage. His voice is beautiful!
Leigh Barrett (Mrs. Cratchit/The Ghost of Christmas Past) did an absolutely wonderful job! Her voice immediately captures you as she takes Scrooge by the ear into his past. A fun fact is Barrett also appeared in A Christmas Carol when it first premiered in 1989!
Speaking of ghosts, Peter S. Adams makes a gleeful entrance, laughing heartily as the memorable Christmas Present standing most likely seven feet tall! NSMT does a wonderful job lighting up the stage with its colors and surprises.
My absolute FAVORITE sequence in NSMT's A Christmas Carol is the sequence where Jacob Marley flies onto the stage haunting Scrooge. It is both so terrifying and entertaining at the same time! Marley is performed by Freddie Kimmel who did an exemplary job making his voice sound sinister and moving about in a slow eerie fashion. I won't give away any more because it is the most memorable scene where you lean forward in your seat and jump, too!
Along with Coffee, Cheryl McMahon (Mrs. Dilber/ Fezziwig's Wife) also celebrated her 25th year playing her role as Mrs. Dilber, Scrooge's anxious and jumpy maid. Then she transforms into the wife of Fezziwig! It's amazing how one can change their personality in an instant. It's really inspiring!
A Christmas Carol plays at North Shore Music Theatre in Beverly, Ma until December 23. You don't want to miss out on this haunting tale. It is worth seeing every year for the holiday season! This magical tale pulls at your heartstrings and makes you smile from ear to ear. It has been my holiday tradition and will continue to be.
Happy holidays and God bless everyone!
review
Writing has been my passion since I was 11 years old. I love creating stories from fiction, poetry, fanfiction. I enjoy writing movie reviews. I would love to become a creative writing teacher and leave the world inspiring minds.
Receive stories by Marielle Sabbag in

your feed