Movie Review: 'Thor Love and Thunder' is a Mixed Bag
Slam banging from comedy to drama, Thor Love and Thunder is a bit of a mess.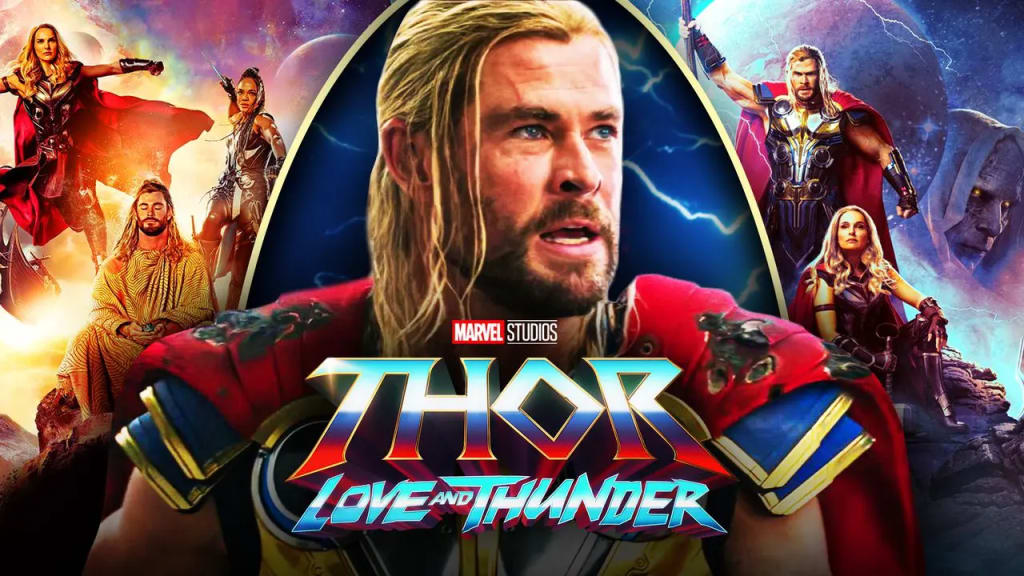 What is it about the Guardians of the Galaxy that no director other than James Gunn can get the voice of the Guardians right? The Guardians of the Galaxy show up in the opening act of Thor Love and Thunder and they appear, for some inexplicable reason, like off brand versions of the characters we love. I had the same feeling about the Guardians of the Galaxy as they were directed by the Russo Brothers in Avengers Infinity War and Avengers Endgame, the Guardians just never sounded right.
Why am I opening my review of Thor Love and Thunder by wondering about the off-brand version of the Guardians of the Galaxy? Probably because Thor Love and Thunder didn't give me anything more memorable than this Guardians tangent. Thor Love and Thunder is deeply mediocre compared to the lively, exciting and well crafted Thor Ragnorak. Thor Love and Thunder fails to figure out how to balance heavy drama involving Christian Bale's villainous Gorr The God Butcher and Thor's mostly comic adventure.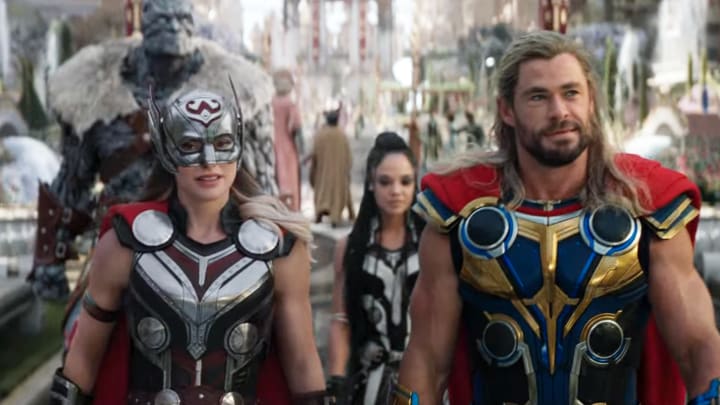 Thor Love and Thunder opens by introducing us to Gorr as a father trapped in a desert wasteland, desperate to protect his young daughter. When his daughter dies, Gorr finds himself drawn to an oasis in the distance. The oasis is home to the God that Gorr has been praying to his entire life. Unfortunately, this God is not a benevolent, loving God intent on caring for the people who pledged their lives to him. Devastated by this revelation that his God doesn't care about him, Gorr realizes what really brought him to this oasis. A cursed sword that is capable of killing Gods has chosen Gorr to enact vengeance on all Gods in the Universe.
Following this introduction we join Korg (Voice of Taika Waititi) as he provides the voiceover back story of Thor's most recent adventures. Thor has spent his time since Avengers Endgame fighting alongside the Guardians of the Galaxy and getting himself back into shape after he developed a significant beer belly after Thanos' snap killed half of the universe. Back to his Godly glory, Thor returned to adventuring and finds out that a God Killer is murdering God's and creating chaos across the universe.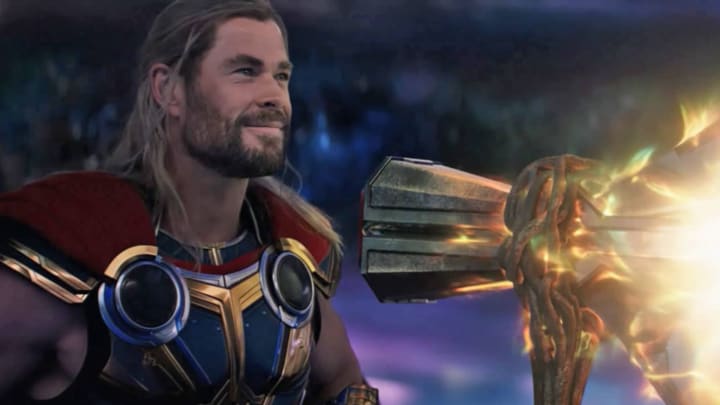 This causes Thor and the Guardians of the Galaxy to part ways so that they can each help a different part of the universe. Thor and Korg are eventually called back to New Asgard where Gorr uses Thor's new home to lure him into a trap. However, Gorr wasn't counting on there being more than one Thor. In a twist that Marvel fans have been buzzing about for more than a year, it's revealed that Jane Foster (Natalie Portman), Thor's ex-girlfriend with whom he is still in love, has been chosen by Thor's hammer, Mjolnir, to become The Mighty Thor.
After Thor and The Mighty Thor fight side by side against Gorr's Shadow Warriors, it's decided that the two Thor's along with Korg and Valkyrie (Tessa Thompson) will chase down Gorr and stop him from killing more Gods. That, and Gorr has kidnapped all of New Asgard's young children for further motivation for Thor to come after him. The search for Gorr and the children of Asgard will lead to a visit to Zeus (Russell Crowe), and Thor's own attempt to kill a God in order to save the universe from Gorr.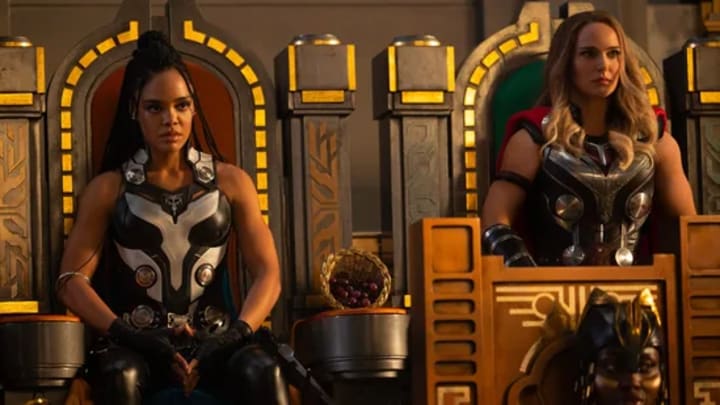 And, of course, there is also a romance plot. Though Jane Foster has a deep dark secret that she is keeping from Thor, she cannot resist her former feelings for him as they face the life and death threat of Gorr. Her secret threatens both the romance and this ragtag team's chances of defeating Gorr in a battle to save the universe. It's a relatively straightforward narrative for a superhero movie and yet, Thor Love and Thunder fails to take flight on the wings of this straightforward narrative.
The most notable problem for Thor Love and Thunder is a bizarre tonal whiplash. Christian Bale gives an earnest and genuinely moving performance as Gorr. Driven by grief to kill God's who failed to intervene to prevent people from suffering, Gorr has a great complexity along with a genuine menace. It's a struggle then when the movie leaves Gorr's dramatic performance to go back to the comedy of Thor, an irreverent, broad, and downright silly form of humor that clashes violently with Bale's remarkable dramatic performance.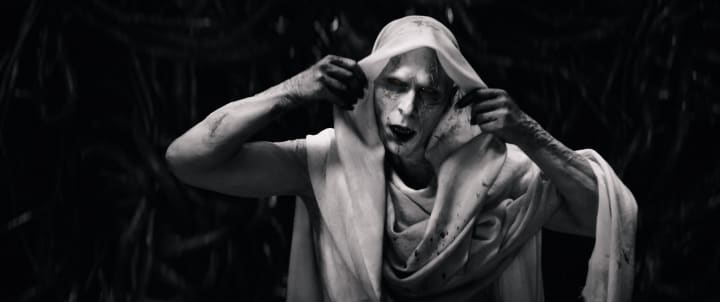 The characters of Thor, The Mighty Thor, Korg, and Valkyrie appear incapable of taking anything seriously. Where Thor used to be a slightly obtuse but dignified warrior, he's now devolved to a constantly clueless, deeply self-involved character constantly in search of a joke. The sense of humor that Chris Hemsworth has cultivated over the years since he stiffly brought Thor to life more than a decade ago has now overtaken the character and his movies. Thor is almost always doing schtick now and while he's still capable of action and good fight scenes, Thor has become a malfunctioning joke machine under the deeply confused direction of Taika Waititi.
Where Thor Ragnorak felt like a necessary course correction for the Thor franchise, Thor Love and Thunder is a desperate and flailing over-correction that spins completely out of control. As much as I have enjoyed watching Chris Hemsworth become a movie star and bring a strong sense of humor to his work, Thor Love and Thunder comes off as desperate as jokes overwhelm an otherwise serious movie. Thor and Jane Foster flirting during a deathly battle, Thor cracking wise with Korg while and pining for Jane immediately after the children of Asgar have been kidnapped by a dangerous murderer just feel wrong.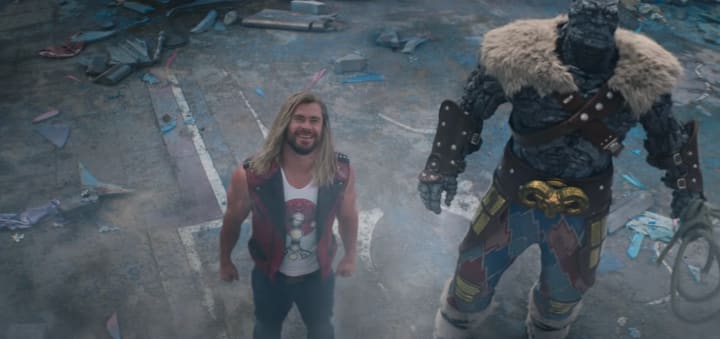 The side quests of Thor Love and Thunder involving a visit to Zeus, played with fervor and a terrible accent by Russell Crowe, also feels far too jokey as Jane and Valkyrie ogle a nude Thor and Crowe preens and chews scenery. The goofiness is amped to such a level that you might forget that the fate of the universe, and the lives of the children of Asgard, hang in the balance while these characters are goofing around. This is not to say that Thor Love and Thunder didn't make me laugh, indeed I laughed a lot and loudly. Rather, I am simply pointing out a fatal flaw in the humor of Thor Love and Thunder that undermines the rest of the story.
Some may be satisfied by seeing familiar characters being funny, but I had higher expectations for writer-director Taika Waititi. He has the pieces for a great superhero movie, especially with Christian Bale providing a terrifically scary villain and a cast of beloved characters. Thor Love and Thunder should be able to mix comedy and drama in the same way Thor Ragnarok gave us a terrific balance between Cate Blanchett's vivid and dangerous villainess, Hela, and Hemsworth's maturing Thor. Thor Ragnarok provided strong, much needed, character growth for Thor. Thor Love and Thunder feels like a step backward for the character. Thor is somehow less mature now than he was at the end of his last solo adventure.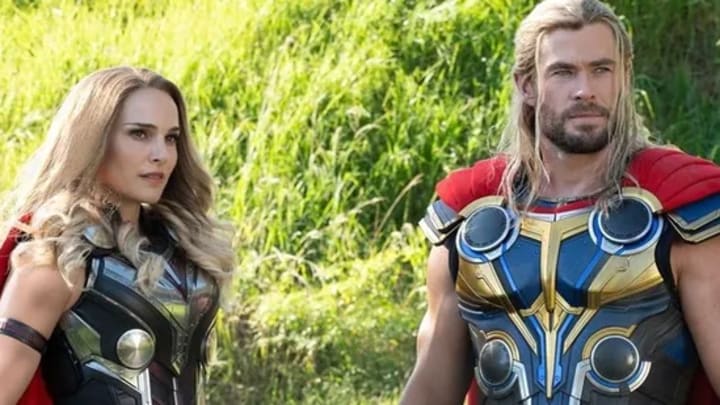 In the end, Thor Love and Thunder is a mixed bag which will entertain and disappoint in equal measure. Thor Love and Thunder opens in theaters nationwide on July 8th, 2022.
About the Creator
Hello, my name is Sean Patrick He/Him, and I am a film critic and podcast host for Everyone's a Critic Movie Review Podcast. I am a voting member of the Broadcast Film Critics Association, the group behind the annual Critics Choice Awards.
Reader insights
Outstanding
Excellent work. Looking forward to reading more!
Top insights
Heartfelt and relatable

The story invoked strong personal emotions

Excellent storytelling

Original narrative & well developed characters

On-point and relevant

Writing reflected the title & theme
Masterful proofreading

Zero grammar & spelling mistakes

Eye opening

Niche topic & fresh perspectives

Expert insights and opinions

Arguments were carefully researched and presented

Compelling and original writing

Creative use of language & vocab
Add your insights