Lifetime Review: 'Fatal Fandom'
The booming chemistry between the lead actors is what most elevates this celebrity obsession drama.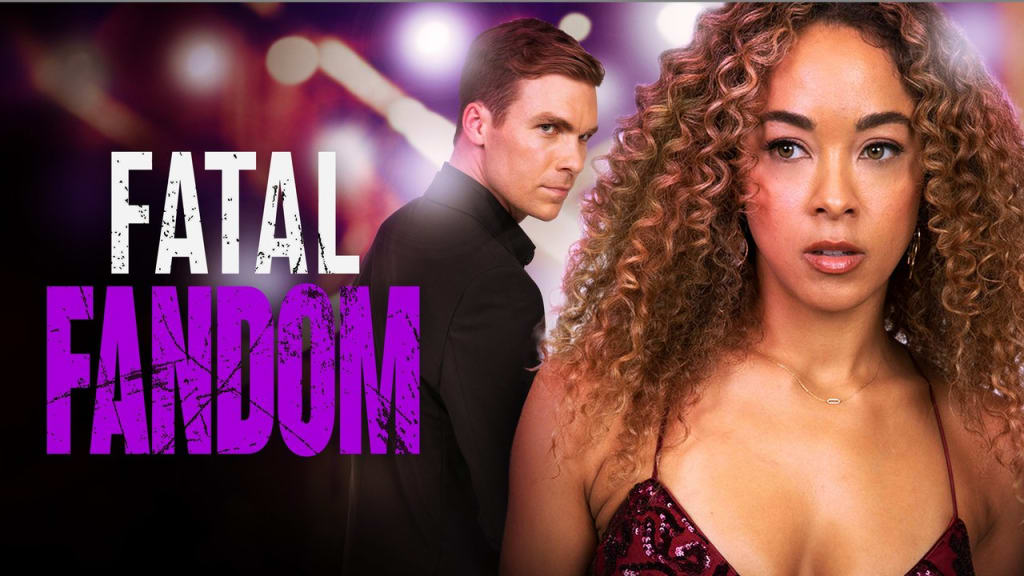 Synopsis:
While Eden Chase (Chaley Rose) may be a international popstar, her fame is a double-edged sword. She gets a taste of the sharper edge when, after a video shoot, she's nearly kidnapped at gunpoint. She's saved from harm by security guard Jackson Reed (Pete Ploszek), and after her would-be abductor evades police capture, Eden's associates fear for her safety. After being convinced she needs extra protection until the culprit is arrested, Eden decides to enlist Jackson as her live-in security detail. Initially, Eden hits it off with the down-to-earth, dedicated-to-his-job Jackson. But when Jackson's devotion goes too far, Eden will ironically need protection from the man she hired to keep her safe.
Story:
Directed and penned by Lifetime mainstay Jake Helgren, Fatal Fandom is another Lifetime movie about a woman who unknowingly invites a psychopath into her life. The heroine being famous and the psychopath her bodyguard allows for a few deviations from the formula, but you'll still see plenty of recognizable beats. But like with some of his previous works, Helgren keeps the action moving along smoothly, which in turn keeps the familiar storyline from growing too tedious.
The biggest plot deviation can be found in SPOILER ALERT the climax. It's another well-shot "cat-and-mouse chase around the swanky mansion" like the ones seen in other Helgren thrillers like Killer Dream Home and Psycho Stripper. Acting as an added bonus is the fact that the two mice (Eden and Addison) get to wear beautiful outfits as they run for their lives. The big shake-up comes from the reveal of Jackson's true motive. It would've been a smoother motivation shift if Jackson's desire for revenge against Eden was depicted as becoming mixed with him developing unexpected feelings for the songstress. That would've made his romantic advances and the fact that he only killed Ozzie after he got a little too handsy with Eden make sense in context.
Aside from that, the reveal leads to an intense final duel and the change in motivation is still much more natural than the one from Psycho Stripper. The movie also outdoes Psycho Stripper when it comes to having an ending where the heroine gets over her best friend's death rather quickly. One second, Eden's crying over Addison's corpse, and the next, she's snarking about Jackson's deranged plan and affirming her relationship with Christian. Spoilers Over
Characters:
The main characters and their actors, however, deserve a lot of credit for keeping Fatal Fandom's energy alive. Eden Chase and Jackson Reed are who we spend the most time with, and in addition to having cool names, they're both very appealing characters. Eden is a lovably relaxed celebrity, averting all the Pop Diva tropes that could've been attached to her. Jackson, meanwhile, is an effective villain-in-plain-sight. While you'll know going in that Jackson is no good, you won't fault Eden for not realizing it at first. He's charming, protective, and (initially) a little awkward around Eden. Plus, when you factor in the stress from her near-kidnapping experience, relationship woes, and all the other pitfalls of her success, you'll get why she finds Jackson's presence so alluring.
Eden's acquaintances make up the supporting cast, with most of them making a good impression. Colette is a likable manager whose no-nonsense attitude doesn't become irritating while backup dancer Addison is a sweet and bubbly best friend. She makes much more of an impression than Eden's other friend Dara, who doesn't get nearly as much development and is left with little characterization outside of being horny and flirty. The only fault to really be found in Addison's characterization is how she halfway dismisses the moment when Eden gets her first glimpse at Jackson's true colors. On the male half of the equation, Ozzie is a realistic depiction of an influential but slimy music producer while Eden's late-arriving ex Lee displays peak douchiness when he finally shows up. Joining Dara on the lower end of the development spectrum is Eden's current boyfriend Christian. With both his personality and his relationship with Eden being rather underbaked, you're not likely to be all that invested in Christian or in whether or not he's able to patch things up with Eden by the end credits.
Acting:
What you will be invested in is Eden and Jackson's budding friendship, which is made possible by Chaley Rose and Pete Ploszek. The two actors blend together like a good melody, with Rose giving Eden an authentic aura of compassion that is complemented by Ploszek's laidback charisma. Even though you know Jackson's charm is ingenuine, Ploszek not only allows you to believe that Eden would fall for it, but he and Rose will make you wish it were genuine and that Jackson and Eden's bond wasn't fated for disaster. The only downside to Rose and Ploszek's chemistry is how much attention it calls to the lack of chemistry between Rose and Bayardo De Murguia. His performance is decent, but Christian's stale character and Murguia's dull sparks with Rose keep it from being anything memorable. The same problem emerges when it comes to Nikki Tuazon's portrayal of the equally bland Dara.
More fortunate cast members include Heather Morris and Malaya Rivera Drew, who do stellar jobs bringing Addison and Colette to life. Morris draws you into Addison's affable energy and wholesome friendship with Eden while Drew will have you cheering for the genre-savvy manager as Colette works to keep Jackson from crossing any lines with her client. As for the less-than-savory supporting characters, Ian Patrick Williams is the perfect level of hissable as pervy producer Ozzie. You'll revile his inappropriate behavior while still understanding why Eden and others put up with him. He's joined by Patrick McLain as Eden's cheating ex-boyfriend, with McLain making up for his limited screentime by sinking his teeth into supreme jerk Lee Vance with surprising gusto.
Overall:
While it may not be as exhilarating as I presume an Eden Chase concert would be, Fatal Fandom is a fun Lifetime movie thanks to the combined efforts of Jake Helgren and his crew of actors. Helgren's script keeps an oft-seen premise fresh and the cast pulls you into the drama with their strong performances, engaging characters, and fabulous wardrobes. With enough velvety notes to make up for the sour ones, Fatal Fandom should make for an enjoyable watch for Lifetime fanatics and casual viewers alike.
Score: 7 out of 10 Vegas revues.
review
About the author
Aspiring writer and film blogger: Lifetime, Hallmark, indie, and anything else that strikes my interest. He/him.
Twitter: @TrevorWells98
Instagram: @trevorwells_16
Email: [email protected]
Reader insights
Outstanding
Excellent work. Looking forward to reading more!
Top insights
Compelling and original writing

Creative use of language & vocab

Easy to read and follow

Well-structured & engaging content

Excellent storytelling

Original narrative & well developed characters
Expert insights and opinions

Arguments were carefully researched and presented

Masterful proofreading

Zero grammar & spelling mistakes

On-point and relevant

Writing reflected the title & theme
Add your insights