If You Like This Kind of Music, Then These Musical Movies are For You
From Grease to Phantom of the Opera and those in between
In my opinion, musicals are the greatest kinds of movies. They're great because they're like two-in-one entertainment. You get to watch a movie while also singing or dancing along to some great music. Win-win. But not everyone likes musicals. For many people, they find them to be cheesy, but to that I say, those people probably just haven't found the right one. Because musicals can span so many different genres both from a film standpoint and a musical standpoint, there is definitely a musical for everyone. And today, I'm going to help you find yours.
For 50s Rock n' Roll Lovers (and Everyone Else):
Grease (1978)
Of course we have to start out with a musical that nearly everyone knows and loves. In the words of Finn Hudson from the TV show Glee, "girls like it, guys like it, people like my mom like it..." and honestly, that is the perfect description of the widespread love for this movie. Even if you're not a fan of musicals or teen romances, it's hard to dislike the masterpiece that is Grease. With the cool styles of the T-Birds and Pink Ladies, the amazing acting of John Travolta and Olivia Newton-John, and of course, the incredibly catchy songs, this movie is the perfect choice for any movie night.
Despite being released in 1978, the movie takes place in 1959 and with the exception of the opening song ("Grease is the Word"), all of the songs in the movie represent the iconic 50s pop and rock n' roll styles. John Travolta even imitates the singing style of Elvis Presley in the song "Greased Lightning" and the song "We Go Together" pays homage to songs like "Tutti Frutti" by Little Richard with its nonsensical lyrics, taking the line "a wop bop a loo bop a wop bam boom" directly from the 1957 hit.
For Motown Lovers:
Moving on from the 50s to the 60s, there are some musicals that will please the ears and hearts of those who enjoy music from this era. Motown Records is arguably the most famous record label of this time period. During the height of its success in the 1960s, the company developed a musical style that was so unique, by many it was simply known as "the Motown sound." In 1983, during the Motown 25 anniversary special, when asked about it, founder Berry Gordy, Jr. admitted that he didn't know what the Motown sound was. While it may be hard to describe, nearly everyone knows it when they hear it and many movies have tried to recreate this sound.
Hairspray (2007)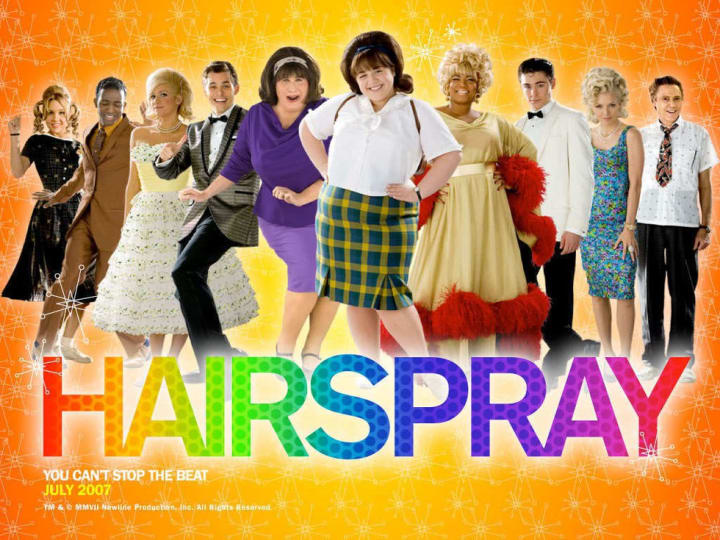 A musical that is set in 1962 wouldn't feel culturally accurate if it didn't incorporate the Motown sound into it. Starring big Hollywood names like Zac Efron, John Travolta, Queen Latifah, Christopher Walken, and Michelle Pfeiffer, this movie is fun and exciting to watch. It deals with issues like racism and segregation, fatphobia, and the backwards social standards of the 1960s, while also providing some comedy and amazing songs.
Although some of the songs are more 60s pop, songs like "Run and Tell That" and "Without Love" implement that upbeat Rhythm and Blues (R&B) style that Motown was so well known for.
Dreamgirls (2006)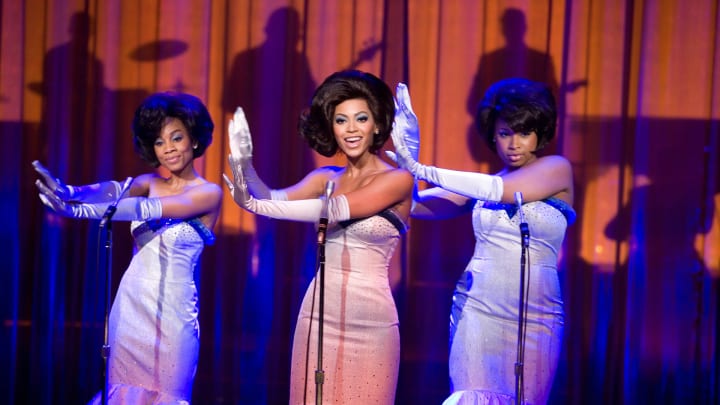 Based loosely on the lives and careers of the Motown girl group, The Supremes, this movie launched Jennifer Hudson into super stardom and became the most successful movie role of Beyonce's. Anika Noni Rose, Jamie Foxx, and Eddie Murphy also played important roles in this movie, recreating the drama and scandal of the Motown label on the big screen, while also recreating the sound of the Supremes and other Motown artists like Marvin Gaye (who Jimmy "Thunder" Early is loosely based on in the movie).
The Wiz (1978)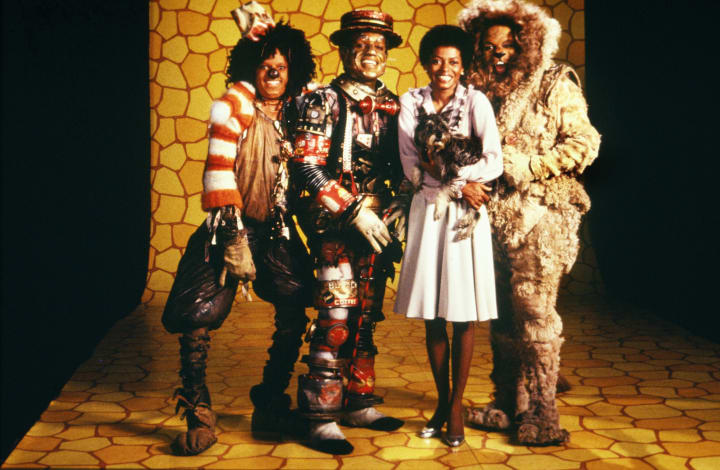 In the late 70s, Motown's popularity was starting to decline with many of their former artists like the Jackson 5 leaving the company. But in 1978, Motown decided to take on a new endeavor by adapting the 1975 Broadway musical, The Wiz, into a film production. Based on The Wizard of Oz, this movie reimagines the classic story from a Black, 70s perspective with the costumes, sets, and of course, the music reflecting that.
By 1978, the Motown sound had changed tremendously, incorporating more funk and disco elements into their music and the movie score by Quincy Jones was a perfect reflection of that change. Starring Motown legends, Diana Ross as Dorothy and Michael Jackson as the Scarecrow, the Motown feel and sound is very much a part of this movie, it was just adjusted to fit the times.
For 70s Glam Rock Lovers:
Even though many Glam Rock bands in the 70s had a specific sound, Glam Rock is not so much a sound, but more of a style or an attitude. This type of rock is characterized by over the top styles, including big hair and makeup and a rebellious attitude. Bands like Aerosmith and KISS were perfect examples of this and in the 70s, many people wanted to emulate this style.
The Rocky Horror Picture Show (1975)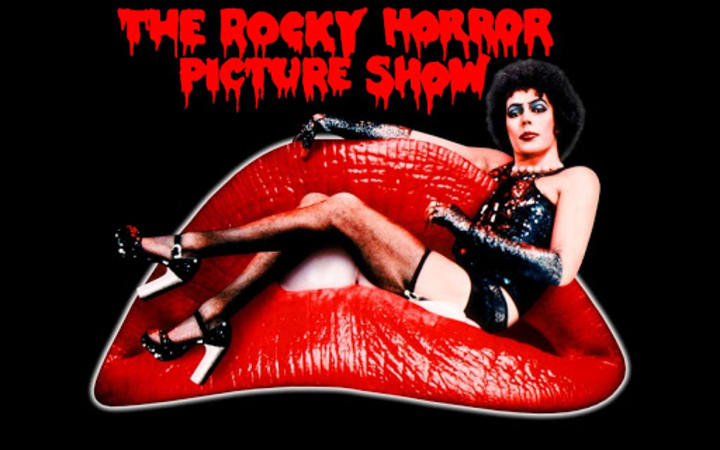 This cult classic film pays tribute to the horror and science fiction movies of the early twentieth century, while maintaining its 70s influence. Tim Curry plays a cross dressing mad scientist with permed hair, exaggerated makeup, and a whole lot of leather while performing the rock number "Sweet Transvestite." If that isn't glam rock, I don't know what is.
For 80s Disco Lovers:
Even though disco became popular in the 70s, 80s disco is not the same as its predecessor. 70s disco was heavily influenced by R&B and funk, while 80s disco began to incorporate electronic elements into it.
Fame (1980)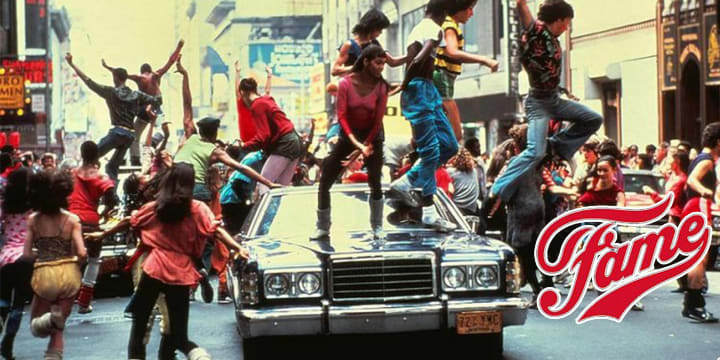 A much raunchier version than its 2009 remake, this movie is about a group of kids at a New York City performing arts high school, who are just trying to make it big. Being ahead of its time, this movie has a gay main character and addresses topics like teenage drug use and suicide. All while giving us disco hits like the title song and the "Hot Lunch Jam" scene in the cafeteria.
For Gospel Lovers:
Sister Act 2: Back in the Habit (1993)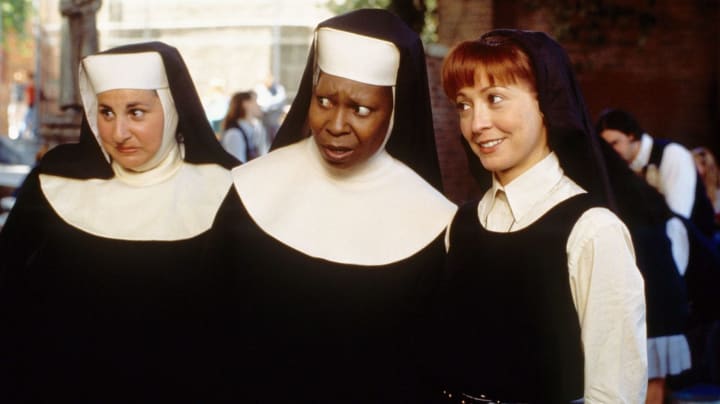 Starring the iconic Whoopi Goldberg and Ms. Lauryn Hill, this movie was a staple of my childhood and is full of fun, comedy, and great music. When a Las Vegas performer goes undercover as a nun to teach music at a Catholic school, of course a lot of hilarity ensues.
The music in this movie ranges from classic gospel with songs like "O Happy Day" and "His Eye is on the Sparrow" to more 90s modern, like the ending performance of "Joyful Joyful" which infused R&B and hip hop into it.
The Fighting Temptations (2003)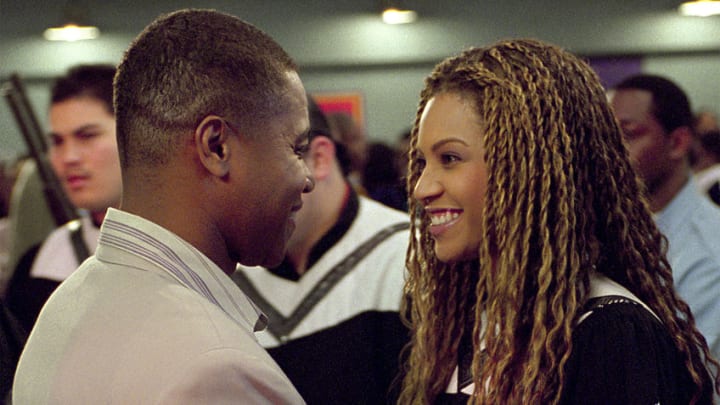 This movie stars Cuba Gooding Jr., Beyonce, Angie Stone, Mike Epps, and members from the singing group, the O'Jays, meaning that the music and the comedy were destined to be top notch. Similarly to Sister Act 2, this movie is about a man who has a career that is in no way related to Gospel music, but when he loses his job, he returns to his hometown to direct his old church choir. The gospel in this musical is incredibly upbeat and fun, combining traditional gospel with hip hop and R&B. Some of the songs like "Rain Down" even sound similar to the music of gospel artists like Kirk Franklin or Mary Mary.
For R&B Girl Group Lovers:
The Cheetah Girls (2003)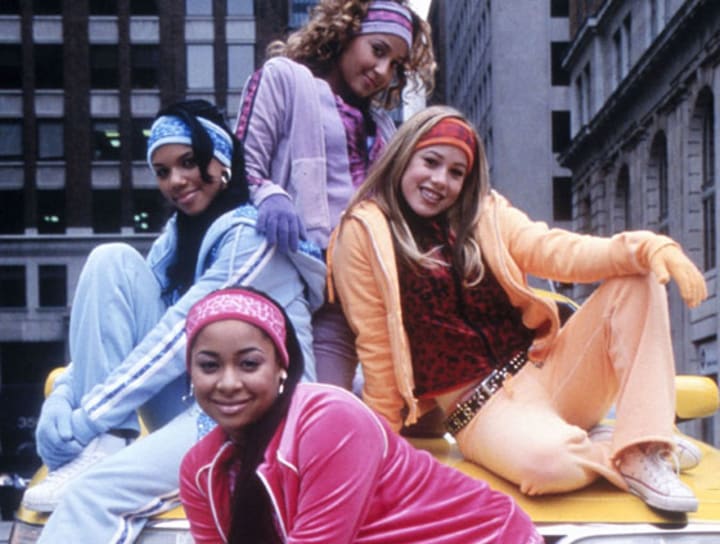 The 90s and early 2000s were a great time for a lot of things, like R&B music, girl groups, and Disney Channel. This movie took all three of those great things from 2003 and made it into an insanely popular musical movie franchise. Starring Disney Channel "it" girl, Raven-Symone and two out of the three members of the R&B girl group, 3LW, this combination was a recipe for success. And did I mention it was produced by Whitney Houston? So you know the music is good.
For Hard Rock Lovers:
School of Rock (2003)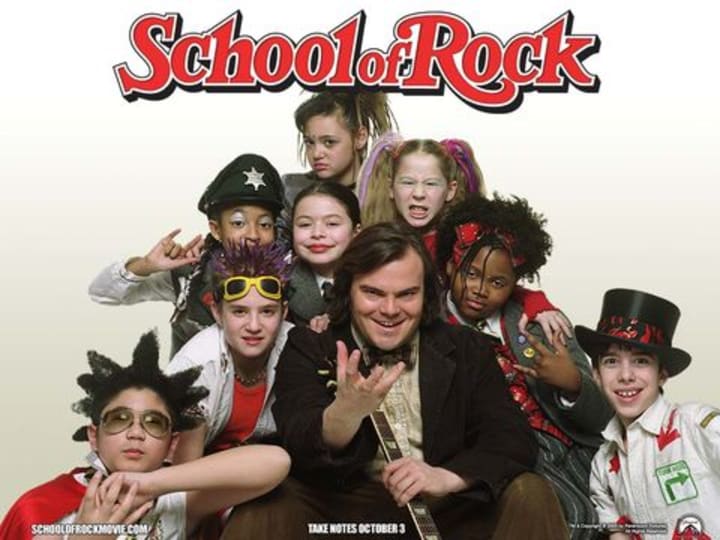 My mom made the mistake of buying this movie for me when I was a kid, unaware of the cussing and drug references in it. Needless to say, it was one of my favorite movies. Recently made into a Nickelodeon show, this version is much more edgy and stars Hollywood funny man, Jack Black who plays an ex-rocker turned substitute teacher who gets his students to replace his former band. Despite starring a bunch of kids, the songs in this movie aren't cheesy and they can get hard rock fans of any age nodding their heads along.
For Opera Lovers:
The Phantom of the Opera (2004)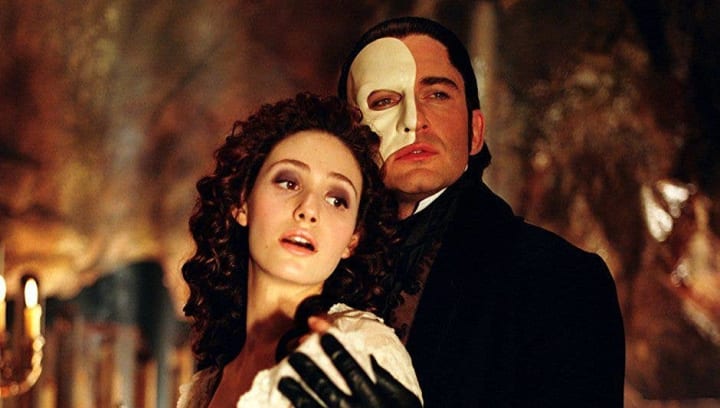 This one is pretty self explanatory considering that it has the word opera in the title, but the movie itself is just as great as its music. Starring Gerard Butler and a 17 year old Emmy Rossum (Fiona from the U.S. version of Shameless), this is all about a mysterious masked man who lives in the catacombs underneath an opera house and gains a reputation for terrorizing it. There's also a love triangle, which heightens the drama.
Rigoletto (1993)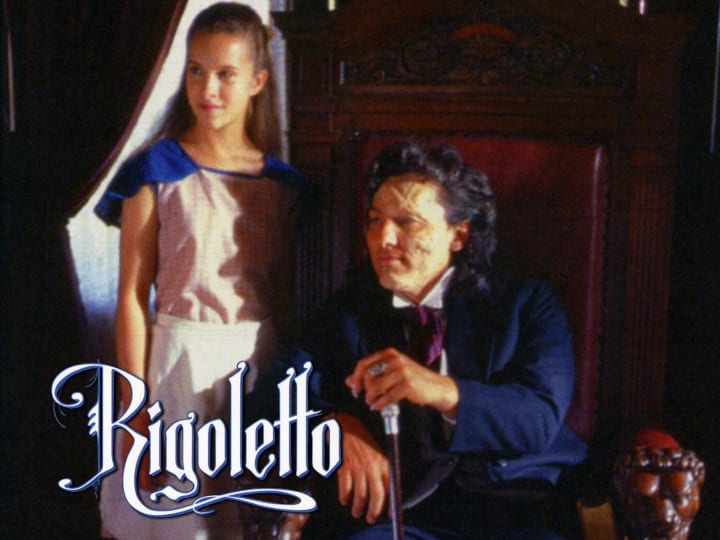 This movie is one of my childhood favorites but unfortunately, it is extremely underrated. Being that it is a low budget, straight to VHS film, it's understandable that many people have never heard of it. Set in a small town during the Great Depression, the people of Castlegate start to experience strange things when a mysterious wealthy man moves into the town. Despite being low budget, the music and the plot of this movie are of great quality.
Opera songs like "April Child" and "The Curse" are beautifully sung by Mr. Ribaldi (the wealthy man) and the instrumental songs give it a Beauty and the Beast kind of feel. That's fitting because the story itself feels like a cross between Beauty and the Beast and The Phantom of the Opera, with a similar theme of beauty being on the inside of a person.
For Those Who Love a Classic Variety:
Shelly Duvall's Mother Goose Rock n' Rhyme (1990)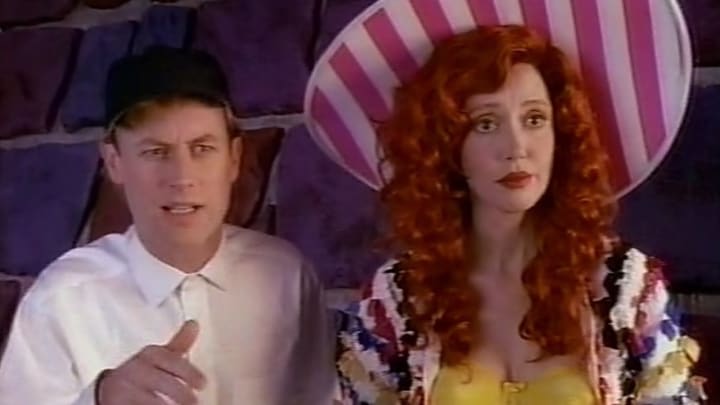 When you put music artists like Little Richard, Cyndi Lauper, Bobby Brown, Paul Simon, and ZZ Top in the same movie, you should expect nothing less than a brilliant musical fusion. Much like Rigoletto, this movie is severely underrated and unheard of by many. It is set in Rhyme Land, a fictional land made up of nursery rhyme characters. When Mother Goose goes missing, her son Gordon has to go on an adventure to find her with the help of Little Bo Peep (Shelly Duvall).
This movie is full of fun songs like Little Richard's rock number as Old King Cole and a new jack swing dance number by Bobby Brown as the Three Blind Mice. With a diverse musical selection, a lot of childlike whimsicality and a little adult humor, this musical is perfect for the whole family.
-----------------------------
Did you find your perfect musical movie in this list or are you still not convinced?
If you enjoyed this, feel free to leave a like and/or tip and check out some of my other stories. Also, follow me on Instagram @c.r.hughes
Thanks for reading!
-Chanté