The Perfect Bollywood Films for American Movie Fans
Universal stories with some Indian flavor
As an American, it often comes as a surprise to many people that I am such a big fan of Bollywood movies. Bollywood is the Indian equivalent of Hollywood, being the movie making industry located in Mumbai, India. But for many, it is an acquired taste that requires a slight understanding of the Indian culture to really enjoy. Where American films tend to be more subtle but to the point, Bollywood films are often very over the top, include singing and dancing, and are extremely long (they typically range from two to four hours long). But as someone who enjoys old films and Broadway musicals, the over the top acting and musical numbers don't bother me and coming from a West African background where movies are typically dragged across four installments, the long run times also don't bother me. But not all Americans, or westerners in general, are the same. Thankfully, there are Bollywood movies for every kind of cinephile and while it may be hard to escape the long run times, the beauty of certain films will hopefully make the time go by a lot faster.
If you love these American films, then get ready to be drawn into the world of Bollywood.
If you like Remember the Titans, then try...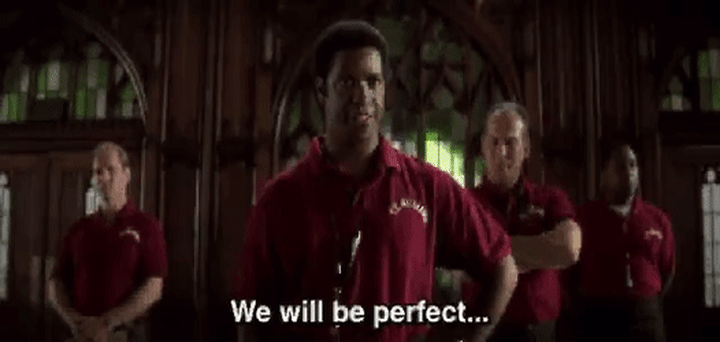 Chak De! India (2007)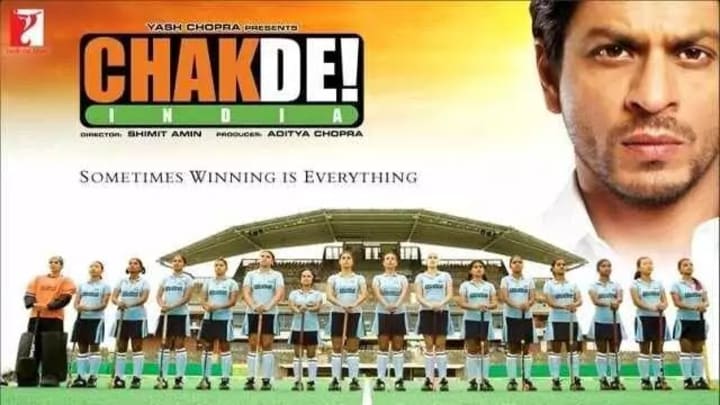 Genre: Sports Drama
Weaves its familiar story with some fresh textures and even manages to invest the conflict on the field with a resonance that transcends the tick-tock turnover of the numerals on the scoreboard.

- David Chute, L.A. Weekly
The story of an underdog sports team is universal and nothing new, especially to fans of American films. Beyond Remember the Titans, movies like The Mighty Ducks and Gotta Kick it Up follow the same formula. What makes each of these movies different from the others are the specificity found in the characters and their stories. In the case of Chak De! India, that is weaved in through its cultural dimensions and its social commentary, which is a major part of what also made Remember the Titans so popular.
Remember the Titans is a major underdog story that also deals with the issue of racism in 1970s Virginia when a Black football coach takes on the task of leading a multiracial team to a championship. And of course, it stars Hollywood legend Denzel Washington. Who doesn't love a good Denzel movie?
Chak De! India is similar to Remember the Titans in many ways. It is also a sports movie, but instead of being about a male American football team, it is about a women's field hockey team. Just like in Remember the Titans, we see the cultural tensions between the women who are coming from different parts of India to be on the national field hockey team and Coach Kabir Khan has to work to get them acting like a team. It also touches on social issues, with a big theme being the discrimination against women in sports. This movie features some strong personalities and draws the audience into the characters' fights both on and off the field.
Much like Coach Herman Boone, Kabir has to use some tough love and develop a thick skin to get through to his team and his country.
Is it a musical? No.
Where to watch: Amazon Prime Video
Watch the trailer here
If you like Someone Great, then try...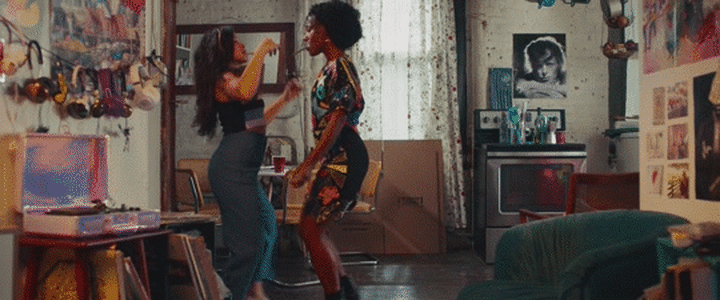 Dostana (2008)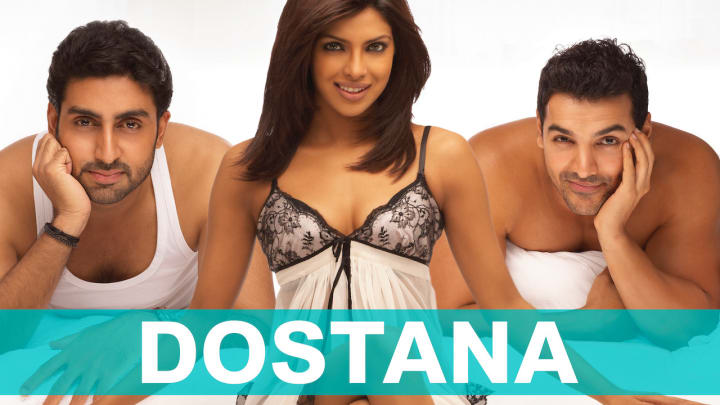 Genre: Romantic Comedy
Big, colorful, delightfully dumb Bollywood "gateway" movie could be a perfect crossover vehicle for U.S. audiences.

- Frank Lovece, Film Journal International
Part of what makes the Netflix original movie, Someone Great, so entertaining is the dynamic between the three main characters. The three friends in the film are fun to watch and they bring out the best in each other through their different yet complementary personalities. Though Dostana varies from this movie in many ways, it is the same in the way that matters the most and that is the brilliant chemistry between the main trio.
Starring the beautiful Priyanka Chopra Jonas (before she was a Jonas), this film revolves around three roommates who quickly become best friends. But of course, there are some crazy antics that take place throughout the movie which revolve around the two male roommates pretending to be gay in order for their conservative landlord to rent the apartment to them. Things become increasingly more complicated when the two fake-gay roommates fall in love with their female roommate.
Also like in Someone Great, the two men work to help their friend through a time of hurt and loneliness in her life, though it doesn't exactly go the way you might expect. This movie is full of fun, comedy, and brilliantly captures the life of three young adults trying to make it in Miami.
Is it a musical? Yes.
Where to watch: Netflix
Watch the trailer here
If you like Romeo & Juliet, then try...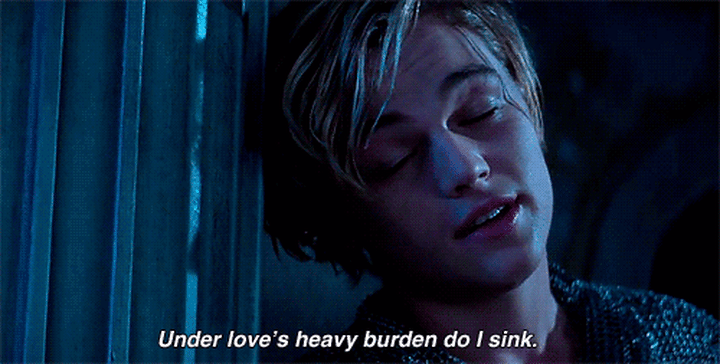 Devdas (2002)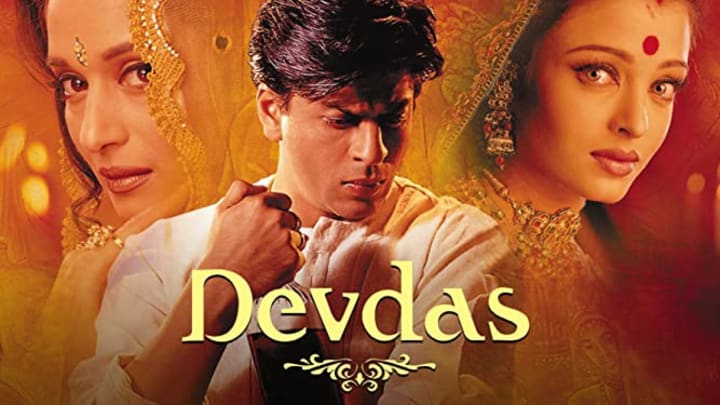 Genre: Romantic Tragedy
Opulence rules. So does emotion. Pack a lunch and have an experience because Bollywood beckons.

- Bruce Kirkland, Jam! Movies
There have been many different versions of the classic tale of star-crossed lovers that is Romeo & Juliet. Whether your favorite version is the 1968 movie starring a Troy Bolton lookalike (kidding), the anachronistic 1996 version starring Leonardo Dicaprio, or West Side Story that reimagines the story with gangs and racial tensions in a concrete jungle, Devdas has many of the elements that has made it stand the tests of time.
Much like Romeo & Juliet, Devdas is based on a classic piece of literature. Originally written as a novel in 1901 by a 17 year old, this tale has all of the melodrama of the Shakespearean classic. It features a forbidden love between two people who are from different social castes, a lot of poetic sounding declarations of love, and of course, tragedy.
This movie isn't just a recreation of the Shakespeare play, it adds many new elements to the classic concept like a love triangle and a love story that spans over several years rather than just a few days.
Is it a musical? Yes.
Where to watch: Rent on Amazon
Watch the trailer here
If you like The Count of Monte Cristo, then try...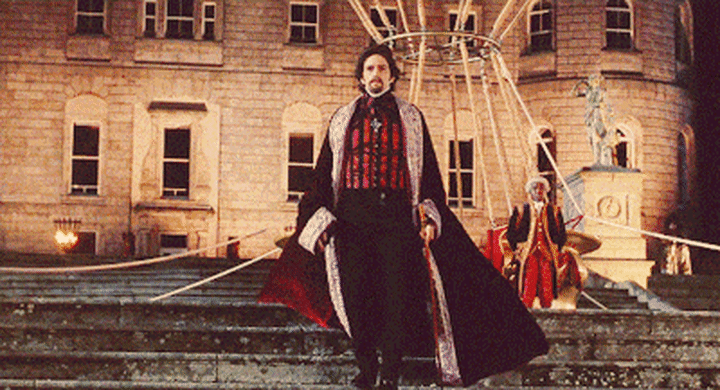 Drishyam (2015)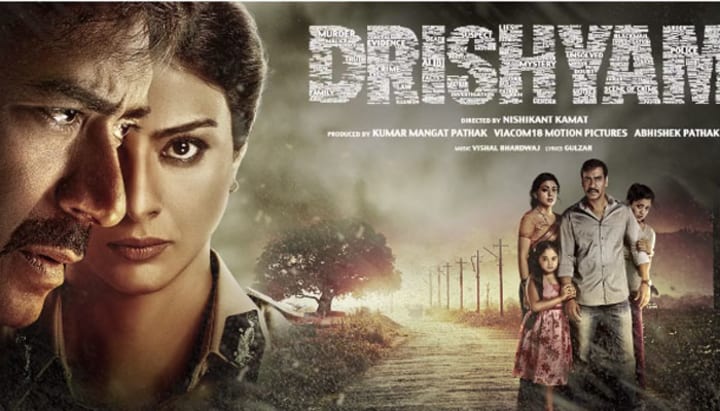 Genre: Crime Thriller
Drishyam portrays a decent man pushed to the limit by corruption, and Kamat's restrained treatment turns a story ripe for melodrama into a thoughtful depiction of an honest, upstanding family forced to commit a crime in the name of truth and honor.

- Lisa Tsering, Hollywood Reporter
Much like Romeo & Juliet, there have been many versions of this French classic over the years. The 2002 version is without a doubt the most popular being that it stars the man who once played Jesus (Jim Caviezel), the original Dumbledore (Richard Harris), and a 19 year old Superman (Henry Cavill). For many westerners, The Count of Monte Cristo is considered the OG revenge story and you can't help but feel a deep satisfaction by the end of it.
In Drishyam, an ordinary uneducated man has to use his extensive knowledge of movies to help him protect his family when his wife and daughter commit a crime of passion against the police chief's son. Just like Edmond Dantes in The Count of Monte Cristo, it is up to the main character to concoct the perfect plan to take justice into his own hands against those who have more power and influence than him.
Just like in the American film, there are moments in this movie that will make you rightfully angry and might even be hard to watch, but the payoff is great.
Is it a musical? No.
Where to watch: Netflix
Watch the trailer here
If you like Some Kind of Wonderful, then try...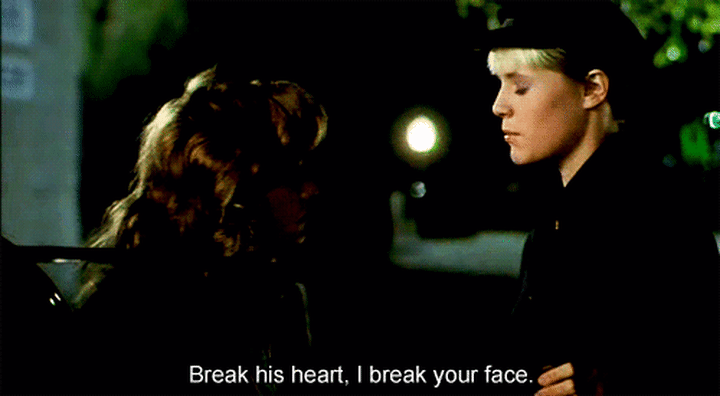 Kuch Kuch Hota Hai (1998)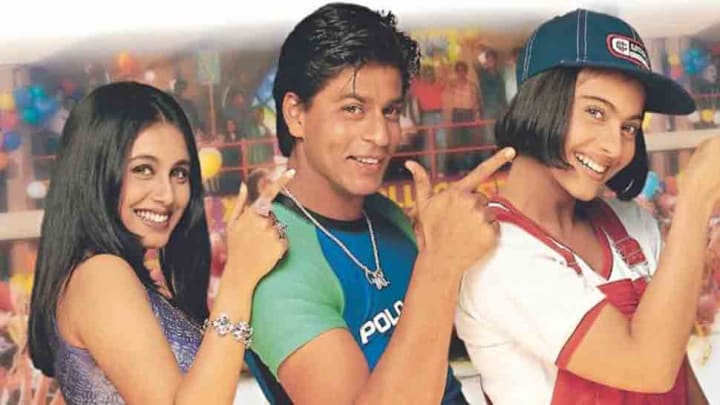 Genre: Romantic Comedy
For well over two hours the film is hectically entertaining, its performances, camerawork, storytelling and extensive musical numbers all energetically colourful.

- Nick Bradshaw, Time Out
Some Kind of Wonderful is exactly what you would expect from an 80s teen movie. Youthful, simple, a little cheesy, but fun to watch. In this 1987 film, a high school boy falls in love with a pretty, popular girl while being completely oblivious to the fact that his tomboy best friend is in love with him.
You could almost copy and paste that description word for word to describe the first half of Kuch Kuch Hota Hai. In this 1998 film, Rahul and his tomboy best friend, Anjali, get their lives changed unexpectedly by a pretty young woman who transfers to their college from London. For Rahul, his life is changed because he falls in love for the first time, but for Anjali her life is changed because she experiences heartbreak for the first time. Despite not being a teen movie, the fun upbeat songs and crazy antics give it that youthful feel that is reminiscent of 80s American films.
Unlike in Some Kind of Wonderful, it takes more than a kiss and a bad date to get Rahul and Anjali together. The second half of the film becomes more serious while still maintaining its fun feel because we get to see the two best friends eight years later after their lives go in different directions. This makes this movie perfect for those who grew up watching and loving Some Kind of Wonderful, but now feel too old for the typical teen movies.
Is it a musical? Yes.
Where to watch: Netflix
Watch the trailer here
If you like Psycho, then try...
Darr (1993)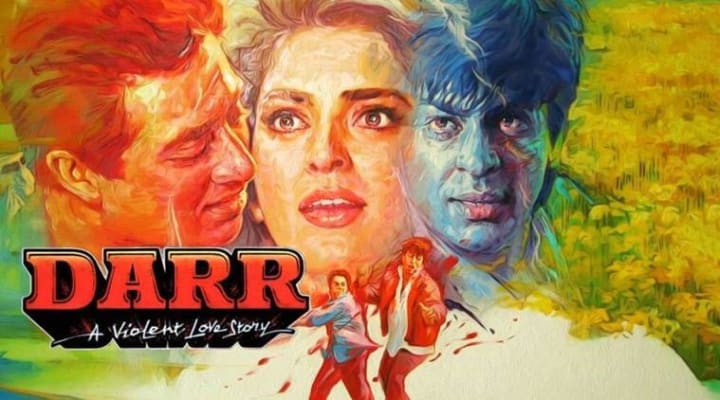 Genre: Psychological Thriller
This timeless thriller gave Shahrukh Khan his timeless image of the stuttering villian who made the protagonists shudder with fear.

- Anirudh R, Rotten Tomatoes
Alfred Hitchcock's 1960 thriller, Psycho, though brilliant is somewhat of a misnomer. Norman Bates from a medical standpoint would not actually be considered a psychopath. Instead, he suffers from a multiple personality disorder.
In the cult classic Darr, however, we are faced with an actual psychopath: a young man who becomes obsessed with a woman he falls in love with, despite her having a fiance. His obsession leads to him stalking her and going to extreme (and scary) lengths to try to win her love.
Unlike in Psycho, the audience is made aware of who the villain is early in the movie, while the other characters spend most of the movie trying to figure it out. But like in Psycho, the villain is the star of this film and is one that has evoked the sympathy of many, despite his heinous actions.
The musical numbers and romantic montage scenes make this movie less scary than Psycho in my opinion, but much like how the Hitchcock film was in 1960s Hollywood, Darr was groundbreaking in 1990s Bollywood and is still loved and admired by many cinephiles today.
Is it a musical? Yes.
Where to watch: Rent on Amazon
Watch the trailer here
If you like Why Did I Get Married? then try...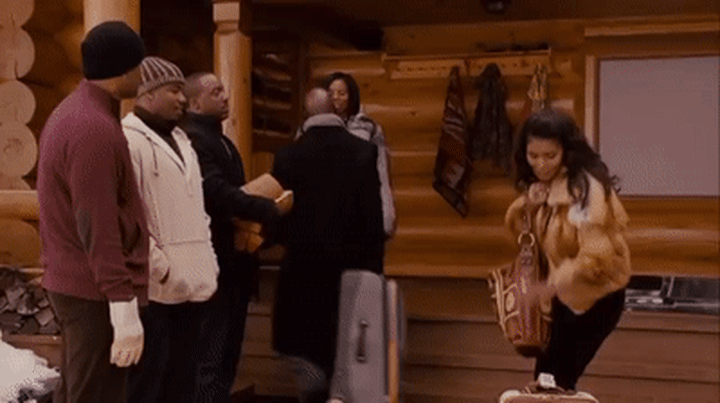 Kabhi Alvida Naa Kehna (2006)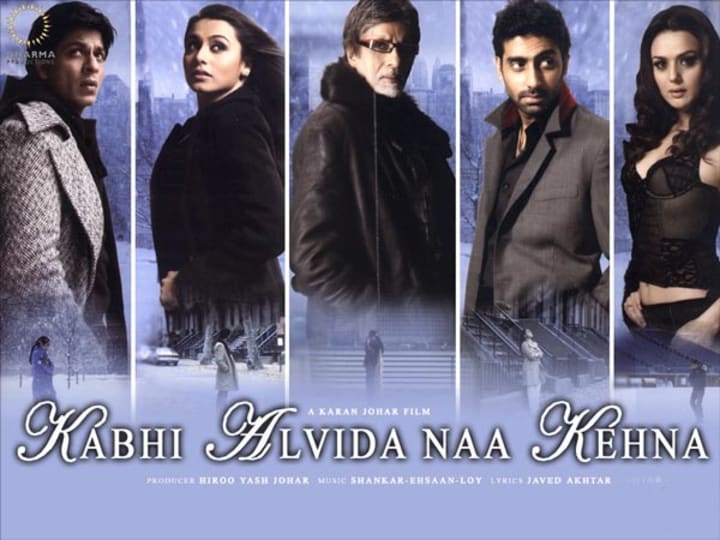 Genre: Romantic Drama
For something so silly and so long, however, the film is surprisingly engaging, thanks largely to its very watchable actors; it's easy to see why they are international stars in the world of Hindi films.

- Neil Genzlinger, New York Times
Tyler Perry is somewhat of a polarizing American filmmaker, with people either loving or hating his work. The director of this Bollywood film, Karan Johar, is also polarizing in a similar way, making it fitting that the movies of both of these filmmakers share so many of the same qualities.
In Tyler Perry's Why Did I Get Married? we follow four couples who are trying to save their marriages on a couple's retreat. But the road to healing is not an easy one. The movie features infidelity, secrets, and new love and Kabhi Alvida Naa Kehna also features these same elements, even if not in the exact same ways.
In this Bollywood film, two young couples living in New York find friendship in each other's spouses while their marriages are falling apart. And at some point, they even have to ask themselves "why did we get married?" Much like the American film, this movie finds the perfect balance between comedy and drama and leaves the audience with some jaw dropping moments. There's even an awkward dinner table scene in both.
Is it a musical? Yes.
Where to watch: Netflix
Watch the trailer here
If you like Forrest Gump, then try...
My Name is Khan (2010)
Genre: Drama
Without any gimmickry, Khan captures the nervous ticks and emotional barriers that an afflicted individual must battle against daily. It's a showy performance but in the right kind of way.

- Kirk Honeycutt, Hollywood Reporter
Forrest Gump is a movie that has tugged on the heartstrings of people for two and a half decades and resulted in some of the most quotable lines in cinema history. Starring Tom Hanks as a man with an intellectual disability and a rough start in life, Forrest recounts the amazing events of his life.
In My Name is Khan, the title character, Rizvan Khan is also recounting the events of his life but through a letter. Much like Forrest, Rizvan also had a rough start to his life, growing up in an impoverished area of India with Asperger's syndrome, but never being diagnosed. Just like in Forrest Gump, when Rizvan is a child he learns that despite his disability, he has a remarkable talent. In Forrest's case, he discovers that he is incredibly fast which leads to him dominating in sports, but for Rizvan he learns that he is good with his hands and can fix almost anything.
For both of these protagonists, their mothers' words are also very important to them. Many people often quote the lines "life is like a box of chocolates, you never know what you're gonna get" or "stupid is as stupid does" from Forrest Gump. But an equally as memorable line would be from Rizvan's mother who tells him "there are two kinds of people in this world: good people who do good deeds and bad people who do bad. That is the only distinction among human beings."
When Rizvan goes to the U.S., that is when he learns there is a name for his condition and his story really begins to unfold. Both of these protagonists are amazing because we see how much they are influenced by their love of those they care about and we see how the world becomes inspired by them, making everyone cheer them on in their journeys.
This movie has comedy and romance in it like Forrest Gump, but considering that it deals a lot with the discrimination against Muslims in the aftermath of 9/11, it is considerably sadder than the American film. But it is 100% worth watching and you'll fall in love with Rizvan, just the way many have fallen in love with Forrest.
Is it a musical? No.
Where to watch: Rent on Amazon
Watch the trailer here.
If you like Grease, then try...
Dilwale Dulhania Le Jayenge (1995)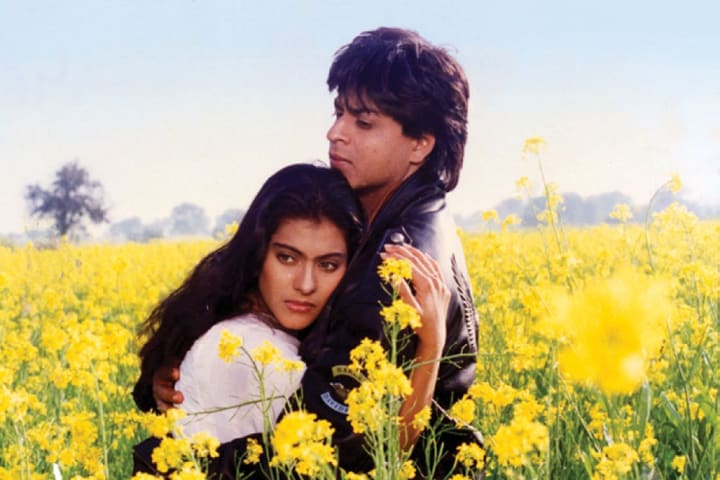 Genre: Romantic Comedy
Today, DDLJ is at once both intimately familiar and unmistakably of its era, a response to the influx of western culture into India in the 1990s and an attempt to center both progress and tradition in the very same breath.

- Siddhant Adlakha, The Juggernaut
To end this list off on a perfect note, it is only right to talk about two of the most beloved films of all time. Both of these films have transcended generational, cultural, and gender barriers, making people from all walks of life fall in love with them. And this is because both of these movies have some similar elements: a young love story that defies those around them, amazing chemistry between the leading actors, and a bunch of catchy songs.
Much like in Grease, Dilwale Dulhania Le Jayenge (or DDLJ, as it is commonly referred to as) features a young romance that begins during a vacation between two people who are complete opposites. 18 year old Simran is her parents' pride and joy: responsible, intelligent, and... engaged to be married through an arrangement her father made. Raj on the other hand, is a wild party boy who manages to fail his university courses before he is set to graduate. These two are brought together on a European tour that they both embark on with their friends and their initial disdain for each other eventually blossoms into love.
In both Grease and DDLJ, the leading couples have to fight against the expectations of those around them in order to be together. In Grease, Danny and Sandy have to fight against their friends' expectations and in this Bollywood film, Raj and Simran have to fight against her father's expectations and the expectations of tradition. Their heartfelt journey to be together makes it nearly impossible for the audience not to root for them.
It is also worth mentioning that DDLJ is the second longest running film in theaters in the entire world, second only to the American cult classic, The Rocky Horror Picture Show. After over twenty-five years, this film can still be found playing in movie theaters in Mumbai to this day. So if my description wasn't enough to convince you that this movie is worth watching, hopefully that fun fact is.
Is it a musical? Yes.
Where to watch: Amazon Prime Video
Watch the trailer here
--------------------------------------------
Regardless of where you fall on the movie spectrum, we have streaming platforms like Netflix to thank for breaking down cultural and language barriers that allow us to experience a whole new world of great cinema. And allow us to experience the world outside of good ole 'Merica right from the comfort of our own homes.
If you enjoyed this, feel free to leave a like and/or tip and check out some of my other stories. Also, follow me on Instagram @c.r.hughes
Thanks for reading!
-Chanté