Eight Years Later: Game of Thrones Contest
How 'Game of Thrones' Enriched My Love for Writing, Music, and Travel
#VocalGOT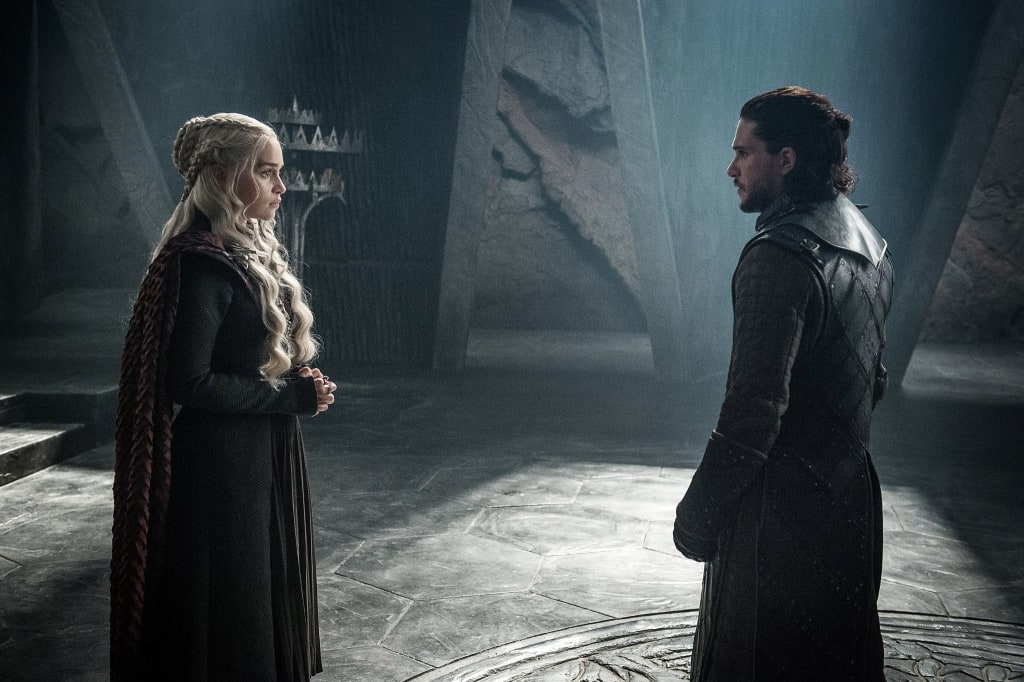 The pivotal first meeting between Daenerys Targaryen (Emilia Clarke) and Jon Snow (Kit Harington) in Game of Thrones season seven. [Credit: HBO]
I wasn't a fan of Game of Thrones (GoT) from the word go. In fact, I only got seriously invested in the HBO fantasy saga from season seven in 2017. By then, the production values were exquisite and the narrative a tad faster. I was also intrigued that it took seven seasons for the two main characters, Daenerys Targaryen and Jon Snow, to finally meet.
After season seven ended, I binge-watched the six previous seasons, including all the behind-the-scenes clips and mini-docus. I then read all five books of George R.R. Martin's A Song of Ice and Fire novel saga, of which the TV series is based on, and understood just why it was such a big deal with book fans. I even went online in search of excerpts from The Winds of Winter that Martin had released periodically. If there's one good thing about being oh-so-late to the game (of Thrones), it is that I get to enjoy the entire pop culture phenomenon in just under a year!
Since then, not a day has gone by without me thinking about what GoT articles or related stories I could write that fellow fans would be interested in reading; or listening to the show's fabulous soundtrack music by Ramin Djawadi every other day while working at home; or planning possible trips to countries with GoT filming locations that one can visit.
Inspired to Write Fan Theories
Game of Thrones also introduced me to ardent GoT fans who create videos after videos on YouTube, dissecting TV episodes and book chapters for information, ranging from Easter eggs to hidden meanings, to help satiated fans' hunger between seasons (especially the long 18-month gap between seasons seven and eight).
Thanks to GoT YouTube channels such as Talking Thrones and Gray Area, I was inspired to write my own GoT fan theories on online writing platforms such as Vocal. My first fan theory effort was about Jon Snow possibly using House Dayne's greatsword Dawn to kill the Night King. Even though that theory was blasted to kingdom come in season eight—thanks Arya!—it was still a fun article to write, requiring much research and assumptions, and the best part was that some fans who read it agreed with my theory, (Hey, it may still come true in the books!) It definitely encouraged me to write more GoT-related stories and I am really chuffed that they are among my most read features on Vocal.
Stirred by Compelling Soundtrack Music
Djawadi's soulful and stirring soundtrack for Game of Thrones also made me fall in love with instrumental music in a big way. Season seven's Grammy-nominated soundtrack, for instance, is arguably one of the best cinematic scores I've heard in a long time. And season eight continues in that vein, especially the gripping, heart-pounding "The Night King" theme from Episode 3, "The Long Night."
Thus in 2018, when I learnt that Djawadi was embarking on yet another Game of Thrones live concert tour featuring the music of seasons one to seven, I knew I had to be at one of these shows. I decided to catch the concert in Belfast, Northern Ireland in late May 2018. It was the first ever, and still only, classical concert that I flew overseas from Asia to watch—and the brilliant concert, which also featured solo musicians and projected vital scenes from the TV show on giant screens, was worth every penny.
That it clashed with the release date of Emilia Clarke's first Star Wars outing in Solo: A Star Wars Story was a coincidence. The fact that it was held in Belfast, however, allowed me to embark on tours that would bring me right into the heart of key Game of Thrones filming locations in the land that has long been the base of the greatest TV show on Earth.
Stepping into GoT Territory
I've been a movie and TV fan for eons, but I don't think there was ever one film or show that actually enticed me to fly across the world to check out their filming locations. (Not even Star Wars which I've been a fan of since the beginning of time.) However, I did for Game of Thrones because the series' natural backdrops are truly one of their winning attributes.
What a thrill it was to be in the actual forest where we saw the White Walkers for the very first time in GoT's very first episode in 2011; or seeing the real castle tower that depicted Winterfell in the early seasons; or walking down the iconic Dark Hedges—the King's Road which Arya and Gendry travelled on to escape King's Landing in season two—just to name but a few. As I binge-watched the series again just before season eight rolled out this year, it was a real buzz when I could identify locations in the show and exclaiming, "I was there! I stood there!"
As HBO intends to open up the present Northern Ireland sets for Winterfell, King's Landing, and Castle Black to fans after the final season ends, I'm quite tempted to make a return trip to Belfast. If not, plans for holidays in other GoT locations such as Iceland, Croatia, and Spain are definitely being considered.
So yes, Game of Thrones has changed my life in more ways than one. I even managed to get my best friend hooked on it as well, so much so that finally I have someone to discuss the show with in great detail and equal enthusiasm.
Even as the TV series comes to a close this month, the fantasy epic will still be a big influence in my life one way or another. For starters, there's still two more novels to come—The Winds of Winter and A Dream of Spring—plus the prequel TV series to look forward to.
One thing for certain, with its great performances, gripping character arcs, and mind-blowing battle scenes—season eight's mixed reviews notwithstanding!—Game of Thrones is a one-of-its-kind, immensely well-produced cinematic phenomenon that deserves all its awards and accolades.
We shall definitely never see its like again.
(ends)