Hearts Beat Loud - A Movie Review
'Hearts Beat Loud' is a feel-good story.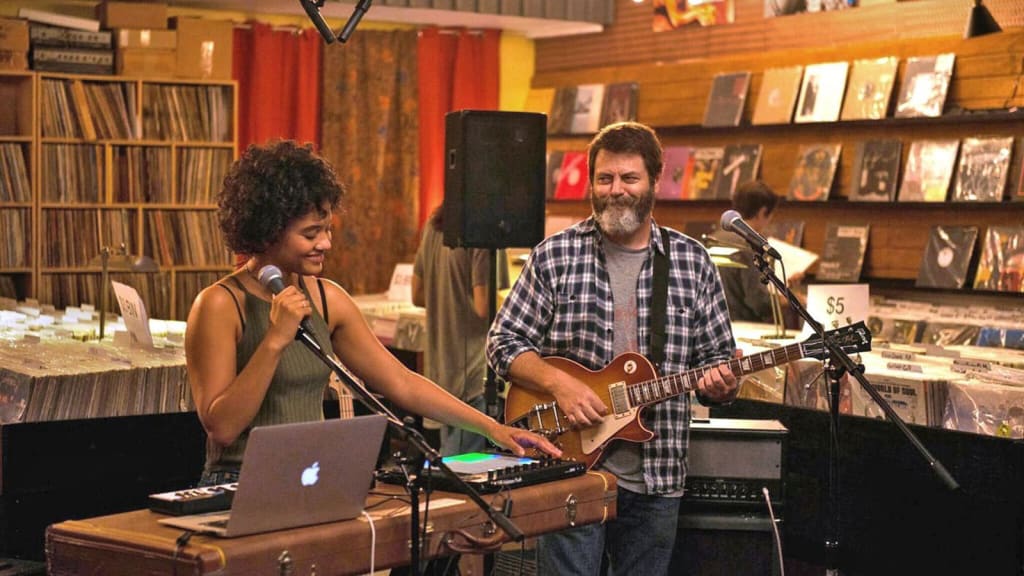 Sometimes change is good.
Hearts Beat Loud is a 2018 film. Frank is closing his record store. His daughter, Sam is leaving for college in the fall. Together, they form an unlikely songwriting duo. Collaborating on songs, the experience helps them discover themselves.
I watched Hearts Beat Loud on the first day of the new year. It was the right pick. Hearts Beat Loud attains all the essence of what a film should contain. It's a feel-good story. Art is the film's central theme. You never know where life will lead you.
The cast for Hearts Beat Loud was excellent. Nick Offerman, Kiersey Clemons, Blythe Danner, Toni Collette, and Sasha Lane embraced their characters. They're all trying to rediscover a part of themselves that's missing.
I watched one other film with Clemons. The movie wasn't so good but Clemons was the best part of it. I wanted to find more films with her and I got my wish. A great actress, she is also an excellent singer. Sam wants something different.
I supposed you could guess why I put Hearts Beat Loud on my list. Yes, Toni Collette is one of my favorite actresses. Leslie is supportive of Frank. Collette also treats us to a karaoke number.
Joining the supporting cast, Dave (Ted Danson) was another fun character. He is a proud speaker. I enjoyed it whenever Frank and Dave got together. Hearts Beat Loud had a good message about friendship.
One character that didn't feel finished in the story was Marianne (Blythe Danner). As Frank's mother, occasionally she gets into situations where someone has to help her. Either her part should have been expanded or she wasn't needed at all.
Frank is destined to create this band that he forgets to listen to others. I was unsure of Frank's decisions and how he'd take control without hearing others' opinions first. That's a lesson we all come to learn. Frank is so understanding.
Relationships are important in Hearts Beat Loud. Offerman and Clemons incorporated a touching father-daughter bond. Unsure of their destinations, creating this bond proves to be beneficial. Sometimes we get lost.
Hearts Beat Loud is an open-minded film. It portrays a positive representation of same-sex relationships. Sam and Rose are a sweet couple. They help one another achieve goals with patience and encouragement.
Brett Haley strived for a relatable moral, gave attention to music, and had effective camera angles. They were compelling in preserving space, emotional value, and connecting with perspectives. People want to understand the perspective. Haley blended a resonating theme. It made me feel hopeful whenever I listened to it.
Music has several definitions. Every song has meaning. The music is outstanding, supplying a reflective tone. It's better to watch this film to hear the music for yourself. The film spends a good chunk of time on the concert numbers, especially at the end.
The ending scene with the concert at the records store was one of my favorites. At first, customers pay no attention. Gradually, they give their attention to Frank and Sam. Music brings people together. Make art and experiment. You never know where it will lead.
Not just music, Hearts Beat Loud connects to anyone's passions. This quote struck me. We don't always get to do what we love so we have to love what we do. That's the best advice from this film, especially in the new year. Just slow down and enjoy life. Eventually, we'll find our pathways.
I highly recommend that you find Hearts Beat Loud. It's one of those feel-good stories.
About the Creator
Writing has been my passion since I was 11 years old. I love creating stories from fiction, poetry, fanfiction. I enjoy writing movie reviews. I would love to become a creative writing teacher and leave the world inspiring minds.
Reader insights
Be the first to share your insights about this piece.
Add your insights