Edward Scissorhands - A Movie Review
'Edward Scissorhands' retains a positive message about accepting differences.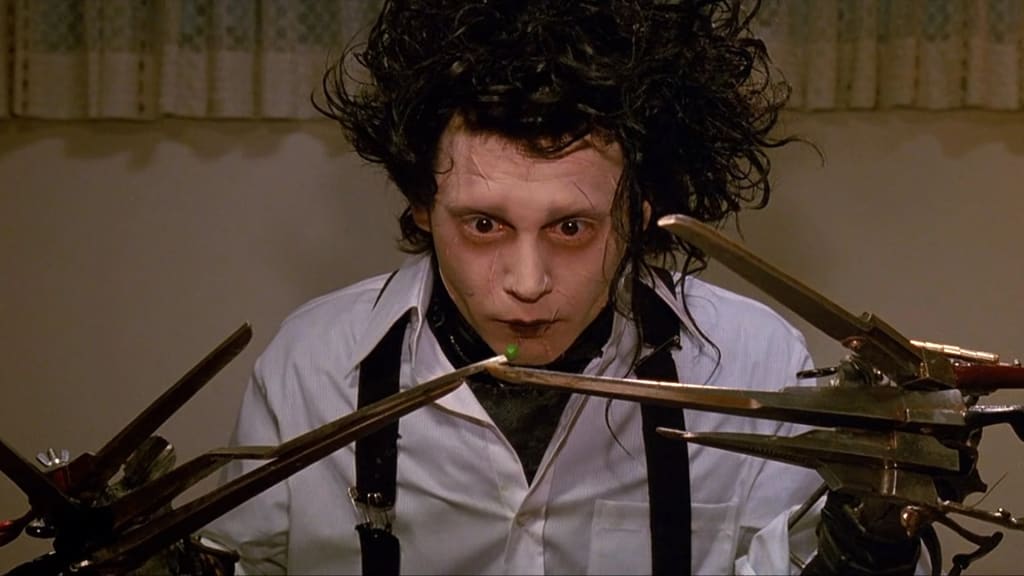 Edward has scissors for hands? That's an odd haircut business.
Trimming his way into theaters in 1990, Edward Scissorhands is about an unfinished artificial man. In the placement of hands, Edward has sharp scissors. Living in solitary, one day that all changes when a woman introduces him to the world.
I wasn't sure how to think about Edward Scissorhands the first time I watched it. That plays into the moral of the film. Edward Scissorhands is a strange film, but it retains a positive message about accepting differences.
As peculiar as the character is, you have to remember who Edward Scissorhands is. This role is all about Johnny Depp's facial reaction. Edward hardly has any dialogue. He only says 169 words apparently!
Depp felt an immediate connection to the role when he first read the script. Discovering the world, Edward cast varying opinions due to his ominous appearance. Considered by fans as one of Depp's best roles, Edward Scissorhands has had a positive impact on the autism community.
More credits include Winona Ryder, Dianne Wiest, and Anthony Michael Hall. That's not all. An ensemble of women appears, spoiling Edward, curious about his special ability. I have mixed opinions about most of the characters, especially how they took advantage of Edward.
The whole cast had a lot of fun with the script, each diving into its characters. Wiest was great in her role. She was so understanding of Edward's case. Ryder had some difficulties with her role, but eventually, she found how to sympathize with Kim. Relationships take time.
This is not the antagonistic role I'd suspect to see Anthony Michael Hall in who was usually typecast as the typical 80s nerd. I am glad that he was given a chance to test his abilities.
This was the final film for Edward Prince who played the role of the Inventor. He intended to have a much larger part, but sadly Price was ill during filming.
Some had difficulty understanding the story. Everybody's reaction to Edward is what the film is about. If you saw someone who looked different or had a special ability, how would you act?
From the eyes of Tim Burton, he creates unique fantasy worlds. He specifically meant to conduct the perspective from Edward's eyes. The character is based on Burton, himself. Edward Scissorhands is based on a drawing that Burton drew in his youth. Inspired, he expanded on the idea.
Burton took a fantasy approach in the mindset of the location. Burton wanted it to look real and offputting. Filming occurred in a community in Florida. All the houses were painted the same color. Once filming ended, some owners chose to keep the topiary hedges.
Not in the neighborhood, but Edward's hands had a unique construction. The props team searched for every scissor ever manufactured. Depp's costume was made out of leather which was tough to film in due to the heat from the stage lights. He also faced injuries from the sharp props. The scars you see on his face are real.
Edward Scissorhands is a fun film that is open to interpretation. Just like audiences, it takes a bit to understand what the story interprets. Does the film pose a question? Did the events in the story take place or is it all a grandmother's bedtime story? We don't need to know. That's the blessing of movies. We can interpret ideas.
Don't judge the film before never watching it. It took me a few tries before I found the magic. Enjoy Edward Scissorhands, especially around the holiday season.
About the Creator
Writing has been my passion since I was 11 years old. I love creating stories from fiction, poetry, fanfiction. I enjoy writing movie reviews. I would love to become a creative writing teacher and leave the world inspiring minds.
Reader insights
Outstanding
Excellent work. Looking forward to reading more!
Add your insights