Happy Birthday, Elizabeth Olsen!: Her Five Best Roles Outside Of The MCU
Happy Birthday!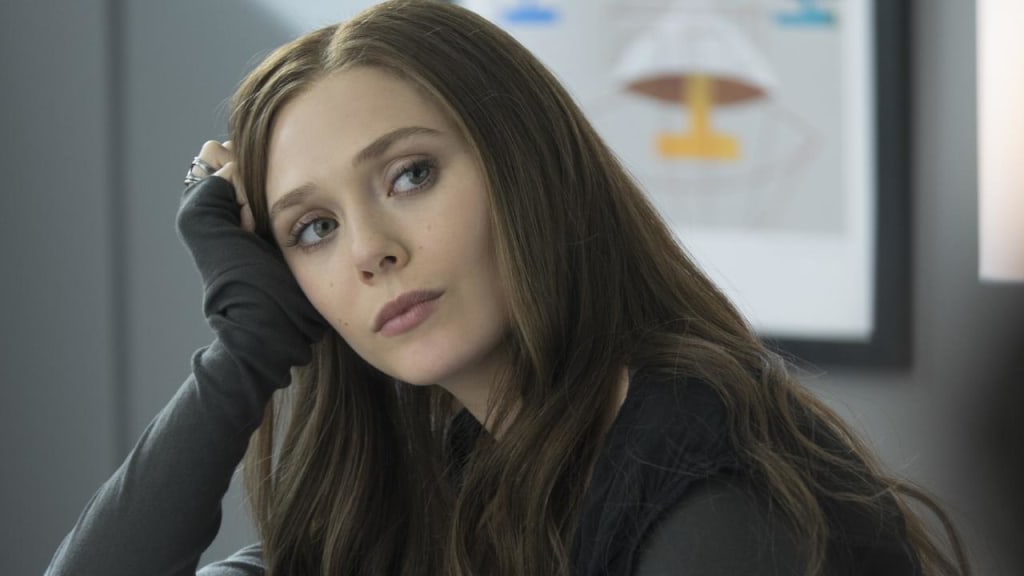 Actress Elizabeth Olsen celebrated her 31st Birthday on February 16. Originally best known as the baby sister of the famous Olsen twins, Mary-Kate and Ashley, Elizabeth eventually stepped out of her sisters' shadow to become an accomplished actress in her own right. She is now best known for her role as the MCU's Wanda Maximoff, aka the Scarlet Witch, a role she will reprise later this year in the Disney + series WandaVision.
Between her appearances as Wanda, Olsen has put in great performances in a number of other projects. Here are some of Elizabeth Olsen's best performances outside of the MCU.
1. Martha ( Martha, Marcy May, Marlene)
In Martha, Marcy May, Marlene, Elizabeth Olsen plays the lead character, Martha. Having recently escaped a dangerous cult when the film begins, Martha finds it difficult to readjust to normal life with her older sister Lucy (played by American Horror Story star Sarah Paulson) and Brother-in-law Ted, who are troubled by a few odd behaviours Martha exhibits. Flashbacks of her time with the cult are scattered throughout the film, helping to explain Martha's struggle.
Released in 2011, Martha, Marcy May, Marlene proved popular on the festival circuit that year. Olsen was praised for her emotional range, and her ability to hold her own alongside a seasoned actress like Paulson. Her performance in this film helped convince Director Joss Whedon that Olsen was the right actress to play the multifaceted Wanda Maximoff in Avengers: Age Of Ultron.
2. Agent Jane Banner (Wind River)
In the 2017 film Wind River, Elizabeth Olsen played young FBI Agent Jane Banner. Jane is sent to the Wind River Indian Reservation to investigate the death of a young Native American woman, Natalie Hanson. While Jane suspects foul play, Natalie's cause of death is listed as exposure rather than Homicide, so she is unable to request further FBI assistance to help the investigation. Jane must rely on the help of Cory Lambert, a Fish and Wildlife agent familiar with the area, as well as the local Tribal Police, to uncover the true circumstances of Natalie's death before the FBI moves her on to another assignment.
Wind River is notable for reuniting Olsen with her Avengers co-star, Jeremy Renner, who played Cory Lambert. While it's subject matter makes the film a tough watch, Wind River is worth seeing at least once.
3. Taylor Sloane (Ingrid Goes West)
Ingrid Goes West saw Olsen playing Social Media Influencer Taylor Sloane. Taylor and her supposedly perfect life become the object of obsession of the troubled Ingrid, played by Aubrey Plaza. Ingrid embarks on a trip across the country to befriend Taylor. Things go well to begin with, but as Ingrid's plan slowly spirals out of control, she also starts to realise that Taylor's 'Insta-perfect' life isn't entirely as it seems.
Ingrid Goes West was praised for both Olsen and Plaza's performances and a 'satire' of social media that at times seems scarily real.
4. Zooey Kern (Kodachrome)
In the drama film Kodachrome, Elizabeth Olsen plays Zooey Kern, personal Nurse to Benjamin Asher Ryder, a famous, but now terminally ill photographer. Zooey is tasked with convincing Ben's estranged son, Matt, to accompany she and Ben on a cross-country road trip to Dwayne's Photo, the only shop in America still developing Kodachrome film. Matt is reluctant at first, but agrees when he learns the trip may give him an opportunity to save his job. As with many movies of this kind, the trip ends up being a journey of self-discovery for all involved.
Kodachrome, while not based on a true story, was inspired by an article on the real-life Dwayne's Photo, in the last few days they were open for Kodachrome film.
5. Leigh Shaw (Sorry For Your Loss)
In 2o18, Olsen took the lead role in the Facebook Watch series Sorry For Your Loss. She starred as Leigh Shaw, a young widow struggling after the recent death of her husband, Matt. The show dealt with tough topics like depression, and the long-term effects of grief and loss.
Sorry For Your Loss earned great reviews over it's two seasons, building a large fan following, and Elizabeth Olsen earned a Critic's Choice Award nomination for her work on the show. Unfortunately, to the great disappointment of fans, Facebook cancelled Sorry For Your Loss in January 2020. The show is apparently being shopped around to other Networks and streaming services, but there's been no word yet on it's future.
Happy Birthday, Elizabeth Olsen! We look forward to seeing her onscreen again in WandaVision.