Everything We Learned From The 'WandaVision'Super Bowl Teaser
There's a lot to unpack.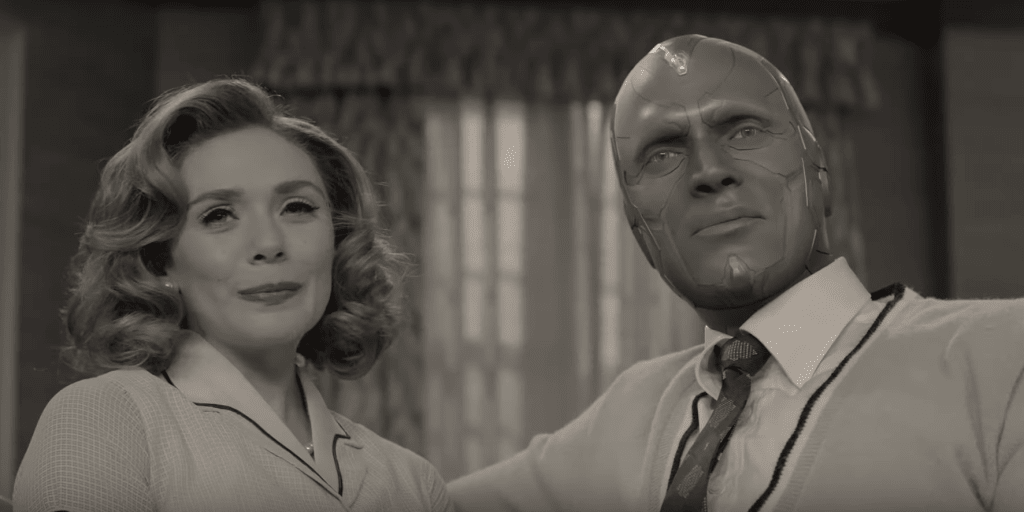 Happily married? Credit: Disney.
During the 2020 Superbowl, fans finally got a teaser for the new Marvel Cinematic Universe TV series coming to Disney Plus.
As well as footage from Falcon And The Winter Soldier and a brief clip from Loki, we got a first look at WandaVision, starring Elizabeth Olsen as Wanda Maximoff/Scarlet Witch, and Paul Bettany as Vision, in what looks to be the MCU's most bizarre entry yet.
Though the teaser was brief, there's a lot to talk about. Here's everything we learned from the WandaVision teaser.
Something Isn't Right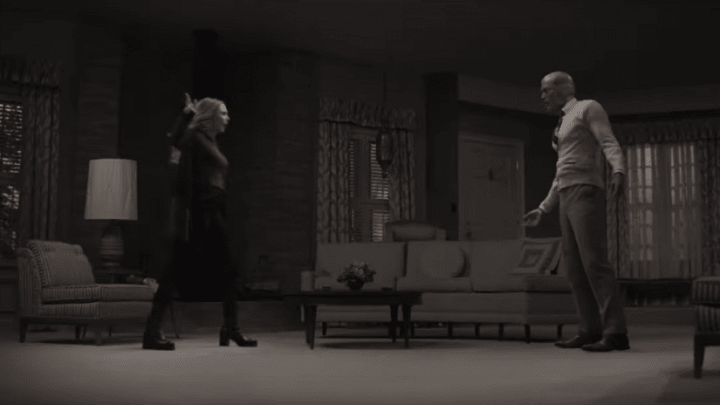 Something is obviously going wrong in the idyllic, sitcom-like world in which WandaVision takes place. It could be unstable, which might explain why the show seems to shift between multiple eras. For example: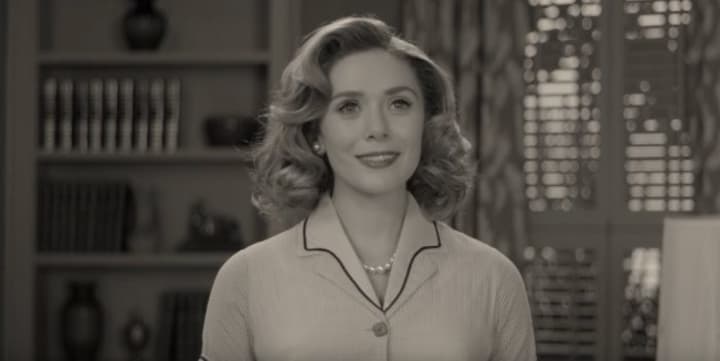 We have the classic black and white..
A sixties/seventies style outfit, which fans have likened to something out of The Brady Bunch..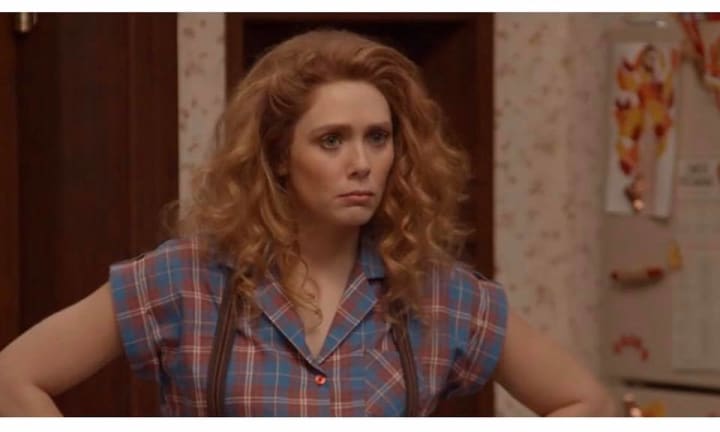 And this ensemble, which may be a tribute to either Roseanne or Full House.
Something is very obviously wrong in the world of WandaVision. What isn't clear at this stage is whether the sitcom world is something that Wanda has created herself, or caused by an outside influence.
Wanda And Vision Are Married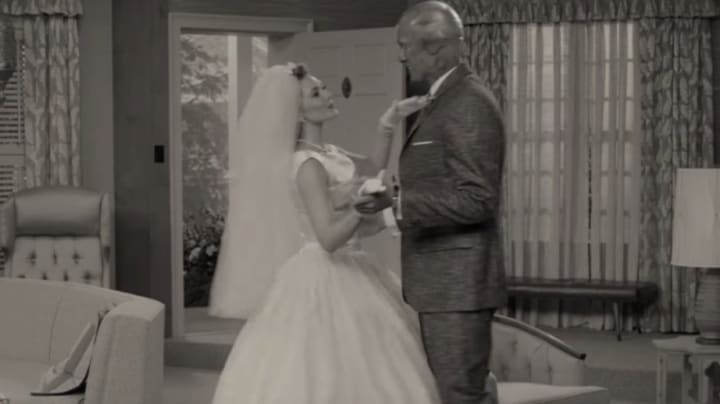 In one of the teaser's black and white shots, Wanda and Vision are dressed in wedding outfits. In another clip, Wanda answers the phone with a cheery, 'Hello, Vision residence!'. This tells us two things: One, that Wanda and Vision are now married, and that in the sitcom-world, Wanda has taken Vision's name. Her could now be Wanda Vision rather than Wanda Maximoff, which could explain the show's title.
As long time fans will know, Vision and The Scarlet Witch have been married in the comics, even starring a twelve-issue limited series while they were a married couple. Rumours suggest this comic, Vision And The Scarlet Witch, is one of a number of books that has provided inspiration for WandaVision.
We Will See Wanda In A Version of the Scarlet Witch's Classic Comic Costume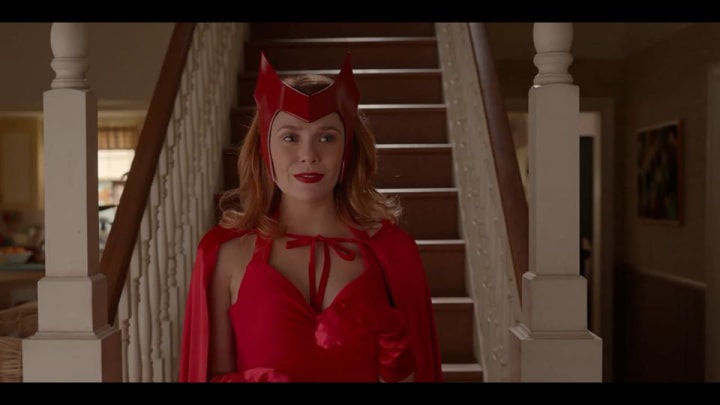 For fans of the comics, one of the most exciting moments of the trailer is a blink-and-you'll miss it shot of Wanda in a comic-accurate Scarlet Witch costume.
Some have complained that the outfit isn't realistic enough, but it's probably not supposed to be. Most fans have agreed that the image of Wanda in costume is most likely taken from the Halloween themed episode that WandaVision was rumoured to be filming a couple of months ago.
The story for the Halloween episode is rumoured to be adapted from Vision And The Scarlet Witch, and due to this episode, the premiere date for the series is expected to be in September or October.
Vision Is Back!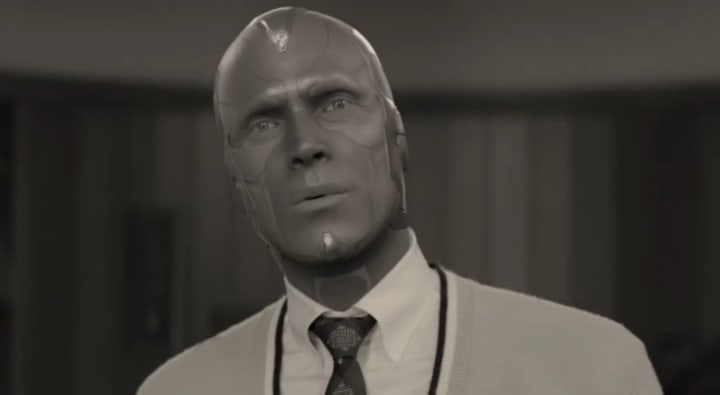 It's safe to assume everyone knew that Vision would be back in some form, considering the series' title. The big takeaway from the teaser where Vision is concerned could be the character's appearance.
Originally, it was thought that Paul Bettany would spend most of the series out of make-up, with Vision in the 'Human Disguise' he wore in the early scenes of Avengers: Infinity War. Concept art and early set photos supported this. However, every shot of Bettany in the trailer has him in full character make up. It is worth noting, though, that this may have been to ensure more casual fans recognised the character. Whether it is a reflection of the full series is unknown at this point.
Some fans have also noted that Vision looks a little odd, but this is most likely because WandaVision's visual effects are not yet complete.
We May Be Introduced To Wiccan And Speed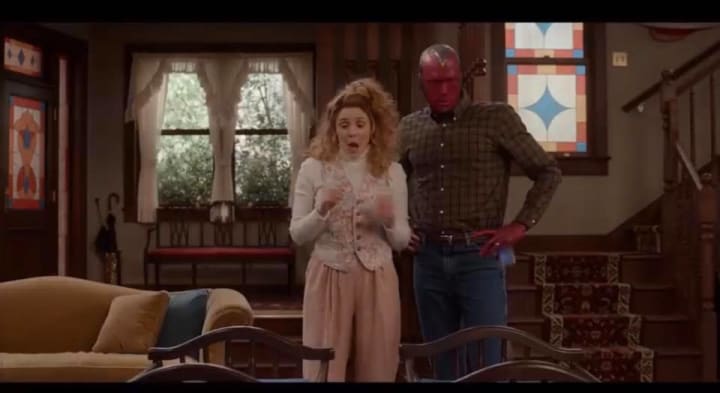 Perhaps the most exciting information in the Super Bowl teaser is the near-confirmed introduction of Wanda and Vision's twin sons, Tommy and Billy. Eagle-eyed fans quickly noticed that in one shot, while wearing the earlier mentioned 'Brady Bunch' outfit, Wanda may be pregnant.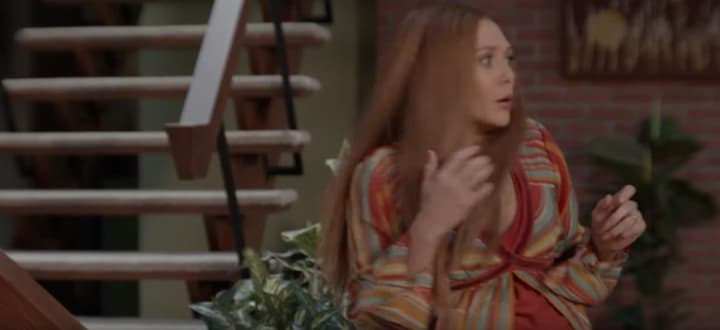 More explicit confirmation of the twins' existence comes later in the trailer, when Wanda and Vision are seen standing in front of two cots, before a pair of pacifiers fly into the air.
WandaVision has been seen filming at a Hospital, possibly where the twins will be born, and also a High School, which means we may see the twins aged up during the series. If true, this is an especially exciting development.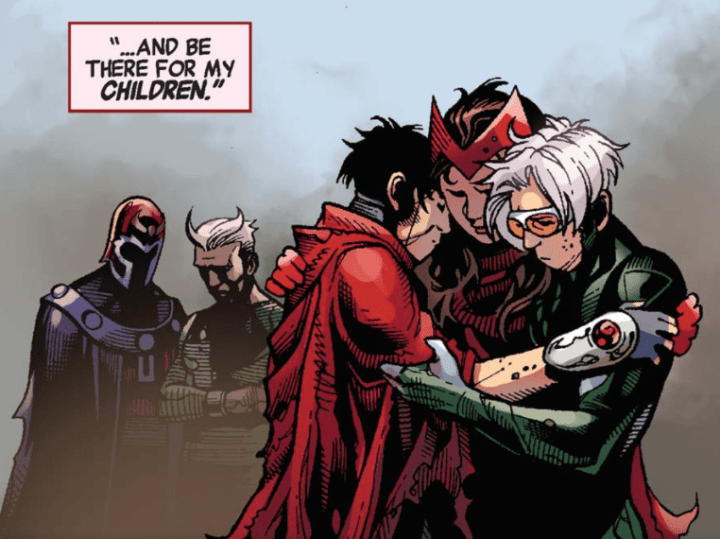 While the full story behind the existence of the twins is quite complicated, the short version is that, as teens, Tommy and Billy become the heroes Speed and Wiccan. Speed has powers matching those of his Uncle, Pietro, while Wiccan has powerssomewhat similar to his Mother. In the comics, Wiccan and Speed are founding members of the Young Avengers.
Avengers: Endgame aged-up Cassie Lang, destined to become the Young Avenger Stature, and another Young Avenger, Kate Bishop, is set to debut in the Hawkeye series. If WandaVision does introduce Wiccan and Speed, even if only as babies, then the MCU is taking another big step towards eventually bringing the Young Avengers to life onscreen.
Check out the trailer here: