Hammer Time! Who Keeps Marvel Actors Safe Behind the Scenes of 'Thor: Ragnarok'?
When Chris Hemsworth swings his mighty hammer on a film set, the last thing everyone wants to see is the Marvel actor hurting himself.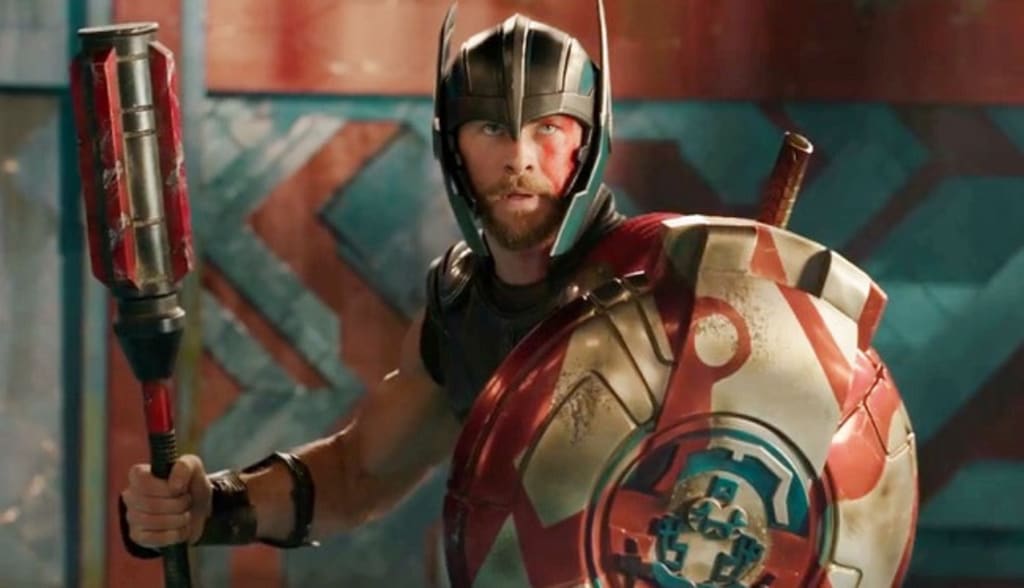 When #ChrisHemsworth swings his mighty hammer on a film set, the last thing everyone wants to see is the #Marvel actor hurting himself. That's why, when it comes to the use of weaponry on the set of #ThorRagnarok, the first thing on official weapons master Richard Mansfield's agenda is to "avoid risk," which is easier said than done considering that more than 800 individual weapons were created and produced for Thor: Ragnarok. This includes: hammers of varying sizes, swords long and short, spears, axes, hand-to-hand combat items and firearms.
Mansfield, whose film credits include X-Men Origins: Wolverine and Pirates of the Caribbean: Dead Men Tell No Tales, says:
"Ultimately, we want every actor to be happy and healthy, whether it's Chris Hemsworth with his hammer or Cate Blanchett (as villain Hela) with her sword.Most importantly, all weapons must bring no risk and is safe for every actor."
Safety First On Thor: Ragnarok Set
The Australian, who started in art direction before moving into props and weapons design, was adamant in emphasizing that avoiding or eliminating risk of on-set injury or accidents cannot be done by the weapons unit alone, but by working closely with everyone else involved with the film.
This includes lengthy discussions with the director (Hunt for the Wilderpeople's #TaikaWaititi), props master, script supervisor, costume design, stunt coordinators, gun control unit, as well as visual effects to ensure any usage of weapons during filming is safe for both the actors and the crew.
He explains:
"Costume design has a say because weapons have to be worn, and then actors themselves will have a say as well as they will be wearing it. I mean, we definitely want to ensure that someone like Sir Anthony Hopkins is as comfortable as possible!"
When it comes to the use of firearms, Mansfield turns to a gun control unit for supervision during filming.
"We work with highly-qualified people, mostly ex-military personnel who are able to respond to any situation in real time.We also work closely with the stunts people who, like the actors, will handle the weapons a lot. Unlike the actors however, they have no qualms in destroying our weapons during filming!"
Mansfield was speaking to an audience — of which this writer was thrilled to be a part of — who attended "Marvel Conversation: Behind The Hammer," a talk held in conjunction with the "Marvel: Creating The Cinematic Universe" exhibition at the Queensland Gallery / Gallery of Modern Art in Brisbane, Australia.
Thor: Ragnarok was filmed in Queensland's Gold Coast, and a majority of the sets, props and weapons were designed and produced locally.
Thor: Ragnarok — It's Hammer Time!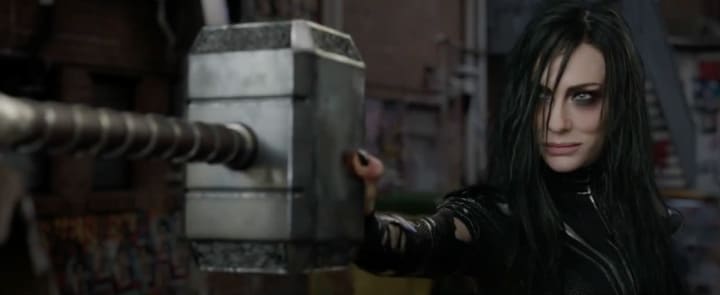 The film's "star" weapon is the Norse God's famous hammer, Mjolnir, which had 18 versions produced.
Mansfield explains:
"#Superheroes have super powers so they must have weapons to match, as this adds an extension to their character's personality. Imagine Wolverine without his claws or (in our case) Thor without his hammer.Weapons enhance performance, so they must appear to be real."
Hence, for Thor: Ragnarok, hammers of varying weights were produced — some are made of soft rubber, some fiberglass, and one even had LED lights on it. If leading man Hemsworth is required to swing a hammer with flourish for a scene, then one that is "as light as a feather duster" will be used.
Although Mansfield stressed that he "can't give anything away" about the upcoming #Thor installment, he was willing to let us in on two little secrets:
"Cate Blanchett has a soft version of the hammer which we nicknamed 'The Lady Hammer,' while Chris Hensworth likes the heavy ones 'cos they make his muscles flex!"
Yes, we like seeing Hemsworth's bulging muscles flexing too.
[UPDATE 22 Jul 2017]: Check out the awesome Thor: Ragnarok Comic-Con Trailer below!
Thor: Ragnarok hammers into cinemas on November 3, 2017.