Hamlet on the Couch: The Great Dane in Therapy
THE ETERNAL STUDENT AND DENISE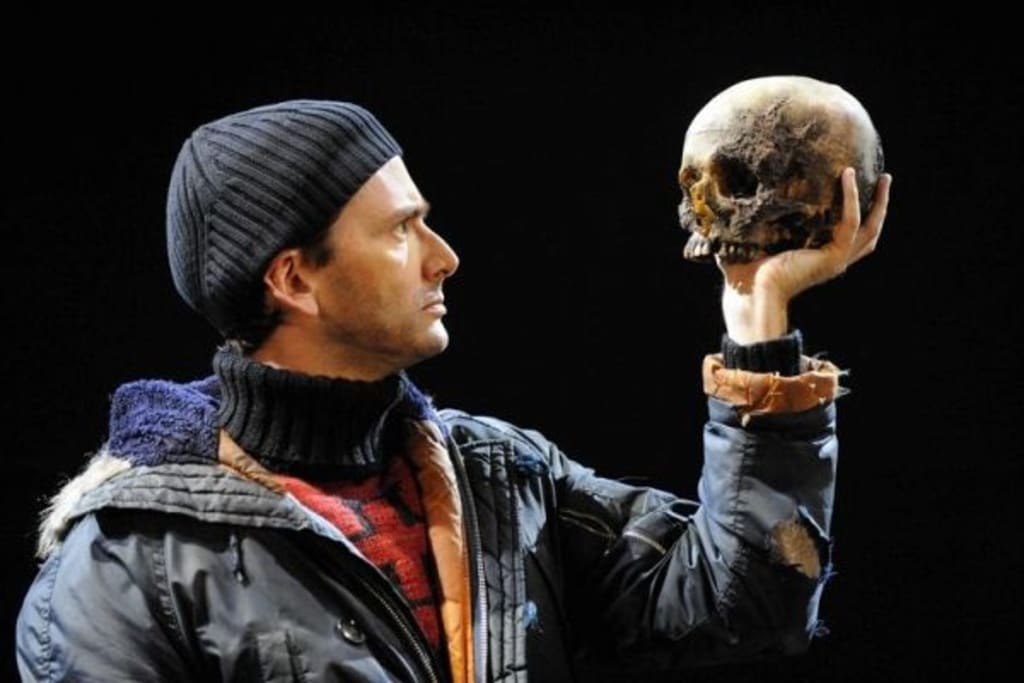 Dear William (A.K.A - Mr Shakespeare),
Hamlet here. You know - the Great Dane. The Prince of Denmark. The Eternal Student. The Gargantuan Grump.
Now, I want to make it clear that none of what follows is meant to denigrate your work. If it wasn't for your wonderous words, my place in annals of literature would not be assured. I am infamous, forever destined to remain in our species' consciousness. I'm grateful. Genuinely, I am. It's just that…
Well, I've begun therapy. And it's already thrown up a few issues.
Denise (that's my therapist) says that I probably don't have an Oedipus complex. Now, that's not on you. You never once directly said I did - damn those English teachers! A pox on all their… er… classrooms.
However, so many people have said this over the years that I began to believe it myself. It's like the whole 'Breaking Bad' thing. You know I wasn't a fan when it first came out but so many people told me it was the greatest thing ever that I started to doubt myself. Was I wrong? Were they in fact right? (For the record, I did try watching it again - it's not for me. I know Macbeth loves it but - let's be honest - it is sort of based on him. Preaching to the converted, bruh!)
Anyway, Denise. She doesn't think my melancholy is due to me being in love with my mother, and then being all upset when she married my uncle a few days after dad died. Well, of course, I love her. She's my mother (the fickle fiend!). I'm just not IN love with her. You know… I don't want to… do the thing… with her… my mother…
And the whole marrying my fratricidal uncle? Yeah, not ideal. But families, huh? What can you do? You can't kill them… Wait: That's what I've been doing for centuries. That's confusing…
Where was I?
Yes - Denise thinks my instability might be due to something called 'Borderline Personality Disorder.' It's a new thing. There's this science called 'Psychology.' Turns out that we might not be under the control of demons after all - apparently, our upbringing and genetic dispositions influence our 'Mental Health.' It can give us 'issues.' Mine is this BPD stuff.
That's why I'm all over the place. My erratic behaviour is not because I love my mother in a… you know…. sexy way. I'm ill. I have a condition. Which I'm afeared does present a few issues for us moving forward.
Denise believes that I need healthier coping strategies. She doesn't think galavanting around a draughty castle listening to ghosts and trying to murder my father's brother is good for me. Who would've thought? In fact, she believes it's 'maladaptive.' Instead of cold-blooded murder, she's recommended mediation and journaling.
I'm also eating more fish to try and take on more fatty oils.
Denise has also raised the whole 'eternal student' thing. She thinks it negatively impacts my self-esteem to never finish anything. And f**k knows how long I've been enrolled at Wittenberg now! I believe it's time to face up to the fact that I'm not going to complete that degree. I never enjoyed it anyway. So I've signed up for some media studies courses online. I'm thinking about moving into podcasting. Just an idea.
I'm not sure what dad would make of all this. But Denise said I've probably just imagined seeing his spirit. I know that we all believed in this stuff in the past, but there's a good chance that my dad's ghost is either just a literary device based on the seventeenth-century Catholic concept of purgatory or that I'm hallucinating. I know - how crazy am I? So, yeah, he's probably not really there.
Likewise, the idea of avenging his death? I've more than likely imagined that stuff as well. Damn my cursed mind! The things we tell ourselves…
So, and I say this with deepest apologies, but I won't be murdering my uncle tonight. Rosencrantz and Guildenstern are also off the hook. As is Ophelia. And Polonius. (Jeez - there's a lot, isn't there? I'm worse than Macbeth! Nah, only kidding. He's a proper lunatic.) I'm going to take a mental health day. Don't worry - that's actually a real thing nowadays! (You might want to tell Lear and Othello.)
Anyway, I've got a Zumba class in a bit. Denise says I need to exercise more. It's fun. It's not as exciting as swordplay but fewer people die which is good for my well-being. The only murder committed is when Lynda the instructor sings! (That's a 'joke.' I'm trying them out. Falstaff should as well - I don't know about you, but that d**k is not nearly as hilarious as he thinks he is.)
All the best,
Hamlet. Prince of Denmark
(P.S - I know I'm not an expert, but I think you need to have a word with Richard III. Denise tells me there's some wonderful anti-psychotic medication available nowadays. He might be better off trying some of those instead of - you know - butchering half of England. Just a thought.)
(P.P.S - Likewise Iago.)
(P.P.P.S- Ditto Tybalt, Edmund, and Caliban.)
(P.P.P.P.S- You know what? Forget about them - I'll leave something in the group WhatsApp chat. Adieu!)
---------------------------------------------------------------------------------------
If you've liked what you've read, please check out the rest of my work on Vocal, including my Top Story:
If you've really, really liked what you've read, a small tip would be greatly appreciated.
Thank you!
literature
Hi!
Film, theatre, mental health, sport, politics, music, travel, and the occasional short story... it's a varied mix!
Tips greatly appreciated!!
Thank you!!
Receive stories by Christopher Donovan in

your feed