Halloween Vibes Starring Vincent Price
Second installment of a spooky seasonal series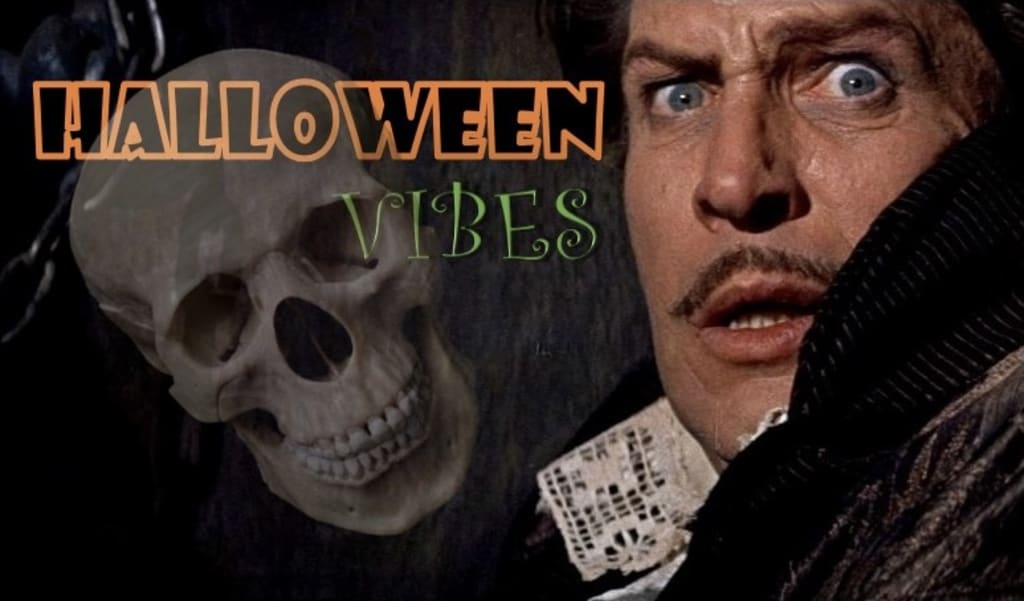 Millennials might know him as the old guy who recited the spooky spoken word sequence at the end of Michael Jackson's 1984 mega hit, Thriller. Here's a video of Price reciting the piece live on The Joan Rivers Show.
Some might have seen Bill Hader's hilariously accurate impersonation on Saturday night live. Film geeks and goth kids are probably familiar with his reputation as a classic horror movie icon, a contemporary of Bela Lugosi (Dracula), Boris Karloff (Frankenstein), and Lon Chaney Jr. (The Wolf Man). Vincent Price is a legend!
My husband (the real film geek) found a collection of films directed by Roger Corman starring Vincent Price on the Criterion Channel streaming service last month. I was skeptical at first, but I soon looked up from my social media scrolling to join in the fun. Corman and Price is a match made in camp horror heaven. These two ruled B-movie horror films in Hollywood from 1960 to 1964. Film critics and fans affectionately refer to this era as 'The Corman-Poe Cycle.'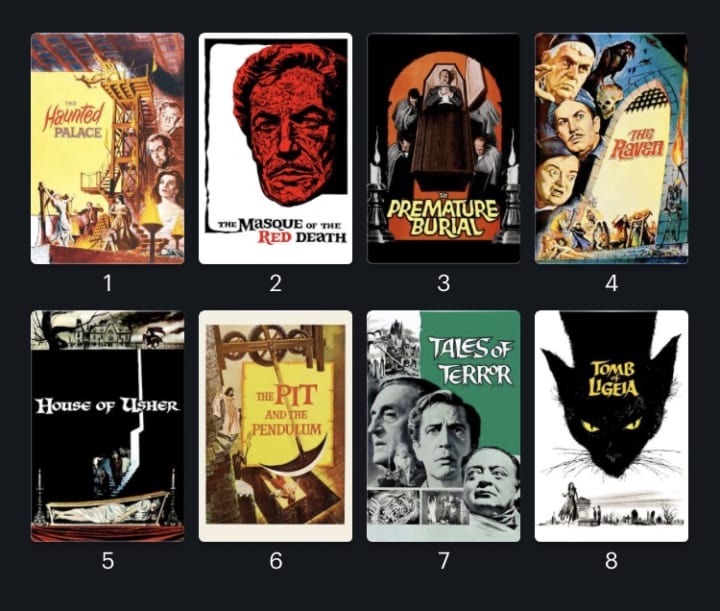 My favorite of this collection might be The Raven, based on Edgar Allan Poe's poem of the same name. How, you may ask, can they turn a 108 line poem into a 90 minute film? Well, they didn't! In the opening scene Price's character recites a few verses of the poem, but what follows is a bizarre battle of magicians with corny 60's special effects. It's got Peter Lorre, Boris Karloff, and (surprise) a very young Jack Nicholson in tights! Have a few drinks and watch it with your friends or if you have kids, watch it with them. It's a real hoot!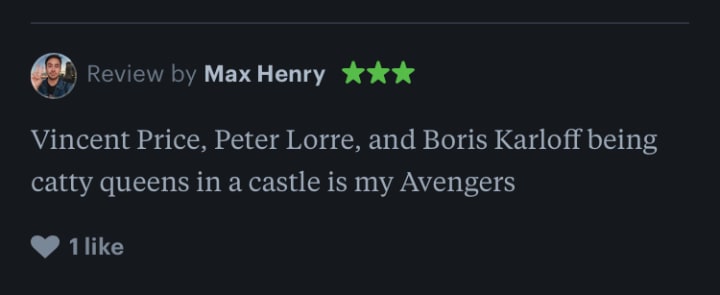 From watching this collection, one might get the impression that Victorians were obsessed with the thought of being buried alive. It makes sense because in the 1800's they couldn't just hook people up to an EKG machine as they lay dying. There was even a condition called catalepsy, that mimics the physical appearance of being dead. Catalepsy was featured in the aptly named Premature Burial.
Masque of the Red Death is another treasure. Price plays a rich asshole throwing a party while outside peasants die of the plague. This one definitely pushes the envelope for the early 60's. You may find yourself pausing in the middle of the action to think, wow this is definitely someone's kink.
These films were made after the establishment of 'The Hays Code,' a rigid set of rules dictating what you could and could not show on film. Clever filmmakers used coded inference to sneak certain elements into their films. It wasn't until 1968 that the 'Hays Code' was replaced by the MPAA film rating system we know today.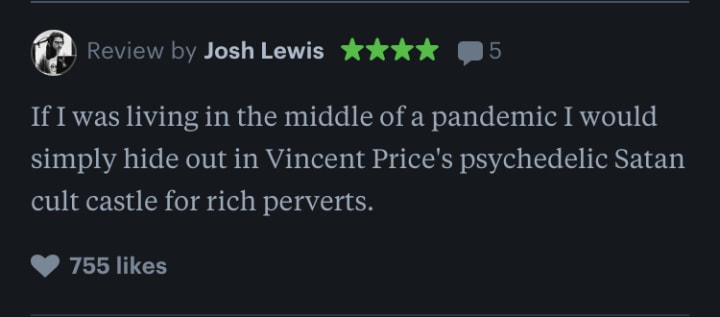 These films are atmospheric with ornate period costumes and set design, basically a goth lovers dream, but at the same time they are the most ridiculous films you will ever witness. Perfect for Halloween! Price's over-the-top performances steal every scene. From the oil painting exterior shots to the sound stage turned inquisition era torture dungeon in The Pit and the Pendulum, this is craftsmanship you just can't get with a greenscreen.
Roger Corman would go on to direct a total of 56 film projects and appear in many others. In spite of the B status of Corman's films, he is well regarded in Hollywood and recipient of many awards.
Vincent Price appeared in and provided voice work for over 200 films and television shows. His last role in a feature film was the kind and gentle inventor in Edward Scissorhands. He passed away in 1993. He was 83 years old.
Sources:
https://letterboxd.com/
Reader insights
Be the first to share your insights about this piece.
Add your insights