Geekology End of Year Awards 2019
Best Film, TV Series and Game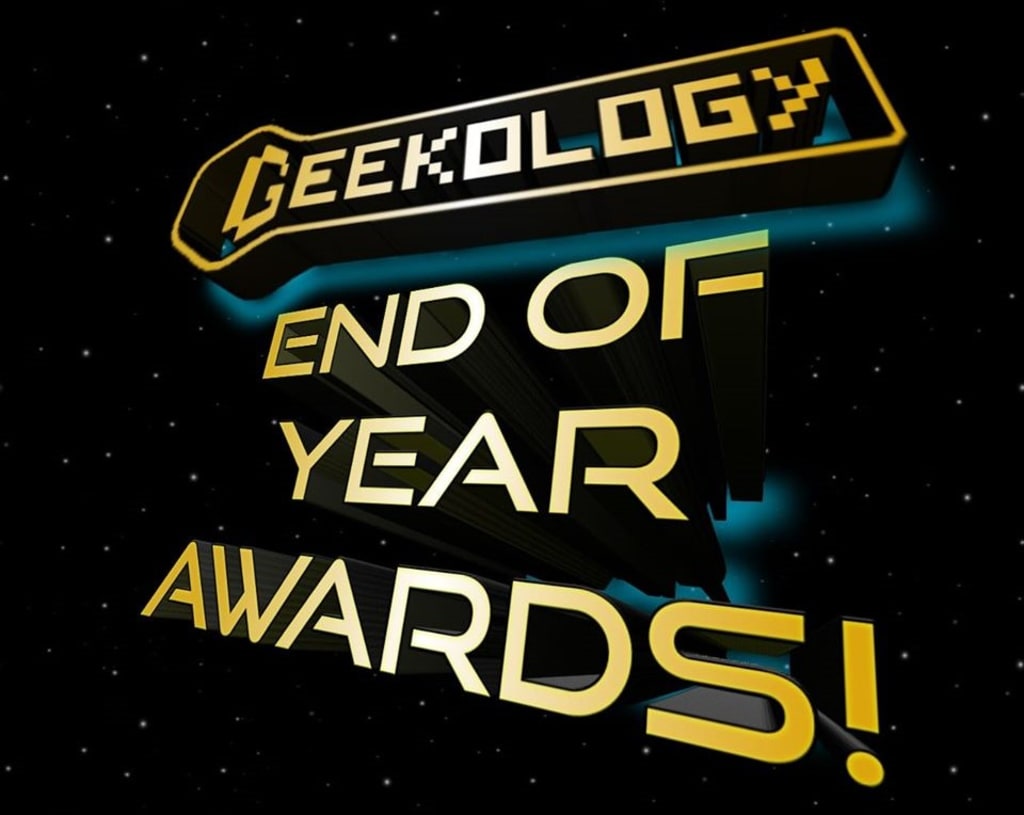 The Rules
Each year we ask our collective of geeks what they think the best movie, TV series and game of that year was. Their answers are put to a vote, each vote lasting 48 hours before being closed down. Nominations for the 2019 awards had to be released, naturally, in 2019. TV series had to have finished in 2019, ruling out anything that will only be halfway through at the time of polling. Series that were released after the final tallies, e.g. Netflix's The Witcher will be allowed in the 2020 polls next year.
Honourable mentions have been included too, and while all of the honourable mentions did come second place in the poll each has a different reason to be included in this article.
Game of the Year ran from Monday 2nd December to Wednesday 4th December.
TV Series of the Year ran from Monday 9th December to Wednesday 11th December.
Movie of the Year ran from Monday 16th December to Wednesday 18th December.
Our Winners
Best Movie of 2019: Avengers: Endgame
Honourable Mention: Joker
Avengers: Endgame was the end of an era. 11 years and 21 films lead up to it, and it made sure to remind you of every single emotion you'd ever felt when watching a Marvel movie. We laughed. We cried. Some of us are still in mourning. Personally, I was amazed at the power Endgame showed to bring fans together. In the cinema I was sat next to a young man I had never met, we didn't speak at all during the film, yet there we were almost in complete sync. We both leapt to the edge of our seats at the same moments, tensed at the same moments, shed a tear at the same moments. Practically an entire cinema audience moving and acting as one as we remained transfixed on the screen. That was a thing of true beauty. Perhaps most importantly of all, Endgame served as the end chapter of a wonderful three-phase movie collection, the likes of which had never been attempted before. Avengers: Endgame is also a new beginning, creating a spring-loaded starting point for the next phase of Marvel films: Phase Four. I don't think anyone was surprised when Endgame emerged from the poll a very clear winner, with over 130 votes separating it from the other competitors.
Joker received mixed reviews from fans. If you were expecting something action-packed or full of evil villainy, you were walking away from the cinema disappointed. However, if you could put your expectations aside for a moment even if Joker wasn't your cup of tea, you should be able to appreciate it for what it was. Joker could almost have been a biopic based on a real person, the raw emotion Joaquin Phoenix brought to the role was simultaneously disturbing and fascinating. You couldn't tear your eyes away from the screen as you watched one individuals life take such dark, traumatic turns – like watching a train knowing it's about to crash. I believe Joker could be a turning point in the 'Superhero' movie genre. Both similarly and opposite to Guardians of the Galaxy, which solidified the presence of comedy in the Marvel movies that followed, Joker has shown us that you can have heroes (or, in this case, villains) and show them in a different genre, in an equally powerful way. Joker left it's mark on audiences, and Phoenix deserves recognition for taking on, and pulling off, such a demanding role.
Best TV Series of 2019: Chernobyl
Honourable Mention: The Boys (Season 1)
Chernobyl had viewers enthralled from the very beginning. No one quite knew what they were expecting, but within the first few minutes they became hooked. Beautifully shot, with a soundscape that our geeks could not praise enough. Both Foley and soundtrack were executed perfectly, creating an experience that both haunted and amazed. A fellow admin mentioned the general aesthetic of the series, and how it 'perfectly encapsulated the Soviet look, something a friend who used to live under the Soviet Union confirmed'. It wasn't just the style of the series that captured the hearts of our geeks, the substance spoke to them on a deep and meaningful level. Chernobyl is a tribute to humanity. It showed how, despite impossible odds and apocalyptic circumstances, people were willing to sacrifice themselves for the sake of others. Chernobyl lured in it's viewers with promised of an experience that would be engraved into your mind forever. It grabbed our heart strings, and it played them like a harp.
The Boys (Season 1) was a close second, with fewer than 20 votes between them. Featuring legendary geek talent Karl Urban, The Boys gave us a dark comedy alternative to the other Superhero genre releases plastering our screens. Like with Deadpool three years prior, fans relished the opportunity to see their favourite comic book heroes brought to life without having to be scaled down to a 'U' or 'PG' rating. It's refreshing to see the Superhero genre evolving to include new subgenres. The Boys season 2 will be coming to Amazon Prime 'mid-2020'.
Best Game of 2019: Star Wars Jedi: Fallen Order
Honourable Mention: Untitled Goose Game
Star Wars Jedi: Fallen Order was one of the most highly anticipated games of the year. With beloved developed Respawn behind it, even being published by EA didn't stop this game from flying off the shelves. Part of the anticipation was due to a large marketing campaign, made necessary by gamers' cautious approach towards EA. Set five years after the film Revenge of the Sith, and fourteen years before A New Hope, this game is chock full of easter eggs direct from the Star Wars universe. One admin called it 'so wonderfully canon it made me feel giddy as hell when I played it'. Customisable lightsabers are but one of the features that made fans go gaga, coupled with an extensive array of force powers and other features that we'll keep as a surprise for those of you who have yet to play. While there have been more than a few glitches reported by some players, the bottom line is that you get to become a Jedi – something every Star Wars fan has dreamed of being since they were young. Well, those who don't plan on joining the Dark Side.
Untitled Goose Game was developed by Melbourne-based Indie developed House House – and it took the internet by storm. Even the developer made the game as somewhat of a joke, taking a stock image their company used and drawing on inspiration from Super Mario 64 and Hitman to create the puzzle-stealth game that crashed unceremoniously into not only one of the most popular games of the year, but one of the most popular memes. The fact that an Indie game came only 19 votes away from usurping gaming giants Respawn for Geekology Game of the Year shows how much potential the Indie gaming industry has. Sometimes, simple games can be honking good fun.
That's all from us for this year. We look forward to seeing the entertainment that 2020 will bring – it has very high standards to live up to.
Happy New Year from all of us at Geekology.
~Anduril