Film Review: 'After'
An uneven script and a lack of sparks makes this teen romance flick a hard sell.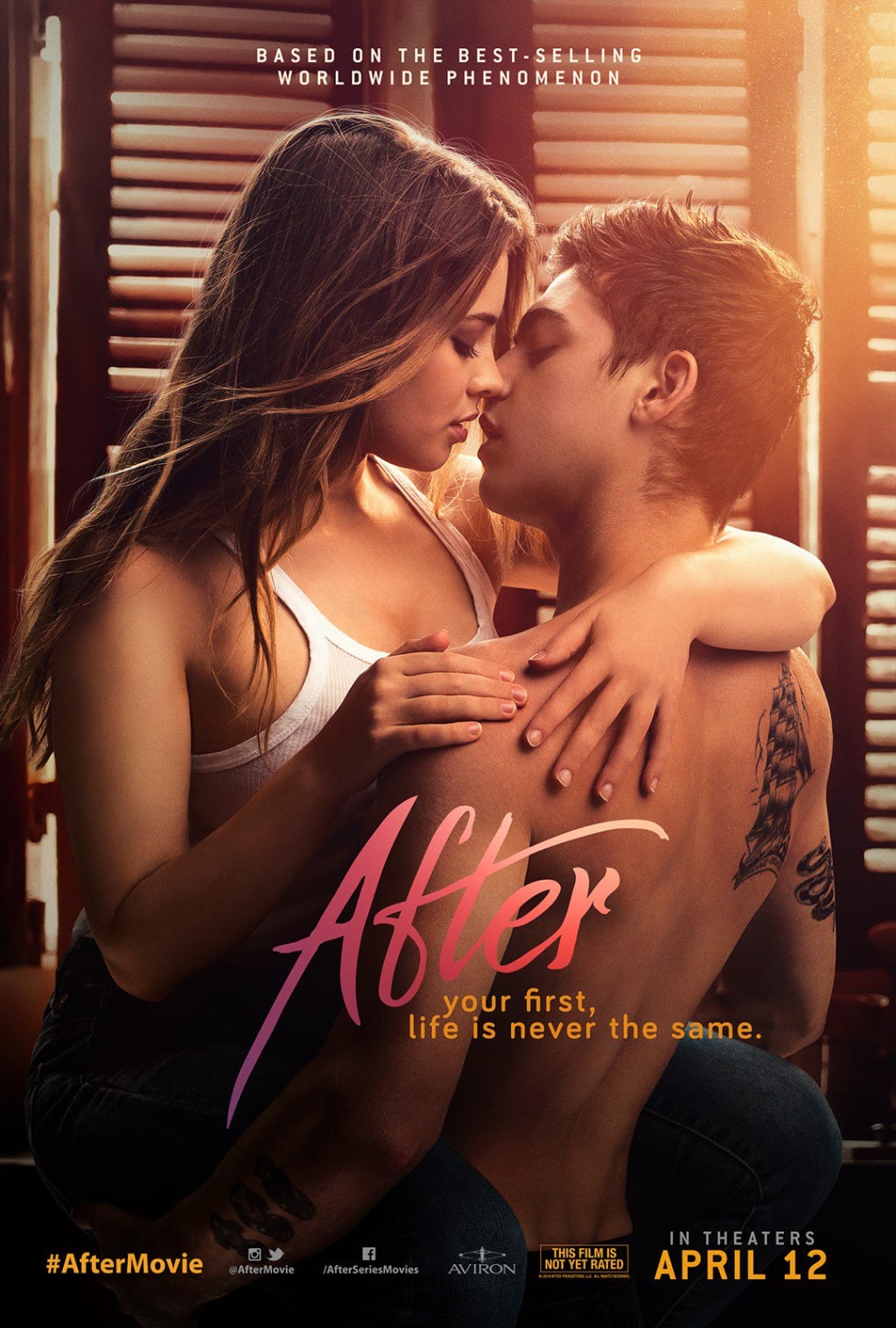 College freshman Tessa Young (Josephine Langford) is the epitome of the all-American girl: pretty, studious, and having avoided sex, drinking, and partying all throughout high school. Now in college, Tessa is planning to stay completely focused on her studies and not indulge in the reckless activity she avoided in high school—at the behest of her mother Carol (Selma Blair).
Soon after arriving, however, Tessa is goaded by her roommate Steph (Khadjiha Red Thunder) to join her at a party, where she is introduced to Steph's group of friends. Among them is Hardin Scott (Hero Fiennes Tiffin), a close friend of Steph's who Tessa had met previously after being surprised to find him in their dorm room. Tessa initially holds nothing but disdain for Hardin, finding him to be arrogant and annoying.
But in spite of that, Tessa finds herself harboring an unexpected attraction to Hardin, despite still being in a relationship with her high school sweetheart Noah (Dylan Arnold). As other complications arise for the young lovers, including unresolved anger issues in Hardin, a shocking revelation threatens to obliterate their bond. Will this young love survive the fallout of a terrible secret?
With its status as being inspired by a Wattpad fan-fiction story revolving around One Direction, After already entered the movie scene with a target on its back for ridicule. That, and the Anna Todd penned Wattpad story being criticized by many for romanticizing abuse, left little hope for the story's big screen adaptation. Having only skimmed Todd's story, I can't testify to how much changes are made to After, but I can attest that—for the most part—Hardin's behavior is far less abusive and vicious than his Wattpad counterpart. This, however, does little to change the fact that After is a weak installment in the teen romance genre that suffers from a poorly constructed script and leads that lack the chemistry needed to make a story of this nature work.
Starting with the script, a major error is made in the way the film develops Tessa and Hardin's relationship. The film opens with the typical bit of the straight-laced Tessa and the arrogant Hardin sniping at each other, which could've been used to develop the pair's bond into a friendship that could then turn to a romantic relationship. But instead, After shoots that romantic development in the foot by having Tessa going from being indignant towards Hardin to coming this close to making out with the guy after a brief browsing session of his book collection. With such a lack of buildup to the relationship, Tessa and Hardin's romance fails to develop the necessary beginning spark to sustain it, leaving us with a relationship that struggles to obtain emotional depth and only occasionally succeeds.
After's leads also, unfortunately, contribute to the detriment of their characters' relationship. The film (according to IMDB) is the first time Josephine Langford and Hero Fiennes Tiffin have had starring roles in a feature film, and their lack of experience in the medium shows in several places. While their performances never become outright terrible, and both Langford and Tiffin have strong moments on their own and together, there are numerous places where they appear uncomfortable and stiff. This is stronger in Langford's case, with her weakest point being how often her facial and vocal expressions fail to align with the emotion she's trying to convey. This not only further sinks After's romance, but also prevents Tessa and Hardin from developing past their respective "Repressed Good Girl" and "Troubled But Cute Rebel" archetypes.
WARNING: Spoilers Below
The script also serves as a detriment to a side character of After: Tessa's mother Carol, played with a solid vigor by Selma Blair. The film is quick to set Carol up as the well-intentioned but overly controlling mother type, but after Carol finds out about Tessa and Noah breaking up and walks in on her and Hardin together, she turns the character in another direction, accusing her daughter (unjustly, from her perspective) of throwing her education away for "some boy" (somehow, Noah was an exception to this rule), and orders her with an arrogant smirk to break up with Hardin. This not only allows Blair to throw herself into what could've been a bland role and give a spin to it, but also provides a cathartic moment of Tessa blasting her mother for her micromanaging and dismissing her "I'm only doing what's best for you" justification (serving as one of Langford's stronger scenes).
Had the film stuck to leaving Carol as the arrogant and controlling mother unwilling to support her daughter living her life on her own terms, After could've used it to develop Tessa into a stronger character as she works to gain her own independence. But instead, in a super rushed scene following Tessa's official breakup from Hardin (more on that soon), Tessa goes to her mother and apologizes for not letting her mother steamroll over her life on baseless speculations about her behavior, with Carol's subsequent apology coming off as a redemption arc she didn't earn. Even her backstory of having struggled to raise Tessa on her own isn't enough to make her sympathetic, as her willingness to cut off her own daughter for not adhering to her commands is contradictory to said backstory.
And then, there's the "dark secret" that is promised in the film's synopsis of Hardin's, which is revealed to Tessa in the climax: his relationship with Tessa started out as a dare, as Hardin was planning to lead Tessa on before dumping her in revenge for turning him down for a Truth or Dare kiss. In addition to being an overused trope in the romance genre, the way it's built up requires Hardin and Tessa to act uncharacteristically brusque and uncommunicative in order for their Third Act Misunderstanding (the mother of all infuriating romance tropes) to transpire.
Spoilers Over
In more positive aspects, the rest of the supporting cast is similarly strong alongside Blair. Khadijha Red Thunder gives a surprisingly nuanced performance as Tessa's wild roommate Steph, while Inanna Sarkis gives her role as the impossibly bitter and bullying Molly some strong bite. Dylan Arnold is also charming in his role as Tessa's high school boyfriend Noah, making up for one of Noah's opening scenes of judging Tessa for going to a party by building a strong repertoire with Langford and bringing strong emotion and depth to a character that could've been the typical Expendable Love Interest. Shane Paul McGhie also shares chemistry with Langford as classmate Landon, and despite neither having enough of a chance to really develop, Jennifer Beals and Peter Gallagher bring their usual amount of charm to their roles as Hardin's stepmother-to-be and father.
As stated before, Langford and Tiffin have moments when their performances are strong, and the film's ultimate conclusion is a satisfying one for the story that precedes it that succeeds (in a small way) of breaking away from the formula. But as a whole, After is a tepid romance film that fails to be as deep or compelling as it wants to be. With a rushed romance plot, stale characters, stilted acting, and a weak overall story, this will prove a tough sell to even the most hardened romance film buffs. With a sequel in the works, which I assume will mean the rest of the After Wattpad series will be adapted to film, here's to hoping Langford and Tiffin will be able to strengthen their craft to deliver stronger acting by 2020.
Score: 3.5 out of 10 Pride and Prejudice debates.
review