Film Review: '3 Lives'
Tensions between three abduction victims fighting to survive lead to shocking revelations in this tense thriller with a strong script and cast.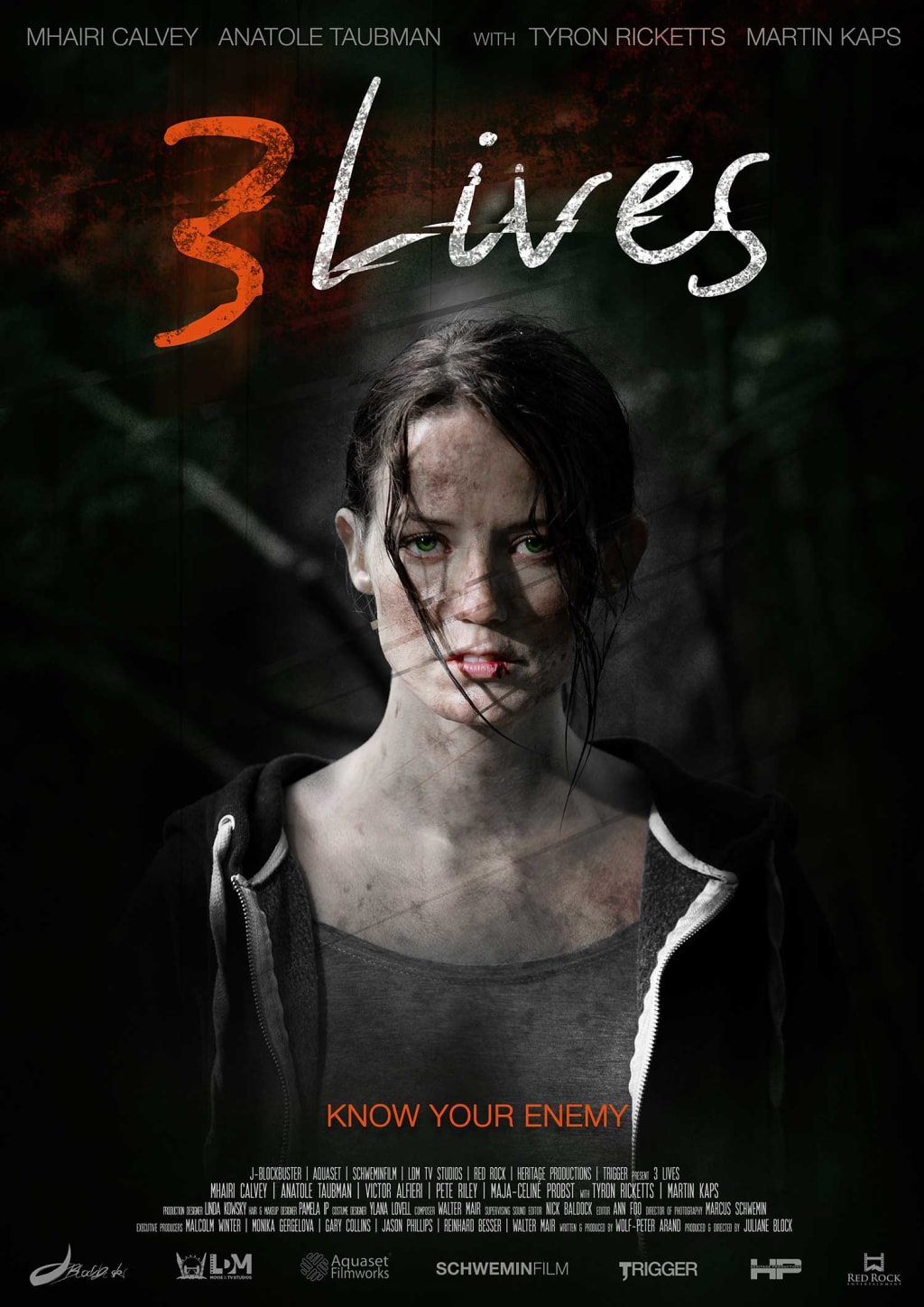 It all started with three people finding themselves held hostage by a group of vicious men: therapist Emma (Mhairi Calvey), Ben (Tyron Ricketts), and Jamie (Martin Kaps). Ben manages to free Jamie and Emma before fleeing their confinement together, though their pasts together leave a great deal of friction between them—as Ben was sent to prison for raping Emma, with Jamie testifying against him.
Despite their differences, the three try to cooperate in order to evade their captors and find a way back to civilization. But in addition to contending with the harsh forest and the sadistic men hot on their trail, the trio find themselves struggling to keep their heads as their dark past together rears its ugly head. And with some shocking revelations ready to be exposed, the pain and sins of the past may just spell the end for these three runaway captives...
While 3 Lives comes from two of the same minds responsible for 8 Remains (Wolf-Peter Arand and Juliane Block), this film thankfully averts the strongest criticism I had against the latter numerically titled film produced by these two. While 8 Remains had a story that, for much of its runtime, felt like a disjointed mess until the final act provides some explanation, 3 Lives not only has a more straightforward storyline, but additionally keeps its ambiguous plot elements grounded in a sense to where it makes sense, even if the details of the events are left in the dark from the viewer.
The film's calculated pace in regards to its mystery works hand in hand with its action-oriented nature, as it both allows for intrigue to be sustained regarding the nature of the kidnapping and the past shared by the trio of captives while their fight to escape provides thrills that will keep viewers glued to the screen as the action unfolds. The tension regarding the trio's escape efforts, combined with the mystery built around their conjoined past and why they've all become the victims of a group of abductors, makes for a riveting view, placing 3 Lives ahead of 8 Remains' largely sluggish plotting.
The cast also sports an edge over that of 8 Remains, with all three main leads bringing vigor and complexity to their characters as their situation brings out the best and worst in each of them. Mhairi Calvey makes for an emotionally complex and sympathetic protagonist, while Tyron Ricketts and Martin Kaps excel at playing Ben and Jamie with a fierceness and occasional venom that makes you wonder which one (if either) is a truly trustworthy ally for Emma. The three play well off each other as their dynamic alternates between survivors attempting to pull together to escape certain death to emotionally damaged people lashing out at each other as the stress of their situation and their dark past together become too much, all leading to more than a few explosive revelations.
WARNING: Spoilers Below
Among these revelations is one that serves as an inversion of how other films have played the reveal. After it is revealed that Emma not only orchestrated the abductions, but has a vengeful multiple personality named Jo (played with ferocity by Maja-Celiné Probst, who previously had struggles as 8 Remains' main lead) intent on torturing Jamie to death for raping her, it appears 3 Lives is going the standard route for rape-revenge storylines. But in a refreshing twist, while the film still rightfully paints Emma/Jo's want for violent revenge in a sympathetic and understandable light, 3 Lives goes about decrying the sort of revenge Jo is wanting as an ultimately hollow one—as torturing Jamie to death will not only dirty her own hands with violence, but will allow Emma's rapist to win by robbing her of her humanity and everything she was before the assault.
While the film's ultimate twist regarding Jo is not entirely perfect and can have many holes poked in it if given some thought, it remains a strong climax that carries with it a powerful message. With a cast behind it consisting primarily of women who have been affected by sexual violence, 3 Lives makes clear that it's a thriller with something to say.
Spoilers Over
Aside from the plot holes mentioned in the Spoilers section, 3 Lives remains a strong thriller with a solid cast, expertly maintained suspense and mystery, and a powerful and unique message that makes it a thriller with some weight. After the uneven experience I had with 8 Remains, it's wonderful to see that Wolf-Peter Arand and Juliane Block have improved on what made their last film together that I've reviewed a flawed one. Here's hoping the duo will continue to work and improve on their skills.
Score: 9 out of 10 soup arguments.
About the Creator
Aspiring writer and film lover: Lifetime, Hallmark, indie, and anything else that strikes my interest. He/him.
Twitter: @TrevorWells98
Instagram: @trevorwells_16
Email: [email protected]
Reader insights
Be the first to share your insights about this piece.
Add your insights