Enola Holmes - A Netflix Movie Review
'Enola Holmes' is a great watch on Netflix.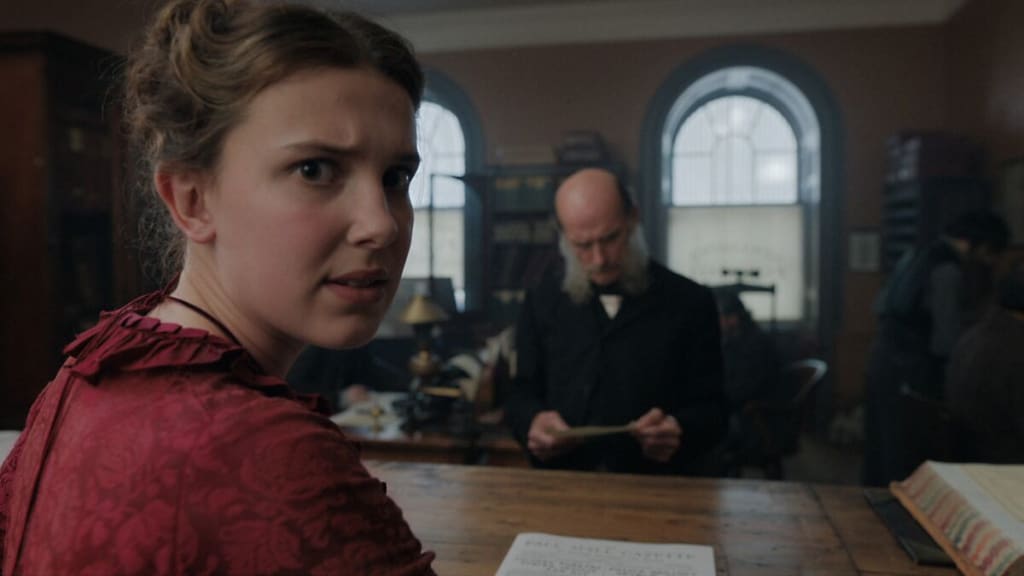 Now, where to begin? Enola Holmes would know.
Enola Holmes is a 2020 Netflix film. Enola Holmes-Sherlock discovers that her mother is missing. As the sister of the famous detective, Enola ventures on her own to find her. Still a rookie super-sleuth, Enola uncovers a dangerous conspiracy around a mysterious young Lord.
Enola Holmes is a great watch! I had the best time watching this film on Netflix with my friend. 'What if' films based on popular stories are always my favorite! There's so much that you can make up. Never let your gender hinder you from your rights.
I was most excited to watch Enola Holmes when I saw that it starred Millie Bobbi Brown from the hit Netflix show, Stranger Things. Brown's role as Enola is a contrasting demeanor from Eleven. Brown was humorous, inhabited Enola's fighting spirit, and demonstrated cunning combat skills.
For his audition as Tewkesbury, Louis Partridge arrived from school still dressed in his school uniform. The chemistry between Brown and Partridge was excellent! A bit sloppy at first, but they had great teamwork leading on in their mission. Partridge was also funny.
Helena Bonham Carter and Brown could pass as mother and daughter. Although their screen time was limited, they sold their relationship. As noted from behind-the-scenes, the pair had a lot of fun working together, helping each other with fight combat. I would love to see more interactions between them in the sequel.
Enola Holmes includes faces that most moviegoers have seen in other films, like the Harry Potter franchise. Credits include Henry Cavill, Sam Clifton, Burn Gorman, Fiona Shaw, Frances de la Tour, and more. Everyone had a good time working on Enola Holmes.
I didn't know that Enola Holmes was based on a book written by Nancy Springer. My friend whom I watched the movie told me every detail that was changed from the book. There are a lot of differences. Based on these changes, the story, characters, and relationships are expanded.
I beckon you to watch the behind-the-scenes of Enola Holmes. Harry Bradbeer gave his actors the privilege to improvise and try stunts for themselves. I was impressed with Brown's hard work. Fight combat was a noteworthy part of the film.
I didn't realize until after viewing the film that the train sequences were filmed entirely in front of a green screen. The film did great work on making Enola Holmes as realistic as possible. The cinematography is really nice.
The comical tone in Enola Holmes is what made me fall in love with this film. Enola Holmes is goofy but in a good way. The film still takes itself seriously. The writing doesn't make sense in certain parts mainly for story purposes.
I laughed whenever Enola broke the fourth wall looking at the audience. We need more films like this. Enola Holmes is the right film to watch if you need a laugh.
Taking place in 1884, filmmakers designed excellent sets and costume designs. Enola's red dress was my favorite. I felt like I was back in the 1800s. Filmmakers took the time to examine designs and styles of the time period to make the film realistic. Exploring the streets of London, broken-down factories, and lavish estates.
Gender plays a big role in Enola Holmes. In a time period when women's ideas were ignored, this film is a great example of how you should take charge and go after your dreams.
Enola Holmes is a great watch on Netflix. I could watch it again and again. I cannot wait to watch the sequel.
About the Creator
Writing has been my passion since I was 11 years old. I love creating stories from fiction, poetry, fanfiction. I enjoy writing movie reviews. I would love to become a creative writing teacher and leave the world inspiring minds.
Reader insights
Be the first to share your insights about this piece.
Add your insights