Book Review: 'Pestilence' by Laura Thalassa
Yes, hello, I've already completely abandoned that TBR I posted.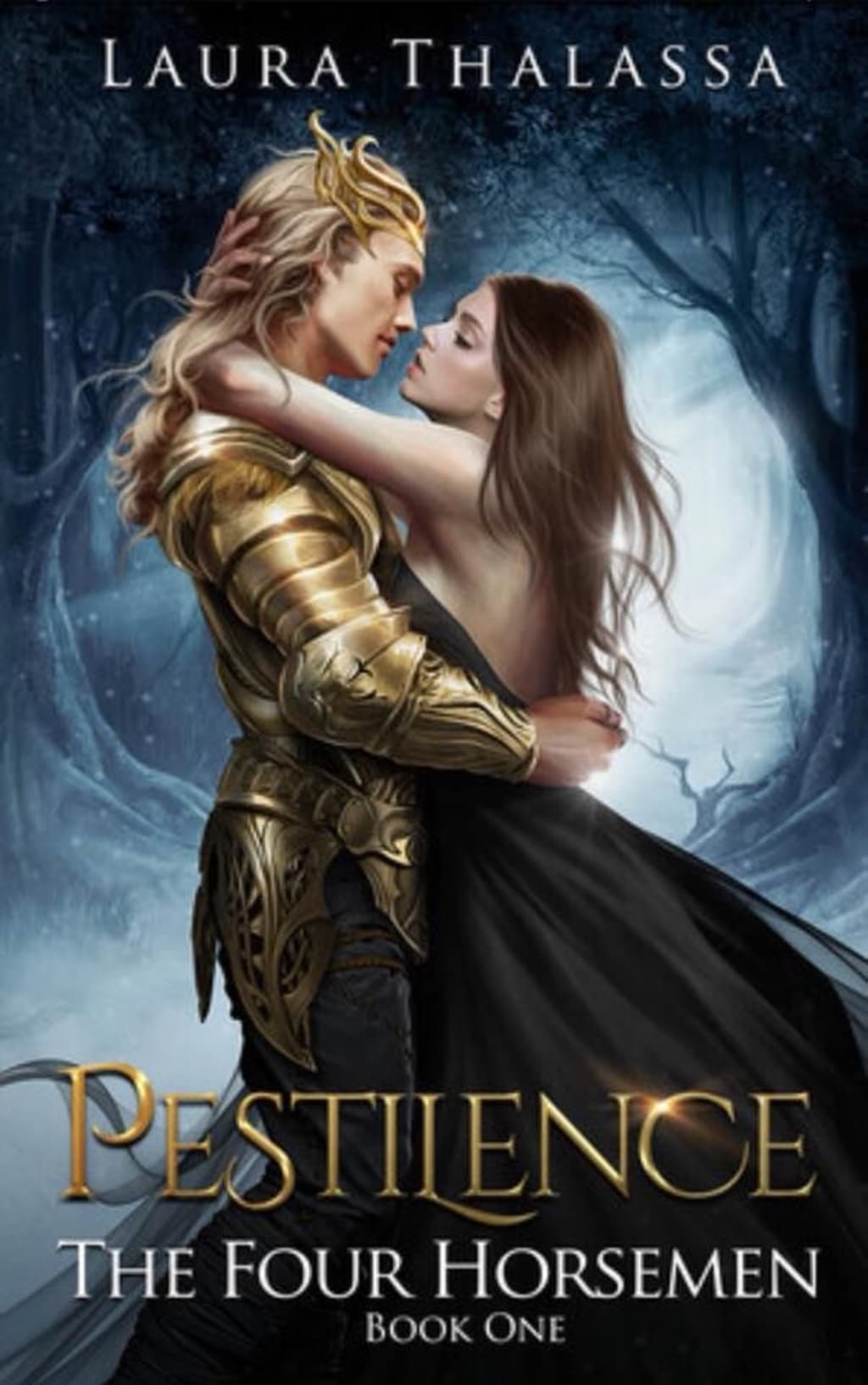 Let me start off this review by saying this book brought me out of a reading rut. I tried to stick to my posted TBR, I really did. I tried and tried and would get anywhere from two to 100 pages into a book before I'd toss it back on my TBR shelf, knowing it would be months before I finished it if I tried to keep chipping. I just wasn't in "the mood." It was honestly taking a toll on me, I see all these beautiful titles—both on my physical shelf and in my kindle app—being raved about on social media, piquing my interest, and yet they remain on the literal and metaphorical shelf. There are a few tricks in the book world to getting over the slump. Rereading a favorite, simply taking a break from reading, or browsing GoodReads's "if you loved this, you'll like this" section. All of them, quite frankly, made me huff in frustration. Then my lovely best friend said she'd just finished Pestilence, she raved about it, highly recommending it to me. This didn't come as a shock. We're both long-time fans of Laura and her husband Dan's work. I expressed to her my rut, but she still gave it another push, which is unusual.I waited. I did not want this potentially (okay, most likely) amazing book to be stained by the meh-ness of The Slump. But I kept coming back to its Amazon page and thought, "Is this...interest?" So, I swept up the book (along with a Kindle Unlimited trial because your girl is broke) and tentatively started reading.It was
s o
g o o d.
Which you can probably guess by the fact it broke whatever curse some book-hating wizard put on me. Okay, okay, enough about me. Onto the book.
A glance at its cover and title would deter most readers off. It may perhaps remind them of all the cringey fantasy novels where girl falls in love with hot whatever-species even though they're terrible "but like they're hot and they want me soooo." Even I was apprehensive. Again, though, I'm familiar with Thalassa's work and she's never let me down. And aside from that small bit, the plot did seem very interesting and like something I would pick up even if it wasn't written by Laura Thalassa. I can assure, though, that was not the case with this book. The take on it is surprisingly rational for the genre. It's a slow burn of a love interest with a fair share of hurdles and reasoning.
Aside from the romance, the plot is also wonderful. If you like post-apocalyptic, you'll love this. And as far as that genre goes, who isn't intrigued when they hear mention of The Four Horsemen or the Apocalypse?
This novel was a surprsingly raw and beautiful take on human nature in all its lights, which one most certainly wouldn't expect from just a glance of the book. The book draws a lot of emotion from the reader (I may have teared up more than once). My last note on the book is that there are some (well-written) steamy scenes, so keep that in mind when reading. It is definitely a New Adult novel, not a Young Adult. If you love post-apocalyptic, romance, and humor then you'll love Pestilence by Laura Thalassa.(PS: A C H I N G for the sequel)